Monday musings: Golfers' day via Twitter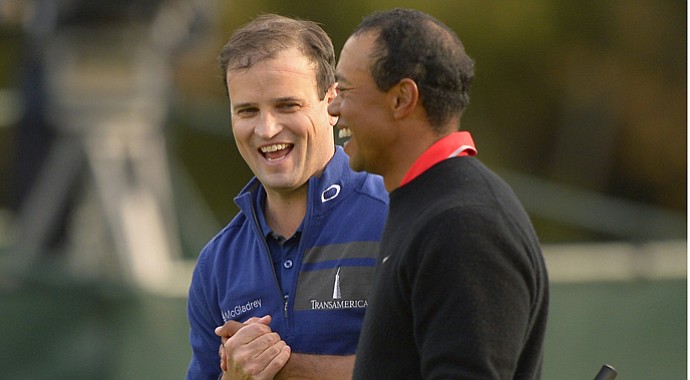 Monday, February 24, 2014
Monday's musings from the world of golf were varied – and creative. Here are a few highlights from the Twitter feeds of top pros and figures of the game:
• • •
Several chimed in, naturally, on Zach Johnson's comeback win over Tiger Woods on Sunday in the World Challenge – including the winner himself:
Natalie Gulbis, @natalie_gulbis: "Congrats to @ZachJohnsonPGA winning yesterday!!! Watching highlights now...Yeah Zach!!!"
Beatriz Recari, @BeatrizRecari: "@ZachJohnsonPGA Just landed and saw your amazing finish! Huge congrats! @oakley #happyholidays"
Graham DeLaet, @GrahamDeLaet: "@ZachJohnsonPGA I just saw the video of that hole out. That was sweet man. Congrats on the win!"
Brandt Snedeker, @BrandtSnedeker: "@ZachJohnsonPGA Man u are soooo lucky!! Little skill, but more luck!!! Great win..."
Zach Johnson, @ZachJohnsonPGA: "S/O to the @TWFoundation, Sherwood CC, it's members, #northwesternmutual, and our gracious host, @TigerWoods! First class event...thx TW!"
• • •
A few tweeted about the tournaments on their slate this week:
John Hahn, @_JohnHahn: "Just finished our practice round at the #nelsonmandela I can't believe we got it in with lost luggage and rain threats... Feeling lucky"
Mark Immelman, @mark_immelman: "At the Nelson Mandela Champs on The @Sunshine_Tour this week. #RIPMadiba pic.twitter.com/IRmCY4rmhb"
Rickie Fowler, @RickieFowlerPGA: "It's on B.Henson!! RT @BerryHenson: Hoping to duel it out with @RickieFowlerPGA this week @ThaiGolfChamps pic.twitter.com/MK0sbJ6Cl5"
Larry Nelson, @Larry_Nelson: "It's @PNCFatherSon time. Our family's favorite tournament and week of the year. If you are in Orlando come out and say hi."
• • •
Or offered notes from their travels:
Morgan Hoffmann, @Morgan_Hoffmann: "Just stepped outside baggage claim in NYC - weathers a lil different than in FL #75tofreezingrain"
Graham DeLaet, @GrahamDeLaet: "Packing for @FTShootout and find this in my bag. Haven't played since China. Thanks @Jules_Trudeau #shriveled #crisp pic.twitter.com/ggRn34MqvR"
David Lynn, @DaveLynndawg: "I finally get to meet my daughter Layla,that was a tough couple of days away knowing she was here pic.twitter.com/TsdbvUR7Bx"
Lynn: "This is undoubtably my favourite sun city safari pic from last week,we were very lucky to see . . . pic.twitter.com/1TH7kcP7Pe"
• • •
The 2014 Arnold Palmer Invitational had a little buzz going:
Arnold Palmer Invitational, @APinv: "Mr. Palmer is filming a new spot for the 2014 #APinv today. #priceless #palmerpink pic.twitter.com/QLjVO9zsxg"
API: #Mulligan is watching the action from Mr. Palmer's cart. pic.twitter.com/iuLUjNQFOM
Paul Lawrie, @PaulLawriegolf: " '@APinv: Mr. Palmer is calling players to invite them to the 2014 #APinv. #livetweet pic.twitter.com/UH81EyN0s1'>>. I'll play ?? Paul Lawrie."
• • •
Finally, odds and ends:
Anya Alvarez, @anyaalvarez: "The @lpga rookie binder. Hope I don't get tested on all this info in here pic.twitter.com/dStR6oU8G4"
Greg Norman, @SharkGregNorman: "Now this is something I would love to do....#bucketlist. pic.twitter.com/XVgNp2I3Ua"
Roberto Castro, @cicioCASTRO: "BIG congratulations to Bruce Heppler for being inducted in the golf coaches hall of fame today.One of the all time greats for sure. #respect"
Gonzalo Fernandez-Castaño, @gfcgolf: "Thanks to my team 4 another great season: Jeff Paul @jcgutgolf2 @MBartolomeGolf @AlvaroZerolo @martinsiebelist @Hambric_Europe & @ClareCraig"
Gary Player, @garyplayer: "Truly saddened to hear of the passing of the legendary SA boxer Baby Jake Matlala. A great champion for South Africa who will be missed. RIP"
Trump National Doral, @TrumpDoral: "We've stripped 4 in. off the Blue Monster's turf and replaced it with state-of-the-art turf grass . . ."
Golfweek.com readers: We value your input and welcome your comments, but please be respectful in this forum.
---
---
---
---
---
---
---
---
---
---
---
---
---
---
---
---
---
---
---
---
---