Junior Boys
Junior roundtable: Scheffler, Sage Valley, more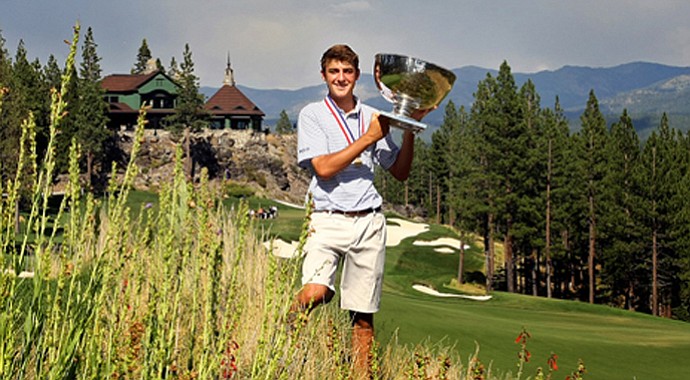 Wednesday, December 18, 2013
After a year full of junior events, it's time to look back at some highlights from 2013. In this roundtable discussion, our Julie Williams (@golfweekjules), Brentley Romine (@golfweekbromine) and Cassie Stein (@golfweekcassie) tackle five questions involving some of junior golf's top names and tournaments.
• • •
Even after winning the U.S. Junior Amateur and advancing to the quarterfinals at the U.S. Amateur, Scottie Scheffler didn't earn a Walker Cup spot. Was he overlooked?
Julie: Scheffler did put together a stellar 2013 – enough to earn AJGA Rolex Player of the Year honors – but at the same time, it's hard to pinpoint a member of the 10-man U.S. Walker Cup team and say Scheffler should have been there instead. The reality is that with only eight spots available to him (remember that two were set aside for mid-amateurs), Scheffler just couldn't crack the lineup. It was more a case of the talent pool being too deep and the USGA selection committee having a tough decision to make than Scheffler getting a raw deal.
Brentley: Do I think Scheffler deserved a spot on the team? Maybe, although it would've been hard to deny Bobby Wyatt or Michael Weaver. However, I do believe Scheffler should have been first alternate. He was undoubtedly the best junior in the country in 2013 and didn't finish outside the top 10 in any junior tournament this year. He also was the last remaining American at the U.S. Amateur. At the very least, he deserved a phone call after he wasn't selected – he didn't get one.
Cassie: Not to take away from Scheffler, because he has a great 2013, but the talent that runs through the United States in college and amateur golf has got real deep over the last few years. It's hard for a junior (non-college/amateur) player to make the team anymore, especially when Scheffler was only a senior in high school. Last to do so. . . Jordan Spieth (shocker, there) and Patrick Rodgers – another talented college player, now – who we're both heading to respective universities in 2011. He'll have plenty of other chances in the future to represent the USA in the Walker Cup.
---
Photo Gallery
PHOTOS: 2013 Juniors
View images of the top junior golfers throughout 2013.
---
• • •
The girls' graduating class of 2013 was the deepest in recent history (NCAA champion Annie Park, USGA champions Gabriella Then and Lauren Diaz-Yi and amateur standouts Ashlan Ramsey, Casie Cathrea and Alison Lee). How does the 2014 class compare?
Julie: The 2014 class was not nearly as deep. After Alabama-bound Nicole Morales (whose biggest victory was the 2013 Thunderbird Invitational), there is an absence of nationally acclaimed players in the 2014 class. Talent ebbs and flows, and the class of 2013 was about as strong as they come.
Brentley: It's hard to compete with the class of 2013, but even then, 2014 did lack several marquee names outside of top-ranked Nicole Morales, fellow Alabama signee Lakareber Abe and Stanford signee Shannon Aubert. If 2013 was a 10, then 2014 was more like a 6.
Cassie: Sure, the class of 2014 is good, but 2013 was extremely deep. Just look at some of the names above and their accolades. Some of those players weren't even on our radars last year and now look at them – excelling on the course at college and during summer amateur tournaments.
• • •
A 10-year-old (Lucy Li) turned up at the U.S. Women's Amateur and Women's Public Links, making the cut at the latter. Many junior tours have age limits, but these U.S. Golf Association championships don't. Did Li belong in those fields?
Julie: In person, Li looks every bit the 10-year-old – she is petite and often wears brightly colored skirts and tops. But Li kept pace on the golf course, and her golf swing is strikingly mature. The great thing about our national championships is that if you can qualify, you can play. Li belonged.
Brentley: I've never seen her in person, but if you qualify for a USGA event, you belong. The real question, though, is whether we'll see any 8- and 9-year-olds in 2014.
Cassie: If you qualified and competed at a national championship, you can play. Bring on the 8- and 9-years olds for 2014!
• • •
The Junior Invitational at Sage Valley, dubbed the Masters of junior golf, continued to grow in its third year of existence. Did it live up to its legend? What other tournaments made up the majors of junior golf in 2013?
Julie: In terms of depth of field and the golf course (Sage Valley, on the outskirts of Augusta, Ga., is the recurring venue), the Junior Invitational certainly feels like the Masters of junior golf. I was most impressed by the crowds of people that pulled up lawn chairs along the 18th. For boys, I think the remaining three majors would be the U.S. Junior Amateur, the Ping Invitational and the Junior Players. As for the girls, I think the Annika Invitational, the Kathy Whitworth Invitational, the U.S. Girls' Junior and the Ping Invitational fit the bill.
Brentley: Of all the junior tournaments I've been to, Sage Valley ranks right at the top. Great course. Great atmosphere. Great field. It really does feel like the Masters of junior golf. As for the other majors, I'll go with the U.S. Junior Amateur, the Junior Players and the Polo Golf Junior Classic, with the Ping Invitational being a close fifth. On the girls side, the U.S. Girls' Junior, Annika Invitational and Kathy Whitworth Invitational are a solid three while the fourth slot is a tie between Polo and Ping.
Cassie: Sage Valley is at the top of the list of junior tournaments for me. Fifty-four of the best junior players from around the world coming to Augusta, Ga., – home of the Masters tournament – you can't get much better than that. Other tournaments I would include – for the boys – are the U.S. Junior Amateur, the Thunderbird Invitational and the Junior Players. For the girls, the U.S. Girls' Junior, the Annika Invitational and the Rolex Girls Junior Championship.
• • •
Who was the best player (boy and girl) to finish 2013 without a single career AJGA invitational title?
Julie: I'm still surprised Sam Burns, No. 16 in Golfweek's rankings, doesn't have one yet. He's a solid and consistent ballstriker who had top 5s at the Thunderbird International, Western Junior and Junior PGA. Among the girls, I think Samantha Wagner, No. 13, is way overdue. I expect her to win one in 2014.
Brentley: If Sam Horsfield played more AJGA events, I'd go with him, but the player who most surprisingly has still yet to win an AJGA invitational title is Scottie Scheffler. He finished runner-up in two of them last season, and never outside of the top 10. He might not get one in 2014, either, as he is opting to play mostly amateur events in 2014, similar to what Jim Liu did last season. On the girls side, you would have thought Samantha Wagner had won one or two invitationals, but she is still winless in those premier AJGA events.
Cassie: Andy Zhang, No. 4 in the Golfweek Rankings, and no wins. After his 2012 U.S. Open appearance and multiple top finishes on the junior circuit, I thought he would for sure blossom into a big junior superstar. Hannah O'Sullivan surprises me on the girl's side. She has multiple top 10s, even a runner-up finish, but no wins.
Golfweek.com readers: We value your input and welcome your comments, but please be respectful in this forum.
---
---
---
---
---
---
---
---
---
---
---
---
---
---
---
---
---
---
---
---
---