Number Crunching 2013: Nicole Smith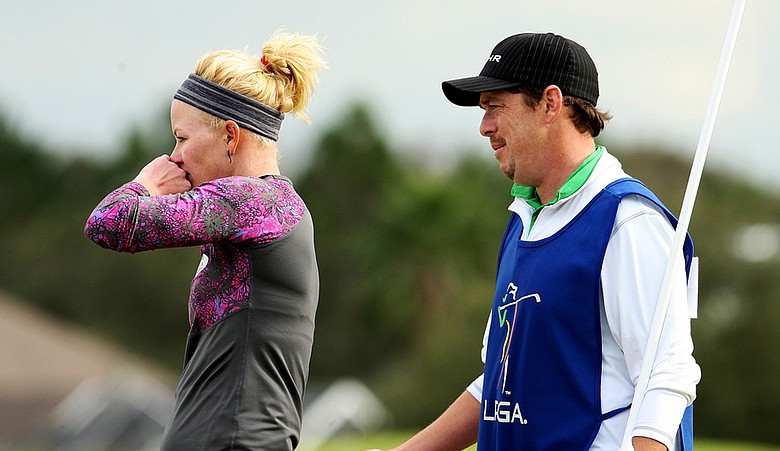 Friday, December 27, 2013
Over the final two weeks of 2013, we will be breaking down players that rose and fell during the last 12 months. Check out the entire series here.
• • •
Nicole Smith
Ranking/movement: -141 (No. 179 to No. 320)
Why the fall? When Smith earned her LPGA card at the end of the 2012 Symetra Tour season (courtesy of a ninth-place finish on that tour's season-ending money list), she barely gave herself a moment to catch her breath. In fact, she did just the opposite.
---
Photo Gallery
Nicole Noelle Smith
Nicole Noelle Smith is an up-and-coming player on the LPGA Futures Tour. Nicole will be bringing you her story in 2011 through her own, exclusive blog on Golfweek.com
---
She told herself, I have to work twice as hard now. I'm on the LPGA, and it's going to be bigger and harder.
For the first time since graduating from Tennessee in 2010, Smith didn't pick up a second job in the offseason. She used that extra time in the gym and at the golf course.
"You couldn't get me to break away for anything," she said.
Smith's 2013 began with three weeks Down Under, and she made her first LPGA cut in mid-February, at the ISPS Handa Women's Australian Open. She didn't make another one until mid-May, at the Mobile Bay LPGA Classic.
Even as Smith struggled to play the weekend, she dominated the long-drive category (274.8-yard average). Even though she was crushing the ball off the tee, she was struggling with her swing. Smith said she never found rhythm or confidence. That strained other areas of her game, and the pressure to make a cut grew.
"The more it happened, the more I tried to just control my swing instead of just letting it come naturally," she said.
Smith always has taken an athletic approach to the game, and workouts figure heavily into her practice regimen. While exercising with a 20-pound kettlebell before the Walmart NW Arkansas Championship in June, Smith felt her back seize. She dropped the weight immediately but the pain continued, to the point at which Smith couldn't sleep. She played through the discomfort in Arkansas, missed the cut, withdrew from her next two events and cut her season short after doctors concluded she had sprained lower-lumbar joints.
Smith received a medical extension (four starts in 2014) plus the experience from her shortened rookie season and is looking ahead to the new year.
Smith says: "Everything was so new, so at least now I can sit back and digest. I now have a year under my belt with most of the golf courses. . . . I know what it looks like."
Golfweek.com readers: We value your input and welcome your comments, but please be respectful in this forum.
---
---
---
---
---
---
---
---
---
---
---
---
---
---
---
---
---
---
---
---
---