College Men
Men's spring preview: SEC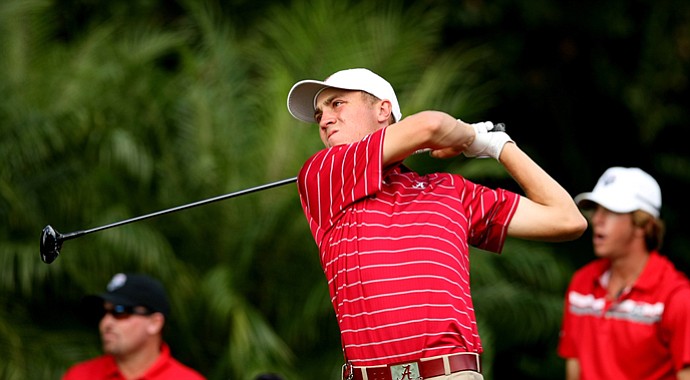 Sunday, February 10, 2013
When it comes to golf, the Southeastern Conference has long been known as one of the nation's stronger leagues. This season the SEC increased that strength with the addition of Texas A&M and Missouri and is proving to be arguably the country's most competitive conferences top to bottom.
No doubt there are those who will argue for the Pac-12 and with good reason. Led by top-ranked California, the Pac-12 finished the fall season with four teams ranked in the top 10 and 11 of the 12 among the top 80.
But how about this: Each of the 14 teams that now comprise the SEC ended the fall ranked 45th or better, including five in the top 15 and nine in the top 30. Pretty impressive, to say the least.
Once again, Alabama, No. 3 in the Golfweek/Sagarin Rankings, leads the way. The Crimson Tide had one of the best seasons in school history a year ago when they won four titles, including the SEC Championship by six shots over Auburn, and the Southeast Regional. After leading the 54-hole stroke play portion at the NCAA Championship, they finished runner-up to Texas at nationals, losing out on the final hole in the final match of the day.
Four of the five starters from that NCAA team are back and, like last season, the Tide has a potent lineup from top to bottom with sophomore Justin Thomas and juniors Bobby Wyatt, Cory Whitsett and Trey Mullinax leading the way.
The Tide posted a 39-12-1 overall record in the fall and more importantly that mark came against all top-50 ranked teams.
Still, Alabama will have its work cut out if it hopes to successfully defend its SEC crown.
Led by seniors T.J. Vogel and Tyler McCumber, No. 6 Florida had an equally impressive fall with a win and two seconds and a 43-7 overall record, including 23-7 against top 50 teams. The Gators won the SEC title in 2011 and finished third last season.
Georgia, LSU and Arkansas, ranked 11, 12 and 13 respectively, also are major contenders for the league's title. The Bulldogs were 43-13 (22-9 vs. top 50), the Tigers 34-10-2 (20-10-2 vs. top 50) and the Razorbacks 38-24-2 (26-22-1 vs. top 50) in the fall.
No. 21 Vanderbilt had one of its finest fall seasons while compiling a 40-8 record, while No. 23 Auburn was 33-28-2, although just 11-26-2 against top 50 teams.
And the two new kids on the SEC block should certainly have their presence known at this year's league championship. No. 19 Missouri won four of its five fall events and posted a 56-6 overall record. And, although No. 26 Texas A&M, which left the Big 12 after capturing that conference's title last season, struggled in the fall (24-31 and 9-27 vs. top 50), you can bet the Aggies will have their act together come SEC Championship time.
Then you have Tennessee (No. 32), Kentucky (34), South Carolina (39), Mississippi State (41) and Mississippi (45). Each of these posted winning records last fall.
Add it all up and you get 14 teams comprising one very strong conference.
Right now the likes of Alabama and Florida rank as the favorites to take home the SEC championship trophy with Georgia, LSU and Arkansas close behind.
But the bottom line is that it won't be considered a major upset no matter which team secures the title in a conference jam packed with quantity and quality.
• • •
Where it stands now
Top of the class: Alabama
Best player this fall: Justin Thomas, Alabama
• • •
Past champions
2007: Tennessee
2008: Alabama
2009: Georgia
2010: Georgia
2011: Florida
2012: Alabama
• • •
Conference capsules
Alabama (Golfweek/Sagarin Ranking: No. 3)

Crimson Tide once again pack plenty of power from top to bottom in the lineup. Four players are back from last season's SEC championship and NCAA runner-up squads, highlighted by All-Americans Justin Thomas, Bobby Wyatt and Cory Whitsett. Thomas, a sophomore, finished the fall No. 8 in the Golfweek/Sagarin Rankings with Wyatt at 19 and Whitsett at 71.

Florida (No. 6)

Team Initials. That would be this season's edition of Buddy's Boys -- the Florida Gators and veteran head coach Buddy Alexander. You've got senior T.J. Vogel, sophomore J.D. Tomlinson and freshman A.J. Crouch. Then throw in senior Tyler McCumber and sophomore Santiago Gavino and what you have is one heck of a good team.

Georgia (No. 11)

The Bulldogs are back on track and could play a leading role in the post-season. A victory at the Brickyard and second place at Carpet Capital highlighted a solid fall which also produced an eighth at the Preview and a sixth at the Auto Trader. Senior T.J. Mitchell, ranked 27th, leads the team, finishing in the top-30 in each of his four fall starts, including a second at Carpet Capital and T-6 at Brickyard.

LSU (No. 12)

An outstanding regular season last year (3 wins) came crashing down on the Tigers in the post-season. LSU closed out with an 11th at the SEC Championship and an 11th at their NCAA regional. They finished the fall ranked 12th after victories at Shoal Creek and their own David Toms, a T-4 at Carpet Capital and T-8 at Isleworth.

Arkansas (No. 13)

The Razorbacks were a bit like a yo-yo in the fall. After a third in the Gopher, they struggled to an 11th at the Preview. They bounced back with an impressive win at Olympic Fields, but closed out with a pair of middle-of-the-pack T-7s at the Nicklaus and Isleworth. Senior Austin Cook finished in the top 25 in each fall event, highlighted by a T-2 at Olympia Fields and T-9 at Isleworth.

Missouri (No. 19)

The Tigers posted victories in their first four starts -- Turning Stone, Golfweek Conference Challenge, Champs Patriot and Bank of Tennessee-- before closing out with a seventh at Royal Oaks. The credit for that success goes to senior Jace Long. He won those first three tournaments, placed eighth at the Bank of Tennessee and sixth at Royal Oaks to earn a No. 13 ranking.

Vanderbilt (No. 21)

The Commodores enjoyed one of their best fall campaigns in a long time, posting wins at the Mason Rudolph and Arkansas State while adding a T-2 at the Nicklaus and T-8 at Isleworth and rolling up a 40-8-2 record. Sophomore Hunter Stewart notched a trio of top-10 finishes, including a second at the Rudolph, while sophomore Jordan Janico had four top-30 showings.

Auburn (No. 23)

Tigers opened with a 14th at Carpet Capital, but came right back and won the McLaughlin. After a T-6 at Olympia Fields, they placed third at the Pate before closing with a T-9 at the U.S. Collegiate. Sophomore Michael Johnson finished the fall with seconds at the Pate and USCC while senior Michael Herbert notched three top-25s.

Texas AM (No. 26)

The Aggies are a much better team than what they showed as they entered their first year in the SEC. Yes, it was a tough fall. After a second place at the Husky, Texas A&M struggled with a 13th at the Preview and 14th at the U.S. Collegiate before closing out with a sixth at Royal Oaks. Sophomore Tyler Dunlap led the team with four top-30 showings.

Tennessee (No. 32)

The Vols were pretty much steady in the fall, finishing eighth at Carpet Capital, T-5 at Windon, second at Bank of Tennessee and fourth at Gifford. Senior Rick Lamb came on strong at the end with a T4 at Bank of Tennessee and a victory at Gifford. Sophomore Thomas Dunne has a pair of top-15s as does senior Jay Vandeventer, while freshman Mike Nagy notched two top-20s.

Kentucky (No. 34)

The Wildcats didn't have an individual in the top 100 in the fall Sagarin Rankings, but what they do have is a consistent lineup that produced a 37-9-1 record and top five finishes in each of their starts. At No. 126, sophomore Will Bishop leads the team and notched three top-20s, including a win at Cabo.

South Carolina (No. 39)

While the Gamecocks posted a solid 48-18-3 overall fall record, they were just 1-12-2 against top-50 teams. Still, they showed a lot of promise and closed out the fall with a victory at the Kiawah Classic. Senior Dykes Harbin finished the fall ranked 43rd after four top-20 performances, including a victory at the Auto Trader.

Mississippi State (No. 41)

The Bulldogs closed out the fall with a victory at the Bridgestone, their first win since capturing the Mobile Bay event in March of 2009. They had three other top-5 showings as well as a seventh at the Pate. An experienced lineup, the team is led by juniors Chad Ramey, Joe Sakulpolphaisan and Axel Boasson and senior Robi Calvesbert. Ramey had the best fall with four top-10s.

Ole Miss (No. 45)

The Rebels opened the season with a victory at the Sam Hall and finished the fall with another win at Cabo. In between they placed third at Mason Rudolph, sixth at David Toms and T-4 at Bridgestone. Junior Blake Morris was 5-for-5 in top-20 finishes, including four in the top five and is ranked 44th.

Conference championship

April 19-21, Sea Island Golf Club (Seaside), St. Simons Island, Ga.

Lance Ringler's prediction

Alabama. Oh my, eight teams in the top 23, how do you pick a best team or one team that can win a single golf tournament in this league? The reason for going with Jay Seawell's bunch is simply the experience of being at or near the very top for some time and playing for a national championship a year ago.
Golfweek.com readers: We value your input and welcome your comments, but please be respectful in this forum.
---
---
---
---
---
---
---
---
---
---
---
---
---
---
---
---
---
---
---
---
---