College Women
Midweek Report: Big week for Stackhouse, Stanford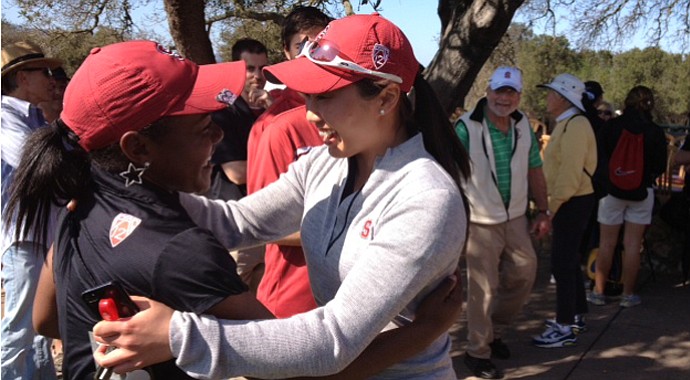 Thursday, February 21, 2013
Welcome to Golfweek's Midweek Report. We wanted to use this hump day to update you on all the latest college news and give you a quick glance at what to look ahead to this weekend.
• • •
THE BIG 5
Stories you need to know now...
TEAMS
1. Stanford: The Cardinal won their first tournament of the season and also the first under new head coach Anne Walker at the Peg Barnard Invitational. Mariah Stackhouse's NCAA-record 61 got most of the headlines, but fellow freshman Lauren Kim also was in the top 5 while Mariko Tumangan and Sally Watson were among the top 20. A solid team performance.
2. SMU: The Mustangs earned their third victory of the season at the Central District Invitational. To do it, SMU had to make up seven shots in the final round. This team, currently ranked No. 38 by Golfweek, could be headed for a spot in the top 25.
3. Denver: Speaking of making up ground, Denver tied Iowa State for the best final-round score at the Central District, a 4-over 292, to move into fourth. The Pioneers haven't skipped a beat since longtime head coach Sammie Chergo resigned at the beginning of the month. This was Lindsay Hulwick's first tournament as head coach after seven seasons as Chergo's assistant.
4. Georgia: First-year head coach Josh Brewer also got his first victory this week at the Seminole Match Up. The Bulldogs got a trifecta of sorts after winning the team title, claiming individual co-medalist Rocio Sanchez Lobato and combining with Oklahoma to win the match-up portion of the championship.
5. Texas State: The Bobcats achieved two impressive stats with their win at home on Feb. 19. It was Texas State's fifth consecutive Jim West Challenge title (the team beat runner-up East Tennessee State by 19 shots), and individual champion Iman Nordin became the fourth Texas State player to claim medalist honors in the past two years. Texas State continues to prove that its a team on the rise.
INDIVIDUALS
1. Mariah Stackhouse, Stanford: In case you've been living under a rock for the past four days, the freshman shot a final-round 10-under 61 at Stanford Golf Course to win the Peg Barnard Invitational and set a new NCAA women's scoring record. The kicker? There were two bogeys in that 61.
2. Natalie Wille, Augusta State: The senior won individual medalist honors at the Central District Invitational after finishing 54 holes at 1-under 215 and winning a scorecard playoff with Michigan State's Caroline Powers.
3. Jenny Haglund, SMU: The freshman chipped in for birdie on No. 18 during the final round of the Central District as opponents Powers and Lauren Stratton (Vanderbilt) bogeyed. It was just what the Mustangs needed – they beat Vanderbilt by two shots.
4. Kayla Sciupider, Rollins College: She was the low Division II player at the Division I-dominant Peg Barnard Invitational. Sciupider finished 36 holes at 5-over 147, good enough for T-12. The only bad news is that her first-round 69 had her in a share of second place.
5. Central District Invitational medalists: It's worth noting that the previous two individual champions at the Central District Invitational (Austin Ernst in 2011, Chirapat Jao-Javanil in 2012) went on to the win the NCAA Championship that spring.
• • •
BEST OF THE BEST
How the top 5 teams in the Golfweek/Sagarin College Rankings fared
1. USC: DNP
2. Alabama: DNP
3. Duke: DNP
4. Oklahoma: Second, Seminole Match Up
5. Florida: DNP
How the top 5 individuals in the Golfweek/Sagarin College Rankings fared
1. Kimberly Kaufman, Texas Tech: DNP
2. Kelsey Vines, Oklahoma State: DNP
3. Erynne Lee, UCLA: DNP
4. Mariah Stackhouse, Stanford: First, Peg Barnard Intercollegiate
5. Kyung Kim, USC: DNP
• • •
TOURNAMENT RESULTS
Tournament (team champion; individual winner)
• Peg Barnard Intercollegiate (Stanford; Mariah Stackhouse, Stanford)
• Seminole Match Up (Georgia; Rocio Sanchez Lobato, Georgia)
• Central District Invitational (SMU; Natalie Wille, Augusta State)
• • •
THIS WEEK'S SCHEDULE
The All-State Sugar Bowl
Feb. 24-26, English Turn G&CC, New Orleans
The field: Alabama, Auburn, Baylor, Colorado, Duke, Florida, LSU, Ohio State, Oklahoma State, Oregon, Purdue, Texas, Texas A&M, Tulane, Tulsa, UCLA, USC, Texas-San Antonio
The skinny: The field is loaded. New Orleans is the place to be this week.
Anteater Invitational
Feb. 25-26, Santa Ana (Calif.) CC
The field: BYU, Gonzaga, Idaho, Long Beach State, Montana, North Dakota State, Northern Colorado, Portland State, Sacramento State, Santa Clara, UC Irvine, UC Riverside
The skinny: A good mix of West Coast schools with a few northern programs. The coolest thing about this tournament is the top individual gets a sponsor exemption into the LPGA's Kia Classic.
Golfweek.com readers: We value your input and welcome your comments, but please be respectful in this forum.
---
---
---
---
---
---
---
---
---
---
---
---
---
---
---
---
---
---
---
---
---