Augusta State's first win since 2011 proves to be important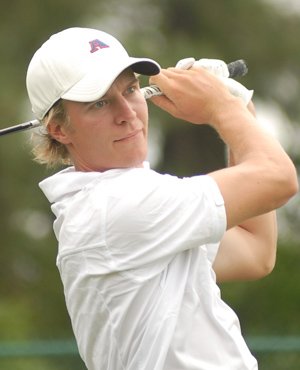 Augusta State won its first title since the 2011 NCAA Championship at Saturday's Forest Hills Collegiate. This win, while not as historic as that second consecutive national title, was important. The Jaguars are in need of victories to return to the postseason.
Augusta State shot 6-under 570 Saturday at Forest Hills Golf Course in Augusta, Ga., to finish 16 shots ahead of Northern Illinois. The Jaguars started the final round with a one-shot lead, but shot a tournament-low 278 in the second, and final, round of the one-day, 36-hole event. USC Upstate's Brad Sill won the individual title with an 8-under 136 (66-70), one shot better than Augusta State's Alex Wennstam (71-66).
Augusta State needed the head-to-head victories to improve its record as the postseason nears. Teams ranked in the top 70 of the Golfweek/Sagarin College Rankings generally receive at-large postseason bids. They must have a .500 or better record to earn such a bid, though.
The Jaguars are No. 62 in the Golfweek/Sagarin College Rankings, but with a 31-54-2 record after playing the nation's 32nd-toughest schedule, according to the Sagarin rankings. Augusta State must rely on at-large bids because the Jaguars are not a member of a conference.
"It's nice to get a victory under our belt," Augusta State head coach Kevin McPherson said. "It really doesn't matter the strength of competition, it's more about getting the experience and the feeling of being in contention to win and finishing the race. I think the win gives us a 'fresh start' feeling and confidence to continue our success throughout the remainder of the spring."
Wennstam, a junior the team's highest-ranked player at No. 294 in the Golfweek/Sagarin College Rankings, rebounded from a tough finish at the Puerto Rico Classic (T-47) to lead the team at Forest Hills. Redshirt freshman Maverick Antcliff of Australia collected his second consecutive top-20 to open his collegiate career. He finished 16th at Puerto Rico before finishing fourth at Forest Hills with scores of 74-69. Antcliff had to sit out a full academic year because of the difference between NCAA core requirements and Australian curriculum.
Augusta State created the Forest Hills Collegiate because it had an extra playing day available after replacing two two-day events on its traditional schedule with the three-day Puerto Rico Classic. The Jaguars have three more events to reach .500: the Cleveland Golf/Palmetto Intercollegiate, Hootie at Bulls Bay and their own Insperity Augusta State Invitational. The Jaguars' season ends there as other teams play their conference championships.
"The guys know where they currently stand and know what they have to do from here," McPherson said. "It's no secret. Now we just have to look forward and perform the way we know how. The rest of the regular season sets up to be favorable to us, with all local tournaments on courses we're familiar with."
Augusta State has been in this position before. The Jaguars were under .500 entering the last tournament of last season, its Insperity Augusta State Invitational. The Jaguars tied No. 1 Texas, the eventual national champion, for first before losing in a playoff.
"I would be pleased if we can get ourselves in the same position leading into the Insperity Augusta State Invitational (this year)," McPherson said, "and feel confident that the guys will again be in contention for the win."
Latest Related Headlines