College Men
Men's spring preview: America Sky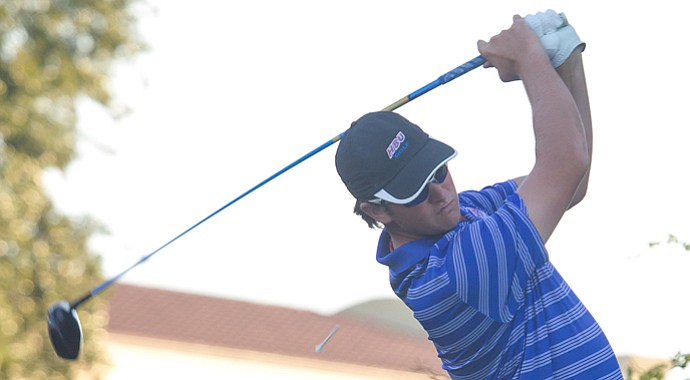 Friday, January 4, 2013
Editor's note: Over the next month, Golfweek.com will be previewing every conference that has an automatic bid into the NCAA Regionals. For all of the men's conference capsules, click here.
• • •
In its first three years of men's golf, the America Sky Conference has seen three different conference champions.
And if the fall was any indication, that trend could continue this spring.
Houston Baptist established itself as the favorite this spring with a strong fall that ended with the Huskies at No. 115 in the Golfweek/Sagarin men's team rankings.
The Huskies bookended their fall campaign with wins at the Moe O'Brien Intercollegiate and HBU Husky Invitational. They also boasted individual medalist honors at those tournaments as Jeffrey Merrell captured a share of the individual title at the Moe O'Brien Intercollegiate and Andy Ariens won the Husky Invitational.
Houston Baptist head coach David Shuster set some goals for his team entering the fall season and despite their youth – four sophomores and a freshman played 11-plus rounds during the fall ­– the players accomplished those ambitions.
Break 290 in a round? The Huskies achieved the feat six times.
Win a tournament? That was done twice.
Eclipse the 100 mark in the rankings? Houston Baptist got as high as No. 96 in the Golfweek/Sagarin rankings.
"Now our goal is to get back into the top 100 and sustain that," Shuster said.
And with a deep lineup that includes six golfers with a stroke average of 74.71 or better last fall, Houston Baptist has the tools to make some noise this spring.
"It's kind of nice to have that depth," Shuster said. "That's something we didn't have in the beginning of the program. Right now the meat of our team is four sophomores and a freshman. With the youth that has come in, they're driven."
The Huskies won the Great West Conference Championship in 2009 before the America Sky adopted that conference's members in January 2010. Since the conference realignment, Houston Baptist hasn't won a conference title and has finished T-3, 10th and second in three America Sky Conference championships.
The runner-up finish came last year at Lake of Isles in North Stonington, Conn., where the Huskies finished 42 shots behind champion Sacramento State.
Now, Houston Baptist is looking for its first America Sky Conference title and regional berth since the program was reborn in 2008. The Huskies are a year older and will be more tested heading into the America Sky Conference Championship April 29-May 1 in San Antonio.
Their fall schedule included the Mark Simpson Colorado Invitational, Jim Rivers Invitational and Lone Star Invitational. While the results weren't great – Houston Baptist finished no better than T-7 in those three events and finished behind conference foes Sacramento State and Utah Valley at the Lone Star – it was a learning experience for Shuster's young group, which will make trips to the Oak Hills Invitational and Redstone Collegiate this spring.
"I tell the guys a top-5 finish or a top-half-of-the-field finish at one of these events is better than going out and winning an easy one," Shuster said. "Some of the courses that we play, they dangle that bone in front of you and if you take that chance, it can cost you.
"If we play our type of game and play it smartly, we'll give ourselves a shot."
And for Houston Baptist, which will move to the Southland Conference next season, its shot is as good as any – if not better – when the teams converge on The Dominion in San Antonio this spring.
• • •
Where it stands now
Top of the class: Houston Baptist
Best player this fall: Mason Casper, Utah Valley State
• • •
Past champions
2012: Sacramento State
2011: Weber State
2010: Texas-Pan American
• • •
Conference capsules
Houston Baptist (Golfweek/Sagarin Ranking: No. 115)

Huskies have never won an America Sky Conference Championship in three tries. The fourth try could produce different results, though, as Houston Baptist won twice in the fall and boasts a young-but-deep lineup that includes Preston Stanley, Jeffrey Merrell and Andy Ariens.

Hartford (No. 135)

Hawks had impressive fall with three wins (Hartford Hawks Invitational, Connecticut Cup and Big Five Invitational), a T-2 at the MacDonald Cup and a T-6 at the Adams Cup of Newport.

Northern Colorado (No. 139)

Although the fall didn't include a finish better than seventh, Bears played a tough schedule that included Gene Miranda Invitational, Mark Simpson Colorado Invitational and Herb Wimberly Intercollegiate.

Sacramento State (Golfweek/Sagarin Ranking: No. 166)

The defending America Sky champions had top 10s in four of five fall events, but failed to finish better than eighth in any of them. Ryan Williams has been a bright spot for the Hornets with three top 10s and a 72.8 stroke average. No other player on the team had better than a 75.67 stroke average during the fall.

Weber State (No. 185)

Wildcats played in six tournaments during the fall and have at least six more lined up for the spring. Weber State finished inside the top 6 three times last fall but also had two 14th-place showings.

Utah Valley State (No. 189)

Wolverines boast arguably the top player in the conference in Mason Casper, who won the BSU Dash Thomas Memorial and finished the fall with a team-best 72.42 stroke average. Utah Valley notched a pair of top-3 finishes and finished ahead of conference favorite Houston Baptist at the Lone Star Invitational.

Binghamton (No. 190)

Bearcats finished eighth or better in all six of their fall events, including winning the Cornell Fall Invitational for the fourth straight year.

Southern Utah (No. 193)

New America Sky members started slow but finished fall with a seventh-place finish at the Bill Cullum Invitational.

Texas-Pan American (No. 252)

The results got worse as the fall progressed, but at least the competition didn't. The Broncs closed the fall with an 11th-place finish at a tough ASU Fall Beach Classic, which was won by Vanderbilt.

Cal State Bakersfield (No. 267)

Roadrunners played in just three tournaments last fall, finishing eighth, ninth (second-to-last) and 20th (last).

North Dakoka (No. 240)

In three fall events, North Dakota failed to crack 300 as a team in seven of nine rounds..

Chicago State (No. 298)

Move to the Western Athletic Conference can't come soon enough. The Cougars, who are schedule to join the WAC in July, had a rough fall, where they saw a 144 individual round and a 455 team round get logged..

Conference championship

America Sky Championship, April 29-May 1, The Dominion, San Antonio, Texas.

Lance Ringler's prediction

Houston Baptist. Winning the America Sky Conference title earns that team a trip to the postseason. A lot could change this spring in this league, but Houston Baptist should continue to stay in front of the likes of Hartford, Northern Colorado and Sacramento State.
Golfweek.com readers: We value your input and welcome your comments, but please be respectful in this forum.
---
---
---
---
---
---
---
---
---
---
---
---
---
---
---
---
---
---
---
---
---