College Women
Women's spring preview: Big 12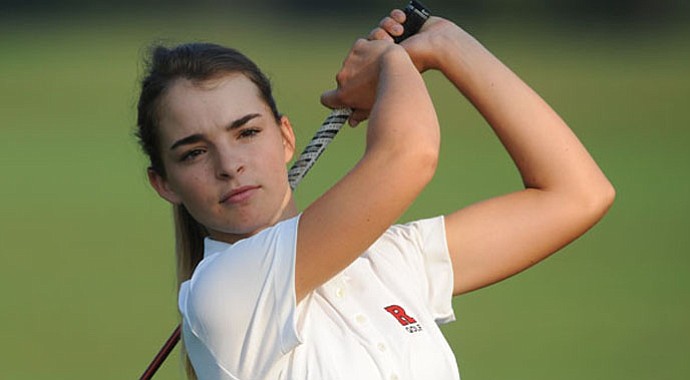 Friday, January 4, 2013
Editor's note: Over the next month, Golfweek.com will be previewing every conference that has an automatic bid into the NCAA Regionals. For all of the women's conference capsules, click here.
• • •
After the fall, it looked like TCU could use a bit of a spark. Head coach Angie Ravaioli-Larkin might have found it in the offseason.
The Horned Frogs will pick up transfer Kortnie Maxoutopoulis for the spring, a sophomore who re-evaluated her college career after three semesters at Rutgers. In that short amount of time, Maxoutopoulis, originally from Pleasanton, Calif., won twice and finished in the top-10 seven times.
Maxoutopoulis explains her decision as simple yet last-minute. When she visited TCU as a high school student, she hadn't really thought she would leave California for college. Still, something about the way Ravaioli-Larkin ran her program stuck, so Maxoutopoulis made a pit stop in Fort Worth, Texas, for another visit on her way home for Christmas this year.
"I loved her structure and her program," Maxoutopoulis said. She needed a change, and a warm-weather climate, so she decided to transfer.
After talking with Ravaioli-Larkin in December, Maxoutopoulis began thinking about her upcoming role for the Horned Frogs. After finishing no better than 10th in four fall tournaments, TCU needs a fresh start to salvage its first season in the Big 12. Maxoutopoulis sees her role as helping push the players already on the roster
"I'm really big into believing and leadership," she said. "...I want to play an influential role in the team and make sure we have that bond."
What's promising about Maxoutopoulis' outlook on the spring at TCU is that the pieces are already there. The Fall was simply a story of underperformance.
If Maxoutopoulis can provide a solid fourth score and a trio of returners rally around her, it's not out of the question to think TCU could win the Big 12 Championship in its first try. After all, this team won the Mountain West Championship the past two years, and significant talent remains.
The key will be in the three returners: junior Sanna Nuutinen, 2012 Mountain West individual champion; sophomore Alexandra Bonetti, 2010 British Girls Amateur champion; and sophomore April McCoy, 2012 Windy City Collegiate champion, must step up.
• • •
Where it stands now
Top of the class: Oklahoma
Best player in the fall: Kimberly Kaufman, Texas Tech
• • •
Past champions
2012: Oklahoma
2011: Texas
2010: Texas A&M
2009: Oklahoma State
2008: Oklahoma State
• • •
Conference capsules
Oklahoma (Golfweek/Sagarin Ranking: No. 2)

Could this be the best Sooner women's team in history? Broken scoring records and two fall victories say yes.

Oklahoma State (No. 11)

Made the most of a tough schedule, even as Hurricane Sandy played a role in fall season-ending victory at the Landfall Tradition.

Texas Tech (No. 20)

Kim Kaufman emerged as nation's No. 1; Beverly Mendoza, Gabby Dominguez also stepped up. One of the best surprise success stories of the fall.

Iowa State (No. 24)

This Midwest team has established itself as a contender in the past two years, and it's no surprise now to see the Cyclones among the top 50 in Golfweek's rankings.

Baylor (No. 28)

Fresh faces delivered for head coach Jay Goble in the fall, especially English sensation Lauren Taylor.

Texas (No. 34)

No take-charge player has emerged. An average fall season with a misstep at Stanford.

Kansas (No. 62)

It had been more than two decades since a Kansas team won back-to-back titles in a season, but it happened this fall. Two Thai players, Yupaporn Kawinpakorn and Thanuttra Boonraksasat.

TCU (No. 70)

Could get a boost from Rutgers transfer Kortnie Maxoutopoulis this spring. It would be a much-needed one. The Horned Frogs finished in the top 10 just once this fall.

Kansas State (No. 74)

Started the fall season much stronger than it ended it. Three top-4 finishes with back-to-back 11-place finishes to end the season. Spring schedule is heavily West Coast.

Conference championship

April 19-21, The Harvester, Rhodes, Iowa

Lance Ringler's prediction

Oklahoma. Playing this event in Iowa will negate any home-course advantage for any of the Texas schools. Look for the Sooners to get better behind the play of Anne-Catherine Tanguay, Chirapat Jao-Javanil and Emily Collins – all three are in the top 30 heading into the spring.
Golfweek.com readers: We value your input and welcome your comments, but please be respectful in this forum.
---
---
---
---
---
---
---
---
---
---
---
---
---
---
---
---
---
---
---
---
---