College Men
Men's spring preview: Big East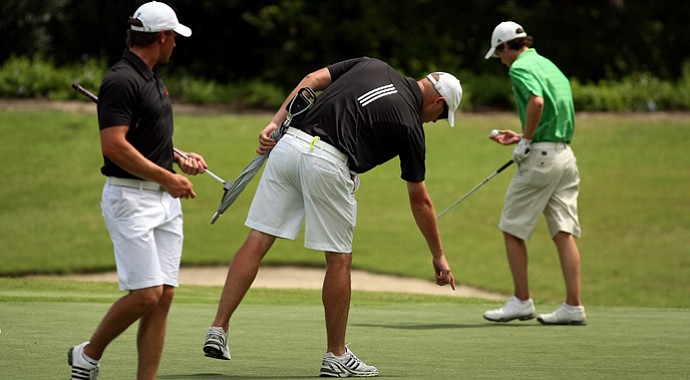 Wednesday, January 9, 2013
Since joining the Big East before the 2005-06 season, Louisville has finished no worse than third at the Big East Conference Championship. That run includes two titles (2007, '09) and four runner-up finishes, including last season.
Now, the next step is having similar success at the NCAA Regional level. The Cardinals have advanced to just two NCAA Championships in school history, finishing 10th in 2008 and 27th in 2007.
Louisville might have one of its deepest squads in head coach Mark Crabtree's 13 seasons as the Cardinals' coach. Six players finished the fall with a scoring average in the 73s. Two more posted scoring averages in the 74s.
"One thing I was pleased with during the fall was our consistency," Crabtree said. "We're trying to put together a team with good depth and we got some solid production from a bunch of different guys in the fall.
"We don't have that one guy that leads the show, but we have a solid group 1-5 that can produce."
With that said, the Cardinals have gotten a lot of contribution from underclassmen. Freshmen Maximilian Walz and Robin Sciot-Siegrist led the team with 73.0 scoring averages during the fall. Sophomores Antoine LeSaux and Henry Tomlinson, and freshman Gus Lundquist also logged three or more tournaments last fall.
"It's exciting because you have guys transitioning from high school and some coming from overseas," Crabtree said. "Their excitement level is high. Their enthusiasm level is high. It's a nice challenge.
"I've had teams in the past have success, but most of them have been experienced teams. We haven't had that recently, but we're really starting to turn the corner with these young guys."
The Cardinals, who won their host tournament, the Cardinal Intercollegiate, last fall, finished runner-up three times during the fall season. Their second-place finishes came behind the likes of Missouri, Auburn and Jacksonville State.
They've become familiar playing in the lead pack and that could come in handy playing against South Florida and two-time defending Big East champ Notre Dame at the Big East Conference Championship later this spring.
But finishing second might not cut it this spring. If things go like they have the past few years, only the conference champ will advance to an NCAA Regional.
That alone makes it conference title or bust for Crabtree and the Cardinals.
"No doubt about that," Crabtree said. "We've been close, but these young guys haven't gotten there yet. They're eager to get out there and win, and get Louisville back (to winning conference titles)."
• • •
Where it stands now
Top of the class: Louisville
Best player this fall: Trey Valentine, South Florida
• • •
Past champions
2012: Notre Dame
2011: Notre Dame
2010: Georgetown
2009: Louisville
2008: Marquette
• • •
Conference capsules
Louisville (Golfweek/Sagarin ranking: No. 65)

Cardinals were a perfect 7-0 against conference foes during the fall and notched three runner-up finishes and one first-place finish (Cardinal Intercollegiate).

South Florida (No. 76)

Arguably Louisville's toughest competition within the Big East, the Bulls experienced both good (fifth at Kiawah Invitational) and bad (14th at Brickyard Intercollegiate) last fall.

Notre Dame (No. 117)

Two-time defending conference champions closed the fall with a runner-up finish at the Georgetown Intercollegiate. But while Paul McNamara led the team with a 72.18 scoring average, he posted no top-5s for the Irish.

St. John's (No. 136)

Notched three top 5s last fall, including a T-2 showing at the MacDonald Cup, where the Red Storm finished three shots behind champion Yale and finished ahead of conference foe Notre Dame.

Villanova (No. 146)

Closed fall with win at the Lehigh Invitational and finished no worse than sixth in any of its five fall events.

Marquette (No.167)

Best individual scoring average of the fall belonged to Patrick Sanchez (75.53), but the Golden Eagles did have some success during the fall, winning the John Dallio Memorial and finishing fifth at the Kiawah Classic.

UConn (No. 180)

Zack Zaback's 75.21 scoring average led the Huskies, whose best finish was a T-3 showing at the Connecticut Cup.

Rutgers (No. 182)

After placing 11th at last year's Big East Championship, the Scarlet Knights finished inside the top 3 three times during the fall.

DePaul (No. 192)

Aside from runner-up finish at John Dallio Memorial, Blue Demons finished no better than eighth at other three fall events.

Temple (No. 205)

Brandon Matthews' 71.9 scoring average for 14 rounds this fall was nearly three shots better than the next best scoring average on the team.

Georgetown (No. 229)

Hoyas, who won the conference title in 2010, finished ninth twice, 11th and 12th once, and withdrew from a tournament during the fall.

Cincinnati (No. 254)

Closed fall with season-best ninth-place finish at Bearcat Invitational. No player saw more than 12 rounds of action last fall.

Seton Hall (No. 187)

Like Cincinnati, Pirates saved the best for last during the fall, finishing T-8 at the Barnabas Health Intercollegiate.

Providence (No. 277)

The former varsity program is a club team that still competes against Div. I opponents.

Conference championship

Big East Championship, April 28-30, Reunion Resort & Golf Club, Orlando, FL

Lance Ringler's prediction

Louisville. Hard to imagine this league may only get its winner into the postseason, but that's possible. Depth will be the key to winning this league, it will have to come from the bottom of the lineup. The Cardinals appear to be a little better in the depth department in this conference.
Golfweek.com readers: We value your input and welcome your comments, but please be respectful in this forum.
---
---
---
---
---
---
---
---
---
---
---
---
---
---
---
---
---
---
---
---
---