College Women
Women's spring preview: Big South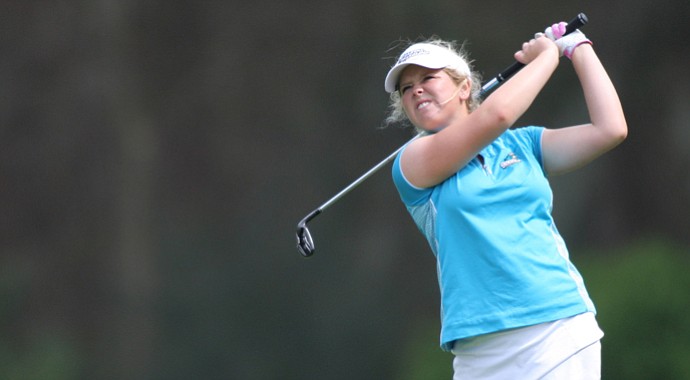 Wednesday, January 9, 2013
Editor's note: Over the next month, Golfweek.com will be previewing every conference that has an automatic bid into the NCAA Regionals. For all of the women's conference capsules, click here.
• • •
Coastal Carolina is looking to become the third team in Big South Conference Championship history to have three individual medalists in three consecutive years.
Winthrop was the first team do so when the Big South first started women's golf from 1989-1991 and UNC Greensboro did it from 1995-1997.
This will be Coastal Carolina's second chance to complete the trifecta, as players from the team won an individual title in 2005 and 2006.
In 2012, Coastal Carolina standout Brittany Henderson won the 2012 individual title in a record-breaking performance, finishing with a 2-under 214 – the lowest 54-hole score and lowest under-par total in championship history.
"To be honest, we (Henderson and I) really don't talk on the course that much," said Coastal Carolina head coach Katie Quinney. "I probably only saw her hit four shots that whole tournament, but she put together three solid rounds of golf together, and that's all that mattered."
In 2011, as a sophomore, Jessica Alexander won the title and helped the team make an appearance at the NCAA East Regional. She was named the 2011 Big South Golfer of the Year and now has 14 top-10 finishes for Coastal Carolina.
Over the past year or so, Henderson has really learned how to enjoy golf, and not take it too seriously.
"She is just enjoying golf, and it has started to pay off for her," Quinney said. "As a team we've been working a lot on priorities. And for Brittany, she can't think about studying when she's golfing, and golf while she's studying. She has to do one thing at a time."
It has paid off, Henderson has 11 top-10 finishes as a Chant, including making three NCAA Regional starts in three years on the team.
"Brit is going to be one of those players that is going to be really hard to replace," said Quinney. "She's a silent leader. She practices non-stop and has straight A's. She doesn't flaunt it (her talent), and leads through example."
They have another tough schedule this spring, starting at the UCF Invitational on Feb. 10. Quinney thinks that they play such a good schedule that, hopefully, their hard work will pay off at championships when they come face-to-face with Big South powerhouse Campbell University.
"We have the depth and talent to win it this year, both the team and individual titles, I just hope we have the confidence to do it," said Quinney.
• • •
Where it stands now
Top of the class: Campbell
Best player of the fall: Jessica Alexander, Coastal Carolina
• • •
Past champions
2008: Charleston Southern
2009: Coastal Carolina
2010: Charleston Southern
2011: Coastal Carolina
2012: Campbell
• • •
Conference capsules
Campbell (Golfweek/Sagarin Ranking: No. 26)

The team won three tournaments this fall, including the Golfweek Program Challenge and the Fighting Palmetto Intercollegiate. Talk about an outstanding fall. They have a very deep, young team that is looking to capture its second consecutive Big South title.

Coastal Carolina (No. 52)

Lead by seniors Jessica Alexander, No. 104 in the Golfweek/Sagarin Rankings and Brittany Henderson, No. 115, Coastal Carolina is looking to build off their streaky fall season, according to coach Quinney. As a team, they finished third at the Palmetto Intercollegiate and fifth, twice, at the Dale McNamera and Lady Pirate Intercollegiate.

Longwood University (No. 91)

The Lancers finished in the middle of the pack in their first four tournaments, including a third-place finish at the Fighting Camel Classic. The team didn't finish as strong as they would have liked, ending the fall with a 12th-place finish at the Lady Paladin Invitational.

Gardner-Webb (No. 134)

Won the two-round Highlander Invitational and was runner-up at the Terrier Intercollegiate and the Winthrop Intercollegiate. Freshman Mary K. Donovan won the Terrier Intercollegiate and the GWU vs. HPU Dual.

Winthrop (No. 135)

In the first tournament of the year, Lady Eagle newcomer Meagan Wallace won the Highlander Classic, and the team finished second. The team finished third at their own Winthrop Invitational. Finished the fall season with a sixth-place finish at the Fighting Camel Classic.

Charleston Southern (No. 139)

Got off to a rocky start, but they finished second at the Eat A Peach Collegiate and third at their own Wendy's Classic.

Radford (No. 166)

Lead in its first tournament of the year (Bison Intercollegiate) until falling into fourth place. That was the team's best finish of the fall.

High Point (No. 177)

Best finish was at their own Highlander Invitational (fifth). Won the GSU vs HPU Dual meet. Sophomore Grier Bennett lead the team with three top-10 finishes.

Presbyterian College (No. 173)

Senior Micah Dowling became the first women's golfer in Presbyterian College history to shoot under par for a full tournament. It was her third top-10 career finish for the Blue Hose. The team's best finish was at the Winthrop Invitational, finishing seventh.

Conference championship

April 14-16, The Patriot Golf Club, Ninety Six, S.C.

Lance Ringler's prediction

Campbell. Campbell is a threat to advance through regionals and compete in the NCAA Championship this spring. Head coach John Crooks' squad is competitive from top to bottom with six Campbell players ranking inside the top 207 in the individual rankings.
Golfweek.com readers: We value your input and welcome your comments, but please be respectful in this forum.
---
---
---
---
---
---
---
---
---
---
---
---
---
---
---
---
---
---
---
---
---