College Women
Women's spring preview: Big West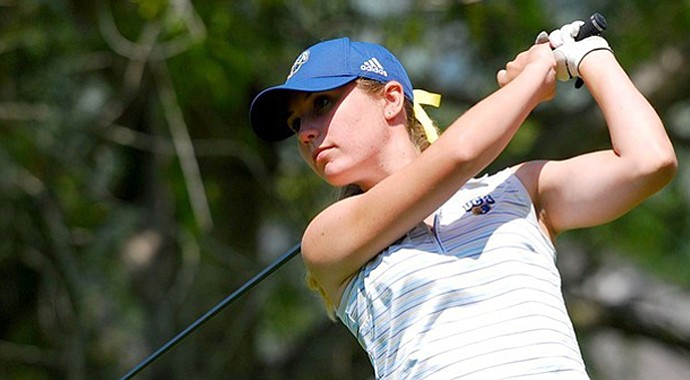 Friday, January 11, 2013
UC Riverside head coach Eric Riehle, in his first season as head coach, wanted to keep the fall schedule small and light for his women's golf team.
Why?
"I knew that we had to get a new team system in place and all of our girls comfortable with the new routine," said Riehle. "Moreover, I have found that my teams tend to progress and play better as the season goes along."
It was a pretty steady season for the Highlanders as they finished fourth in all three tournaments. They were good finishes considering the fields were so big -- 19, 11 and 17 -- respectively.
Each tournament wasn't a breeze, however.
At the Wyoming Cowgirl Desert Intercollegiate, the women were T-11 after Round 1, sixth after Round 2 and then fired a third-round 300 to finish in fourth. Senior Amelia Ek finished in fourth place individually, becoming a senior leader both on and off the course for the Highlanders.
"From the beginning of the fall, we focused as a team on improving individual and team weaknesses on a daily basis and assured that all of the time that we spend on the golf course and in the gym was productive. As a coaching staff we have also placed an increased importance on tournament and golf course preparation," said Riehle. "I believe that these, coupled with our seniors having tournament experience, have lead to our success so far this season."
The team is a mix of four seniors and three underclassmen. That means only three players will be returning next year.
"It may sound like a setback, yet I can honestly say that I am very confident in the progression of this program," said Riehle.
A different story occurred at the Santa Clara Colby Invitational. The Highlanders were in the lead after Round 1, but slipped back to, again, fourth place. Sophomore Savannah Vilaubi led UCR with a sixth-place finish as an individual.
Being in first place was a position that the team hadn't been in for several years, and it is now something they are prepared for if they were to ever lead of a tournament again.
"In golf we know that players are significantly shaped by experiences and as a group we were inexperienced in that situation," said Riehle. "It is however something that we have worked on, and I am confident that we would get the job done the next time we have a chance to win."
In the third and final tournament, they were second after Day 1 and then finished in fourth.
"Our goals weren't so much centered around results, but more about process, work ethic, having passion for the game and simply trying to get better each day," said Riehle.
As Riehle said, it a process and if his theory of stays true, they are in for a great season this spring.
• • •
Where it stands now
Top of the class: UC Davis
Best player of the fall: Demi Runas, UC Davis
• • •
Past champions
2012: UC Davis
2011: UC Davis
2010: UC Davis
2009: Long Beach State
2008: UC Irvine
• • •
Conference Capsules
UC Davis (Golfweek/Sagarin Ranking: No. 12)

Finished runner-up twice at the Golfweek Conference Challenge and at the Edean Ihlandfeldt Invitational. Senior Demi Runas, No. 19 in the Golfweek/Sagarin Rankings, won the Golfweek Conference Challenge and was runner-up at the Windy City Collegiate Classic to round out three top-10 finishes in the fall.

UC Irvine (No. 69)

UC Irvine finished in the top six of all three tournaments they played (WSU Cougar Cup, the Edean Ihlandfeldt Invitational and Rainbow Wahine Invitational). Two-time All-Big West honoree senior Michelle Park was runner-up at the Edean Ihlanfeldt Invitational and added another top 10 at the Rainbow Wahine Invitational.

Cal State Fullerton (No. 72)

Possibly had the best fall of any team from the Big West Conference. The Titans won the Rose City Collegiate, and placed no worse than fifth in the rest of their tournaments. Seri Lee had two runner-up finishes at the WSU Cougar Cup and the Fighting Carmel Fall Classic.

Long Beach St. (No. 80)

Finished in the middle of the pack at all out their tournaments in the fall. Their best finish was at their first tournament, the Ptarmigan Ram Fall Classic, where the team finished fifth. Senior Simone Hoey had her best finish since the spring of 2011 - fifth at the Colonel Bill Wollenberg Ram Classic.

UC Riverside (No. 160)

Solid fall after starting the season off with new coach Eric Riehle. Senior Amelia Ek and sophomore Savannah Vilaubi emerged as the leaders of the team. If the Highlanders can carry momentum over to the spring, they may finish higher than fourth in some tournaments.

Hawaii (No. 172)

Not the fall they were hoping to have as their best finish was a ninth place showing at the Wyoming Cowgirl Desert Invitational. Senior and Hawaii native Ka'ili Britos lead Hawaii by finishing as the No. 1 player in all four tournaments.

Cal Poly (No. 142)

Highlight of the fall season was winning their own Firestone Grill Cal Poly Invitational in wire-to-wire fashion. They were lead by freshman Drew Thomas, who missed the school record by one stroke with her 221. Thomas finished in third place that week.

Cal State Northridge (No. 118)

The Matadors finished fourth at the Firestone Grill Cal Poly Invitational, sixth at the SCU Colby Invitational and seventh at the Cal Pol Invitational. Lead by junior Clariss Guce who had three top-10 finishes.

Conference championship

April 21-23, San Luis Obispo Country Club, San Luis Obispo, Calif.

Lance Ringler's prediction

UC Davis. The Aggies are by far and away at the top of the class in this league with four players ranked inside the top 140. UC Davis, ranked No. 12 after the fall season, has made a nice transition under the direction of first-year head coach Anna Temple, who took over the program after Anne Walker left for Stanford.
Golfweek.com readers: We value your input and welcome your comments, but please be respectful in this forum.
---
---
---
---
---
---
---
---
---
---
---
---
---
---
---
---
---
---
---
---
---