College Women
Women's spring preview: Colonial Athletic Association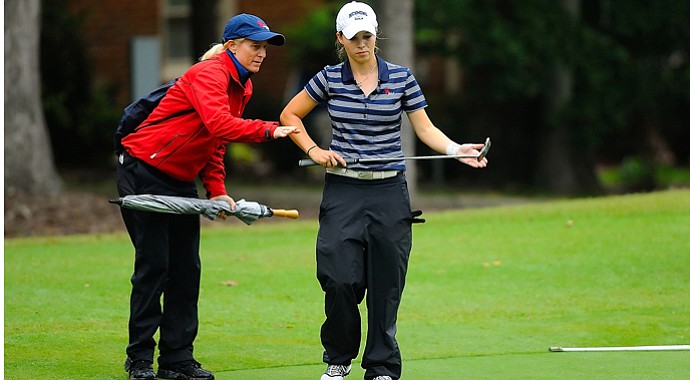 Monday, January 14, 2013
Maggie Will has had the reins of the Richmond women's program for less than a year, but already she knows she has found the place she belongs. That realization hit after a series of events that were both record-breaking and mind-blowing.
Richmond won its second team title in program history at the Wendy's Invitational on Oct. 16, and proved just how much potential it had in the process. It was the second start under Will's direction.
"It was just so much fun to see them achieve something that they hadn't achieved prior, and to see the disappointment that I saw in the beginning, in our first month, vanish," Will said. "They started laughing and having fun and really feeding off each other's success."
Senior Tracy Martin won the individual title, becoming just the second player in program history to win in a full-field event.
Richmond's program has been left empty-handed during two of the past four summers, but Will seems to be a good fit. Credit part of the success at Wendy's to a handy yardage book Will had leftover from her LPGA playing days. Rivertowne Country Club in Charleston, S.C., is a former tour stop.
Aside from the golf course memories, what Will remembers most about the Wendy's victory is negotiating control of the radio on the van-ride home. She had promised her players they could listen to country if they won. That only lasted until one team member figured out the presidential debates were being broadcast that night. That's when headphones came out immediately, and the entire van perked up to listen.
"I thought to myself, 'Only at Richmond,'" Will remembers. "I knew that I was at the place where I needed to be. I like the fact that my kids like to have fun, they like to do things, yet they keep it all in perspective."
The next item on Richmond's checklist is a postseason berth, which could likely only come courtesy of a conference championship victory. It would be another program first. The good news is Will, a former assistant coach at North Carolina-Wilmington, has a detailed yardage book from that venue, too. The conference championship will be played at St. James Plantation in Wilmington, N.C. Will was around for UNCW's conference title at that course a year ago, and now she could lead her own team to one. The layout, she says, fits the team dynamic. There are birdie holes, and also a lot of holes that require thinking and strategy.
"You just have to have your wits about you on that type of golf course."
• • •
Where it stands now
Top of the class: North Carolina-Wilmington
Best player in the fall: Lori Beth Adams, North Carolina-Wilmington
• • •
Past champions
2008: North Carolina-Wilmington
2009: Georgia State
2010: Georgia State
2011: North Carolina-Wilmington
2012: North Carolina-Wilmington
• • •
Conference capsules
UNC-Wilmington (Golfweek/Sagarin Ranking: No. 65)

The dominant team in this conference this season, and will get to play for a third consecutive conference title this spring in its own backyard. Finished tied for first at ECU Lady Pirate.

James Madison (No. 101)

Give this team credit for playing a tough fall schedule – the Mercedes-Benz was especially good experience. James Madison got its best finish, fifth of 16 teams, at the UNCG Starmount Forest Tournament.

Xavier (No. 103)

The fall was peppered with a runner-up and a third- and fourth-place finish before Xavier stumbled a little at the Palmetto Intercollegiate. Coach Tom Elfers gets solid scores week in, week out from a trio of players who all will return next year.

Richmond (No. 111)

First-year head coach Maggie Will led the Spiders to a victory at the Wendy's Invitational. Senior Tracy Martin won the tournament, becoming just the second golfer in program history to earn medalist honors in a full-field event.

William and Mary (No. 169)

Best finish of the season was at the Towson Invitational. But the most interesting line on this team's schedule reads "Spring Break in Ireland." These players will spend their holiday playing various courses near Killarney, which should test every part of their game.

Delaware (No. 185)

This team played a competitive schedule, but only finished in the top 10 twice in five starts. Delaware needs more than one player to average under 80 (only Andrea Slane did in the fall) to have more success. Four more players average lower than 82, however, so there is a lot of potential on this roster.

Dayton (No. 220)

Not much stands out about Dayton's fall – only finished in the top half of one tournament. The team will have the opportunity to change that in the spring with four starts before the conference championship.

Hofstra (No. 233)

Finished first of four teams at the Delaware State Invitational. Will have to shake off the rust quickly in the spring, with only three starts before the conference championship, and all packed into a month-long stretch.

Towson (No. 234)

Performed well in the middle of the season, but struggled in larger fields. The Kiawah Island Classic will be a good test for the Tigers in the spring.

Conference championship

April 19-21, St. James Plantation, Wilmington, N.C.

Lance Ringler's prediction

UNCW. UNCW is clearly the favorite team, and one that might have extra motivation to win the conference title if it continues to be a bubble team come mid-April. Winner gets an AQ spot into the postseason.
Golfweek.com readers: We value your input and welcome your comments, but please be respectful in this forum.
---
---
---
---
---
---
---
---
---
---
---
---
---
---
---
---
---
---
---
---
---