LPGA builds on Lewis' success with '13 schedule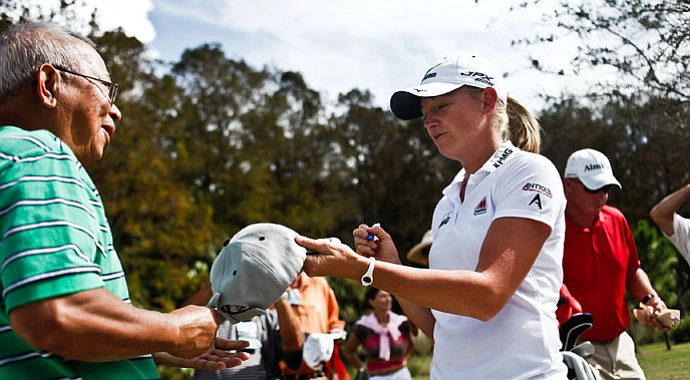 Friday, January 18, 2013
In the fall of 2011, Stacy Lewis was at her first outing for Marathon Petroleum when the company's CEO approached her on the range and asked, "Why should I sponsor an LPGA tournament?"
"I guess I gave them the right answer," Lewis said. Marathon takes over this year as title sponsor of the Toledo, Ohio, event that was known for decades as the Jamie Farr.
It's easy to look at three of the four new sponsors on the LPGA's 2013 schedule and draw a direct line to Lewis, last year's Rolex Player of the Year.
"If you didn't, it wouldn't be fair to her," LPGA commissioner Mike Whan said.
In addition to Marathon, Pure Silk – another company that sponsors Lewis – will title-sponsor a new event in the Bahamas. There will also be a new tournament held in Lewis' home state of Texas.
"This is really what everybody has been waiting for," LPGA player Paige Mackenzie said.
In short, an American star who can rally fans and sway corporate sponsors to back domestic events.
Overall, the 2013 schedule, released early Jan. 15, will feature 28 tournaments and $49 million in prize money. The tour will be televised for more than 300 hours this year, a record amount of on-air coverage for the LPGA.
Mackenzie praised Whan's ability to reinvigorate LPGA staff and change the culture of tour headquarters.
"As a player, there's nothing to be except happy," said Mackenzie, an LPGA board member.
In the wake of Shanshan Feng's historic victory at the Wegmans LPGA Championship last summer, the first tour title for a Chinese player, the LPGA has added the Reignwood Pine Valley LPGA Classic near Beijing on Oct. 3-6. The limited-field event of 81 players kicks off a five-tournament, six-week stretch in Asia.
Two new events – the North Texas LPGA Shootout at Las Colinas Country Club in Irving and the Pure Silk-Bahamas LPGA Classic at the Ocean Club at Atlantis on Paradise Island – will feature $1.3 million purses.
CME signed a contract extension through 2016 and announced a $700,000 first-place check at its season-ending Titleholders event in November. Whan joked that might be a good week for him to caddie.
Not lost in all the feel-good news coming out of LPGA headquarters in Daytona Beach, Fla., in recent days is that the Sybase Match Play tournament and the Prattville, Ala., stop couldn't be saved.
Sybase, acquired by SAP, and Navistar underwent leadership changes that left the LPGA out of the companies' marketing equations. Whan doesn't take the losses lightly.
"We could add five tournaments, and I usually focus on the one we lost," Whan said.
Still, as Mackenzie noted, the tour is moving in the right direction.
And in this economy, that's no small feat.
In 2011, the LPGA's super-slim schedule of 23 events left some observers wondering whether the tour would even survive. With Whan hoping to add one more West Coast event for '13 later in the year, his goal of 30-32 tournaments is within reach, perhaps as soon as 2014. An announcement about a new international team event for next year could come later this month.
The biggest problem area on the 2013 schedule is the long stretch of international events in the fall. After Sept. 1 and through Nov. 17, the LPGA plays seven consecutive events overseas. An additional West Coast tournament could help trim that stretch by at least one week.
In all, Whan greatly improved the flow of this year's schedule and largely eliminated two-week gaps. The toughest stretch for Lewis will be August and early September, when the Solheim Cup kickstarts what could be a five-week run that ends with The Evian, the tour's fifth major.
Lewis' elevated status means she'll be in demand each week on tour. She often has said that her main goal is to leave the tour better than she found it. Lewis thinks everyone on tour must be prepared to field the Marathon CEO's question: Why the LPGA?
So far, Lewis has all the right answers.
• • •
2013 LPGA Tour schedule
Date: tournament, purse
Feb. 14-17: ISPS Handa Women's Australian Open, $1.2 million
Feb. 21-24: Honda LPGA Thailand, $1.5 million
Feb. 28-Mar 3: HSBC Women's Champions, $1.4 million
March 14-17: RR Donnelley LPGA Founders Cup, $1.5 million
March 21-24: Kia Classic, $1.7 million
April 4-7: Kraft Nabisco Championship, $2 million
April 17-20: LOTTE Championship, $1.7 million
April 25-28: North Texas LPGA Shootout, $1.3 million
May 2-May 5: Kingsmill Championship, $1.3 million
May 16-19: Mobile Bay LPGA Classic, $1.2 million
May 23-26: Pure Silk-Bahamas LPGA Classic, $1.3 million
May 31-June 2: ShopRite LPGA Classic, $1.5 million
June 6-9: Wegmans LPGA Championship, $2.25 million
June 21-23: Walmart NW Arkansas Championship, $2 million
June 27-30: U.S. Women's Open, $3.25 million
July 11-14: Manulife Financial LPGA Classic, $1.3 million
July 18-21: Marathon Classic, $1.3 million
Aug. 1-Aug. 4: RICOH Women's British Open, $2.75 million
Aug. 15-18: The Solheim Cup, N/A
Aug. 22-25: CN Canadian Women's Open, $2 million
Aug. 29-Sept. 1: Portland Classic, $1.3 million
Sept. 12-15: The Evian, $3.25 million
Oct. 3-Oct. 6: Reignwood Pine Valley LPGA Classic, $1.8 million
Oct. 10-13: Sime Darby LPGA Malaysia, $1.9 million
Oct. 18-20: KEB Hana Bank Championship, $1.9 million
Oct. 24-27: Sunrise LPGA Taiwan Championship, $2 million
Nov. 8-10: Mizuno Classic, $1.2 million
Nov. 14-17: Lorena Ochoa Invitational, $1 million
Nov. 21-24: CME Group Titleholders, $2 million
Golfweek.com readers: We value your input and welcome your comments, but please be respectful in this forum.
---
---
---
---
---
---
---
---
---
---
---
---
---
---
---
---
---
---
---
---
---