College Men
Men's spring preview: Conference USA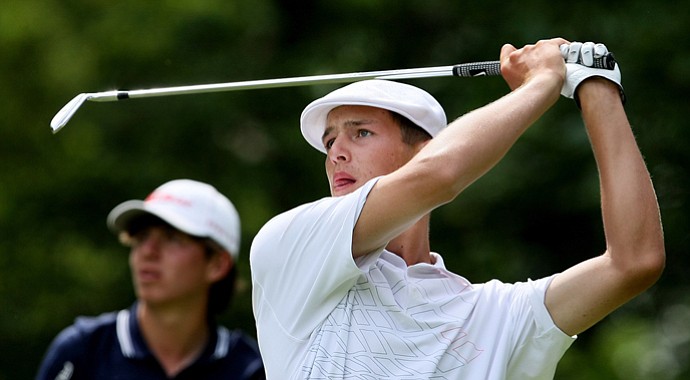 Thursday, January 17, 2013
Josh Gregory figured it would take a few years for SMU to become a national contender.
He may have overestimated.
Gregory, who arrived in Dallas before the 2011-12 season after leading Augusta State to two consecutive national championships, guided the Mustangs to their third straight NCAA regional appearance last season. SMU entered the final round of the NCAA regional in Greensboro, N.C., in second place, but the Mustangs struggled on the final day to drop to seventh, five shots away from advancing to the NCAA Championship.
"We're ahead of the curve," Gregory said. "It was a great achievement what we accomplished last year, but we weren't supposed to be in that position. We overachieved to get to that point."
Now, Gregory hopes his second year with the Mustangs yields even better results.
SMU notched three top 10s to start the fall: a runner-up finish at the Gopher Invitational, a ninth-place showing at Olympia Fields and a fourth-place finish at the Royal Oaks Intercollegiate. The Mustangs broke into the top 10 of the Golfweek/Sagarin College Rankings before a trip to San Martin, Calif., for the Gifford Collegiate, where a ninth-place finish at CordeValle proved his young team still has some work to do.
"We definitely exceeded expectations again this fall, but we still have a long way to go," Gregory said.
Gregory lost three seniors from last year's squad, but he also brought in one of the best recruiting classes in the country, and those freshmen already have made significant contributions.
Freshman Bryson Dechambeau arrived in Dallas coming off four consecutive match-play appearances in USGA events (2012 U.S. Amateur, 2012 U.S. Amateur Public Links, 2011 U.S. Amateur and 2010 U.S. Junior). He continued that success at SMU during the fall, competing in all four events and finishing second on the squad in scoring average, at 72.33.
"Bryson was the best player that no one knew about when we recruited him, and he was clearly our best player this fall," Gregory said. "We're now seeing freshmen who step right in and win like Jordan Spieth (formerly of Texas), Patrick Rodgers (Stanford) and Justin Thomas (Alabama). That's Bryson's next step, and he'll get plenty of chances to do that this spring."
But Dechambeau wasn't the only freshman to contribute last fall. Austin Smotherman qualified for the first two events of the season before a shoulder injury cost him the rest of his fall. He's now healthy. Maxime Blandin shot 63 in his first collegiate round and led the team with a 72.17 scoring average; Ryan Burgess played in all four fall events; and David Lee averaged 73.83 in two tournaments.
"This is the best group of freshmen that I've ever coached," Gregory said.
Plus, the Mustangs also boast a senior leader in Harry Higgs (74.42 stroke average in four events, best finish of T-12 at Gopher Invitational) and Mario Clemens, a senior transfer from UCLA (73.11 stroke average in three events). Add sophomore Sam Fidone to the mix and Gregory has eight guys who could see significant action this spring.
"In order to win a national title, you either need those one or two star players like I had at Augusta State with Patrick Reed and Henrik Norlander, or you need five solid players," Gregory said. "We don't have that one guy that really stands out right now, but there are no weak links."
SMU hasn't won a Conference USA title since 2006, and though the Mustangs have five regional appearances in the past six seasons, they failed to advance to the NCAA Championship each year.
But if Gregory has indeed overestimated on the time it would take for SMU to contend for a national title, the Mustangs could accomplish both a conference title and an NCAA Championship berth this spring.
"If we play great, mature and can compete this spring, I think we could end up sneaking into the top 8 (at the NCAA Championship) and make a run at somebody," Gregory said. "We may be young and inexperienced, but we have a talented group of guys."
• • •
Where it stands now
Top of the class: SMU
Best player this fall: Greg Eason, Central Florida
• • •
Past champions
2008: Alabama-Birmingham
2009: Central Florida
2010: Central Florida
2011: Central Florida
2012: Memphis
• • •
Conference capsules
SMU (Golfweek/Sagarin Ranking: No. 16)

With five freshmen seeing action in at least half of the Mustangs' four fall events, SMU is one of the youngest teams in the country. It is also one of the most talented, too, notching two top 5s, including a runner-up at the Gopher Invitational and a fourth-place finish at the Royal Oaks Intercollegiate.

Tulsa (No. 28)

Finished behind three conference foes at Shoal Creek Invitational (Houston, Alabama-Birmingham and Memphis), but Golden Hurricanes still have the talent to make some noise this spring. Tulsa closed fall with eighth-place finish at Royal Oaks, just 12 shots behind winner Oklahoma State.

Houston (No. 36)

Cougars failed to record a team score twice during the fall, but when they did field a full lineup, they had success, finishing third at the Kiawah Invitational, second at Shoal Creek, T-2 at the Fighting Irish Gridiron Classic and first at the Lone Star Intercollegiate.

Central Florida (No. 49)

Led by junior Greg Eason, ranked No. 21 in the Golfweek/Sagarin rankings, the Knights, who saw a streak of three straight conference titles end last season, won two tournaments in the fall (Adams Cup and Stetson Invitational).

Memphis (No. 69)

Although the results haven't been ideal, Tigers were tested with fall appearances at Gopher Invitational (T-10) and Wolfpack Intercollegiate (eighth). That trend will continue this spring with both the Gator Invitational and Tiger Invitational on the schedule.

East Carolina (No. 70)

Runner-up finishes at Rees Jones Invitational and Wolfpack Intercollegiate highlighted fall. Even-par showing at Wolfpack was especially impressive.

UAB (No. 78)

Blazers finished in top-half of the field at Kiawah Invitational (sixth), Shoal Creek (fourth) and Jerry Pate (sixth). Junior Sam Love led the way with a 75.3 scoring average during the fall.

Texas-El Paso (No. 108)

Miners' third-place finish at Herb Wimberly Intercollegiate was the highlight of the fall. The other results weren't as good, though, as UTEP finished no better than fifth at any of its other three fall events, including its host tournament, the Price's Give 'Em Five Invitational.

Southern Miss (No. 118)

Kevin Brady led the Eagles with a 72.75 scoring average, but collectively, Southern Miss had just one finish better than seventh during the fall: a runner-up finish at the Jim Rivers Intercollegiate where Southern Miss finished four shots behind champion Central Arkansas.

Old Dominion (No. 143)

Don't expect a conference title in ODU's first season in Conference USA. The Monarchs did finish third twice during the fall, but a 16th-place finish at the AutoTrader.com Classic and a ninth-place showing at the VCU Shootout were also a part of the team's fall results.

Rice (No. 158)

Owls played six events during the fall, including the Mason Rudolph (13th), Lone Star (T-9) and ASU Fall Beach Classic (eighth).

Marshall (No. 175)

Nathan Kerns notched a scoring average of 70.6 in five fall events, tops on the team by nearly four shots, and finished T-8 of better four times, as well, including two showings of T-2 or better.

Conference championship

April 21-23, Texarkana (Ark.) CC

Lance Ringler's prediction

SMU. If you're looking for a reason not to pick SMU, it is very difficult to find one. Star power may be the one thing missing, but the Mustangs have depth with four players ranked inside the top 200 and two-time national champion coach Josh Gregory.
Golfweek.com readers: We value your input and welcome your comments, but please be respectful in this forum.
---
---
---
---
---
---
---
---
---
---
---
---
---
---
---
---
---
---
---
---
---