College Women
Women's spring preview: Ivy League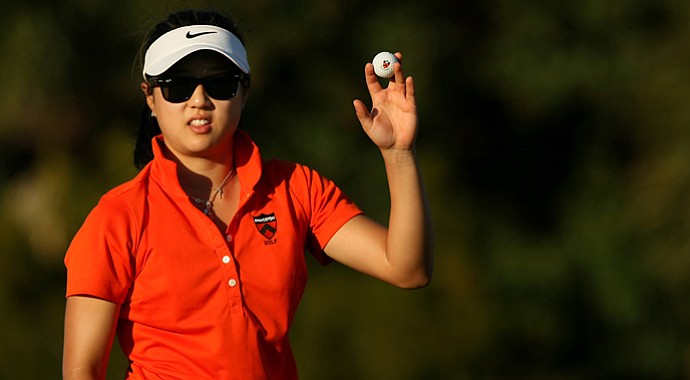 Friday, January 18, 2013
Princeton was just one of the universities on a long list for Kelly Shon to attend.
"It was a really late decision for me, but on my last official visit, they made it (my decision) so much easier," said Shon. "I really connected with the team, and enjoyed meeting everyone, including professors and administration."
Sure, it was a late decision, but the right one, too.
When Shon arrived on campus as a freshman in 2010, Princeton had just gone through a coaching change. Luckily, Shon was familiar with new coach Nicki Cutler already, having been recruited by the former Vanderbilt assistant.
"It just worked out," said Cutler.
In her first two-plus as a Tiger, Shon has won three times. She is a two-time All-Ivy League team selection and twice qualified for the NCAA East Regional. As well as shining for Princeton, she has also fared well in amateur events during the collegiate off-season. She has played in both the U.S. Women's Amateur and the U.S. Women's Amateur Public Links. And her most recent accomplishment, she won the 2013 Southern Atlantic Amateur to collect her first big amateur win.
"She has impacted Princeton in a big way," said Cutler.
In her third individual win this fall at the Lehigh Invitational, it came at a time where the team collected its first tournament win since 2011.
"It was a pretty big weekend for Princeton," said Shon. "Princeton had just beaten Harvard in football, which was huge. And then I birdied the 18th hole to win, and to clinch the team title. It was a really cool weekend."
Although she says her game has not been as consistent as it should be, her course-management skills are what are getting her around courses and allowing her to compete.
Even when she plays in individual tournaments, she still considers herself as an 'ambassador for Princeton golf, and just not for golf, but just as a person, too.'
In the end of it all, the sociology major doesn't exactly know what she wants to do in the future: to turn pro or go into the working world.
"I know I have to make a life decision soon, and I know I'm blessed to have these decisions, because I want to do it all," said Shon.
For now, her focus is on school and golf.
"It's about picking up where we (the team) left off this fall and hopefully winning an Ivy championship this spring," added Shon.
• • •
Where it stands now
Top of the class: Harvard
Best player of the fall: Kelly Shon, Princeton
• • •
Past champions
2012: Harvard
2011: Yale
2010: Penn

2009: Harvard
2008: Harvard
• • •
Conference capsules
Harvard (Golfweek/Sagarin Ranking: No. 45)

The two-time defending Ivy League champions finished the fall on a low note after playing only three tournaments. Sophomore Tiffany Lim finished the fall with the lowest scoring average on the team (74.22).

Princeton (No. 87)

The Tigers finished in the middle of the pack in their first two tournaments before winning the Lehigh Invitational. They overcame a two-shot deficit in the final round to capture their first win since April 2011. Junior Kelly Shon tied for medalist honors and won her third collegiate event of her career at the Lehigh Invitational.

Yale (No. 99)

Got off to a hot start with a win at the Dartmouth Invitational. Sophomore Shreya Ghei of New Delhi, India, led the way for the Bulldogs by winning the individual title. They finished in the top 5 in the Yale Intercollegiate and the Lehigh Invitational.

Columbia (No. 147)

Two top-five finishes for the Lions this fall. They placed fourth at the Murray State Drake Creek Invitational and finished in fifth at the Bucknell Invitational. During the Murray State Invitational, the team also sent players to the St. John's Women's Intercollegiate to play as individuals. Freshman Monique Ishikawa finished second in her first ever collegiate tournament.

Penn (No. 170)

The Quakers fine tuned their golf game toward the end of the fall rather than the beginning. After an 11th-place finish at the Yale Fall Intercollegiate, the team placed fourth at the ECAC Championship, while junior Olivia Chang tied for medalist honors. They won the Sacred Heart Fall Classic at Great River GC.

Brown (No. 173)

A good start, so-so middle and a good ending to the fall season for the Brown Bears. The team placed third at the Dartmouth Invitational and second at the Sacred Heart Fall Classic. Sophomore Stephanie Hsieh paced the Bears at both tournaments with a third- and sixth-place finishes, respectively.

Dartmouth (No. 201)

The Dartmouth Big Green's highlight of the season was placing fourth at its own Invitational and the Rutgers Invitational. Jane Lee picked up a fifth-place finish at their home tournament. Junior Sarah Knapp earned a share of individual title at the ECAC Championship.

Conference championship

April 26-28, Trump National Bedminster, Bedminster, N.J.

Lance Ringler's prediction

Harvard. Expect to see the big three – Harvard, Princeton and Yale – grow closer in competition this spring, but also expect Harvard to win the Ivy. Harvard is simply better 1-5 than Princeton or Yale.
Golfweek.com readers: We value your input and welcome your comments, but please be respectful in this forum.
---
---
---
---
---
---
---
---
---
---
---
---
---
---
---
---
---
---
---
---
---