College Men
Men's spring preview: Missouri Valley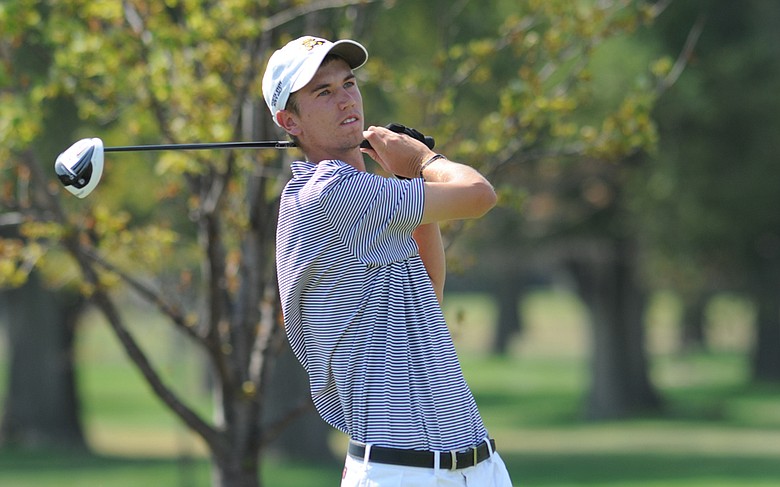 Monday, January 28, 2013
Wichita State won the Missouri Valley Conference championship in 2008, '09, '10, '11 and '12.
Yawn.
After the Shockers won the past five league championships, another Wichita State title this spring would not be all that, well, shocking. No disrespect to teams such as Illinois State or Northern Iowa, but the Shockers own the Missouri Valley Conference.
In fact, the closest any other team has come to taking the title from Wichita State during this five-year winning streak was in 2010, when Southern Illinois finished 11 strokes back.
The individual medalist that year was Wichita State's Dustin Garza, who might just be the reason the Shockers have become a perennial powerhouse in their conference.
"Anytime you get a kid that makes first team All-American, he's going to help your program," said Wichita State head coach Grier Jones. "Dustin played so good at times it was scary. He shot 61 one year in San Diego."
Garza's college success has not quite continued in the professional ranks, but the legacy he left in Wichita is apparent. The Shockers want to punch their tickets to the NCAA Championship this year.
Part of the intensity of this program comes from Jones, in his 17th year in Wichita, Kan. Even with three team victories in the fall season, he thinks his seniors could put in more effort.
"All three of them have been here for four years; they've heard it," Jones said. "You know, the more you say it, the less it means anything, but they know what the deal is. Now whether they show up this spring ready to go and they're out there when it's 45 or 50 degrees, we'll see."
Jones knows that getting back to the NCAA Championship, something this team hasn't accomplished since back-to-back appearances in 2003 and '04, takes more than just skill. He wants hard work to accompany the talent of his senior leaders.
This trio, comprised of Rafael Becker, Tyler Gann and Hunter Sparks, has combined for six individual titles in the past 3 1/2 years at Wichita State. This kind of firepower is tough to beat, as seen in the past few Missouri Valley Conference championships, but Jones knows his players can't get complacent.
"You better respect all your opponents, and we respect everybody we play against," Jones said. "If you think you're better than you are, you'll get your butts kicked. You just better take care of business."
As long as the Shockers follow Jones' game plan, they can do exactly that this postseason.
• • •
Where it stands now
Top of the class: Wichita State
Best player in the fall: Louis Cohen Boyer, Wichita State
• • •
Past champions
2008: Wichita State
2009: Wichita State
2010: Wichita State
2011: Wichita State
2012: Wichita State
• • •
Conference capsules
Wichita State (Golfweek/Sagarin Ranking: No. 48)

The Shockers can nearly start honing their game plan for Regionals already. With three wins and a second in the fall, the MVC Championship is essentially a formality.

Illinois State (No. 165)

An inconsistent fall included a second, a third, a sixth and three 14th-place finishes. Junior Wils Hawn (No. 493) needs some help from his teammates, the next-highest ranked player is Matt Solis (No. 923).

Southwest Missouri State (No. 168)

With finishes of fourth, fourth, fourth, fourth and T-6, Missouri State's fall was the polar opposite of Illinois State. Consistent will not be good enough come conference time, however. The Bears will have to be consistently good.

Southern Illinois (No. 206)

Senior Brandon Cauldwell (No. 555) held up his team in the fall, winning the Purdue Midwest Shootout, tying for second at the Skyhawk Fall Classic and taking third at the D.A. Weibring Intercollegiate.

Northern Iowa (No. 211)

The second half of the fall season was much kinder to this Northern Iowa team. Head- to-head record in its first three tournaments: 7-32-0. Second three tournaments: 24-9-1.

Drake (No. 243)

No players ranked inside the top 1,000 for this team. Where is alumni Zach Johnson when you need him?

Creighton (No. 259)

Junior Daniel McKernan (No. 875) tied for eighth at Creighton's best tournament finish of the fall, a fifth at the Jim Colbert Intercollegiate.

Evansville (No. 265)

The Purple Aces enjoyed the success of their freshman, Alex Turner (No. 931), who averaged under 75 for the season and tied for fourth in his first collegiate tournament, the John Piper Intercollegiate.

Bradley (No. 270)

Head-to-head record of 4-52-2 for their fall campaign. Hopefully the Braves' first two tournaments in the spring, located in Florida, can rejuvenate this team.

Conference championship

April 29-30, Dalhousie G.C., Cape Girardeau, Missouri

Lance Ringler's prediction

Wichita State. Do you really need any explanation here? The Shockers are in the Missouri Valley Conference, but truly are in a league of their own.
Golfweek.com readers: We value your input and welcome your comments, but please be respectful in this forum.
---
---
---
---
---
---
---
---
---
---
---
---
---
---
---
---
---
---
---
---