Omaha CC is demanding test for U.S. Senior Open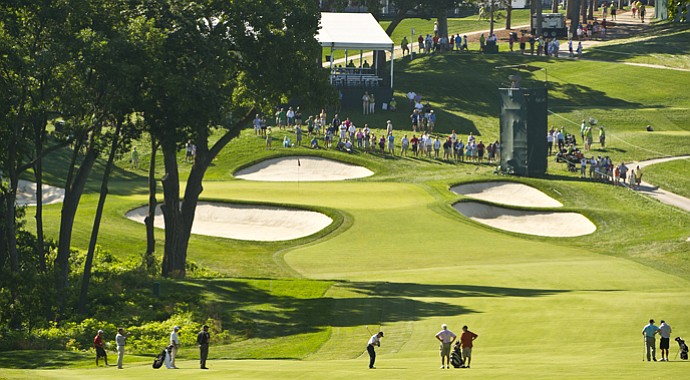 Wednesday, July 10, 2013
Omaha, Neb. – Incorrect rumor of the week: Omaha is flat.
Omaha is not flat. Omaha Country Club, site of the U.S. Senior Open, is not flat. This layout, which opened in 1926, isn't Mount Everest; it just seems that way. OCC could stand for Outlandish Course Conditions.
I've been covering major championship for more than 40 years, and nowhere have I seen another major championship course where the walk is so demanding. It's up and down all day. Somebody turned a perfectly good toboggan run into a golf course.
I asked Tom O'Toole the same question: "Have you ever seen any golf course used for any USGA championship with hills this severe?"
His answer: "The elevation and topographical changes here ... it's unique. That's the character of Omaha Country Club. That's what (architect) Perry Maxwell saw when he came to this golf course to design it (redesign, actually) in its infancy stage, and that's what players will see this week. It's a wonderful golf course, and it does have that very unique trait."
Kenny Perry, who has seen a golf course or two, said bluntly, "I've had two knee surgeries, my left one in February. My left knee is killing me when I walk down these hills. I was feeling a lot of pain. I'll have to suck it up. I told somebody it's the hardest walking course I've ever been on. It's the hilliest, and you don't get any shuttle rides here. It is very physically demanding. The guys who do well this week will be in pretty good shape."
Compounding the uphill nature of the course is that many tees require an uphill walk from the previous green. Maybe OCC is short for Out-of-Breath Country Club.
Since July 2, seven players have withdrawn from the championship. It's easy to speculate that course conditions had something to do with it. The U.S. Golf Association doesn't keep records pertaining to withdrawals, but seven is a substantial number. The most recent player to bail out was Hal Sutton, who played nine holes in a practice round and promptly quit. He has been battling hip problems for some time.
The other six were former U.S. Senior Open champion Olin Browne (back injury), Craig Stadler (foot injury), Nick Price (elbow injury), two-time Senior Open champ Allen Doyle (unspecified medical condition), Brad Bryant (knee injury), and Russ Cochran (wrist injury).
How do you know it's the U.S. Senior Open in Omaha in July?
• Shirts and pants soaked with perspiration;
• Beer is out, water is in;
• Many caddies using stand bags;
• Medical personnel on high alert;
• The ice cream truck is sold out;
• Spots under shade trees are being sold to the highest bidder (well, not really);
• Colin Montgomerie is concerned. "I think we're all in trouble," he said. "They've forgotten that we're all over 50 here, you know. We tend to suffer sometimes."
If you were as heavy as Montgomerie, you'd be worried, too.
Eddie Fletcher, who is caddying for Tom Purtzer, picked up on the age theme: "These guys are 50 to 70 years old. I worry about someone getting really sick. It's 95 degrees, and this is the hilliest course I've ever walked. I've been a caddie for a long time, and I've never seen anything quite like this. It's a torture test."
Added Barry Biggers, who came here from Mississippi to caddie for childhood friend Ken McDonald, head professional at BraeBurn Country Club in Houston, Texas: "I didn't give it a second thought. It thought it was flat. The first time we played, I almost died. I mean it. This is incredibly difficult."
Perry, in Omaha for the first time, was asked what he imagined it would be like. "Flat and hot," he answered. "Well, I got the hot part right."
Golfweek.com readers: We value your input and welcome your comments, but please be respectful in this forum.
---
---
---
---
---
---
---
---
---
---
---
---
---
---
---
---
---
---
---
---
---