Kim wins APL match, gets Walker Cup nod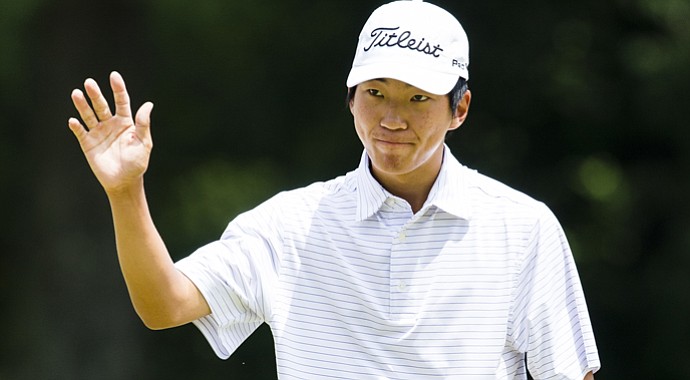 Wednesday, July 17, 2013
LORTON, Va. – It was quite a day for Michael Kim, the Cal junior who last season won the Haskins and Jack Nicklaus awards as college golf's best player.
It began Wednesday morning when Kim was among the first five players the U.S. Golf Association named to this year's U.S. Walker Cup team.
Later that afternoon, Kim, who was low amateur last month at the U.S. Open, easily rolled to a first-round match-play victory in the 88th U.S. Amateur Public Links Championship at Laurel Hill Golf Club.
Kim advanced to the Round of 32 with an 8-and-6 victory over Brandon Hortt on a hot and humid afternoon which again saw temperatures climb into the mid-90s.
"It would be hard to beat today. It's been great from the start. It's like giving myself at late birthday present," said Kim, who turned 20 on July 14.
"Getting those awards in college and playing so well at the U.S. Open has been great, but today was very special, especially being named to the Walker Cup," he continued. "That's something I've wanted and worked really hard for the last two years, to make the team. It's been my main goal. Then to top it off with a win today, well, it's just hard to beat."
From the start, Kim was in control in his match with Hortt. He won Nos. 2-7 – four of those with birdies. He went 7 up with another birdie at the 10th and closed out the match by winning the 12th with a par.
"I just really got it going today," he said. "I won the second hole and never looked back. It was just a good solid round and helped cap off a very special day."
• This year's qualifying medalist and No. 1 seed, Garrett Rank, failed to make it out of the first round. He lost on the 19th hole to Joshua Stone.
Rank, 25, of Ontario, Canada, and runner-up at last year's U.S. Mid-Amateur, took a 3-up lead through eight holes. But Stone, 23, of Stockton, Calif., and winner of this year's Memorial Amateur, kept chipping away. He won Nos. 10, 13 and 14 with birdies and then clinched the win with a bogey at the 19th hole.
• Oklahoma State had three players advance to match play with two of those, Ian Davis and Jordan Niebrugge, winning their opening matches and the other, Talor Gooch, losing in extra holes.
Davis, a senior, and the No. 2 seed in match play, notched a 2-and-1 victory over Greg Condon, the oldest player in this year's field at 51. He survived a 13-man playoff for the final 11 spots and was the No. 63 seed. Davis won Nos. 1 and 3 to go 2 up, but Condon won No. 5. Davis then won Nos. 7 and 8 to go 3 up, but Condon cut it by one with a win at the 11th. The two then halved Nos. 12-17.
Niebrugge, a sophomore, eased past Michael Schmitmeyer, 4 and 3. He was 3 up after four holes, Schmitmeyer won the sixth, then Niebrugge won Nos. 7 and 9 with birdies to go 4 up. Schmitmeyer won the 10th and Niebrugge the 12th before they halved the next three holes.
Gooch, a senior, was defeated on the 19th hole by Justin Shin, the 2012 Northeast Amateur champion. An eagle at the par-5 ninth gave Gooch a 2-up lead, but Shin went on top when he won Nos. 10, 11 and 12. Gooch squared the match with a birdie at 13, but Shin went back on top with a birdie at 17. Gooch forced the extra holes with a birdie at 18, but Shin closed it out with a par on the 19th.
• James Erkenbeck, a first-team All-American as a senior last season at New Mexico, defeated Justin Wenger, 3 and 2. Erkenbeck was 2 up through seven, but Wenger won Nos. 8 and 13 to square the match. Erkenbeck then put things away, winning 14 with a birdie, 15 with par and 16 with birdie.
• Recent Texas A&M grad Cameron Peck eased past Zachary Moore, 4 and 3. Peck, the 2008 U.S. Junior champion, made birdie at 11 to go 2 up and then added birdies at 13 and 15 to close things out.
• Eric Sugimoto, the first-round stroke play leader with a course record 7-under 63, had little trouble disposing Tyler Klava, 6 and 5. Sugimoto won the second hole with a birdie and never looked back. He followed by winning Nos. 3, 4 and 5. After Klava won No. 9 with birdie to cut the lead to 3 up, Sugimoto birdied Nos. 11, 12 and 13 to put things away.
• The next two rounds of match play will be played Thursday, followed by the quarterfinals and semifinals on Friday and the 36-hole championship final on Saturday.
• • •
ROUND OF 64
Joshua Stone def. Garrett Rank, 19 holes
Sean Knapp def. Jon Trasamar, 19 holes
Thomas Lim def. Anton Arboleda, 19 holes
Austin Smotherman def. Andy Drohen, 6 and 4
Nicholas Scott def. Payne Gniewek, 2 and 1
Mario Clemens def. Zachary Wright, 4 and 3
James Erkenbeck def. Justin Wenger, 3 and 2
Brandon Cigna def. Zac Blair, 20 holes
Sam Horsfield def. Alberto Sanchez, 3 and 2
Nick Brothers def. Taeksoo Kim, 6 and 5
Sam Saunders def. Ryan Nagy, 1 up
Zecheng Dou def. Cameron Harrell, 6 and 5
Justin Shin def. Talor Gooch, 19 holes
Mitchell McLeroy def. John Oda, 1 up
Jordan Niebrugge def. Michael Schmitmeyer, 4 and 3
Kyle Weldon def. Paul Misko, 4 and 2
Ian Davis def. Greg Condon, 2 and 1
Trevor Cone def. Mark Cusic, 4 and 2
Robby Shelton def. Brett Patterson, 1 up
Derek Fribbs def. Jonathan Hauter, 6 and 5
Michael Kim def. Brandon Hortt, 8 and 6
Lucas Kim def. Ricky Desantis, 4 and 3
Mitchell Rutledge def. Kyle Jones, 3 and 2
Nick Sherwood def. Addison Lambeth, 5 and 4
Eric Sugimoto def. Tyler Klava, 6 and 5
Kevin Josephson def. Tanner Owens, 4 and 3
Cameron Peck def. Zachary Moore, 4 and 3
George Cunningham def. James Glenn, 4 and 3
Paul McConnell def. Sam Straka, 4 and 2
Carlson Cox IV def. Andrew Bailey, 4 and 3
Kyle Henning def. Xander McDonald-Smith, 2 up
P.J. Samiere def. Sean Kelly, 3 and 2
Golfweek.com readers: We value your input and welcome your comments, but please be respectful in this forum.
---
---
---
---
---
---
---
---
---
---
---
---
---
---
---
---
---
---
---
---
---