Musings on Muirfield: Players' Day 2 via Twitter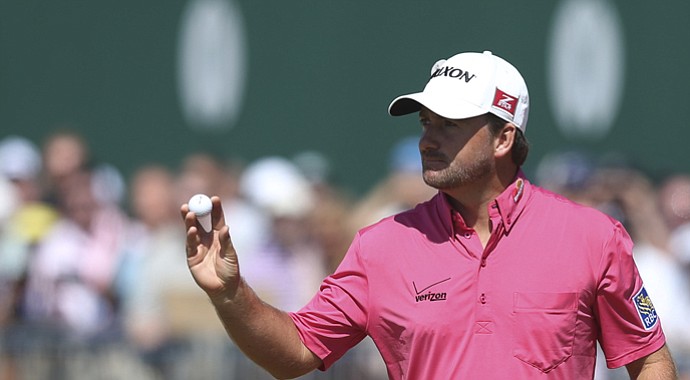 Friday, July 19, 2013
Angel Cabrera, @cabrera_pato: "Estoy jugando bien. En buena posición. Estaba difícil la cancha hoy, con confianza para lo que viene." – Translated: I am playing well. In good position. The course was difficult today; I am confident for what will come.
Sandy Lyle, @SandyLyle1: "Time for bed after early start this morning and some patient hours of waiting for cut line move in right direction. Ready for more."
Ian Poulter, @IanJamesPoulter: "Well that was brutal out there today. Hanging on for dear life on the back 9. Played lovely and scrambled well. Getting crusty & hard. Open"
Russell Henley, @russhenleygolf: "Playing the weekend @ the open. Excited to be in Scotland. Charleston next week. #coast2coast"
Dustin Johnson, @DJohnsonPGA: "Thanks for all the support everybody!!! I'm really enjoying the area and the fans! #Open"
Johnson: "Playing it one hole at a time, Muirfield is a great golf course. Don't get too high, don't get too low! #Open #WeekendWarrior"
Johnson: " '@DylanThompson0: @DJohnsonPGA what would a regular 6 handicap shoot at @The_Open ?' > You don't wanna know"
Graeme McDowell, @Graeme_McDowell: "Tribute to the leader of the Open Championship #ElMechanico #Legend http://www.youtube.com/watch?v=xvqqEkH3HEA"
McDowell: "RT @elkpga Does G-Mac wear the same outfit everyday?... Dude go buy some gear >>elk go get a life"
McDowell: "Sorry for the bite guys. Used to follow Elk but couldn't handle the bitterness any more. I don't generally glorify insults. #twittertrolls"
Keegan Bradley, @Keegan_Bradley: "@Graeme_McDowell agreed"
David Duval, @david59duval: "Never played a more perfectly prepared venue. R&A should be commended. Brutally tough but exceedingly fair."
Duval: "I do believe Tiger will be tough to beat this weekend. In full control of his game except driver and he doesn't need that club here."
Duval: "Kind of like Hogan not needing his 7 iron at Merion."
Ted Scott (Bubba Watson's caddie), @jtedscott: "Is the course firm? Hmmmm. 6 iron off 15 tee (315 yds). Lob wedge to green (141 yds) pin high. Undoubtedly YES!!"
Scott: "The ice cream truck is kicking the coffee truck's butt this week at the Open Championship!!!!!!! Greatest weather on Earth right now"
Graham DeLaet, @GrahamDeLaet: "Thanks for all the tweets. Lots of work to do this weekend but glad that I'll be playing. Didn't look like it for the first 27 holes. #open
Paul Lawrie, @PaulLawriegolf: "69-2 today hit it lovely but to much to do after yesterday pity but loved the week as always"
Lucas Glover, @Lucas_Glover_: "Muirfield 2 Me 0"
Geoff Ogilvy, @geoffogilvy: "Looking like a reprieve. Wow! Never underestimate how hard these courses get late in the day pic.twitter.com/nUFVgp8gyA"
Golfweek.com readers: We value your input and welcome your comments, but please be respectful in this forum.
---
---
---
---
---
---
---
---
---
---
---
---
---
---
---
---
---
---
---
---
---