Musings on Muirfield: Players' Day 3 via Twitter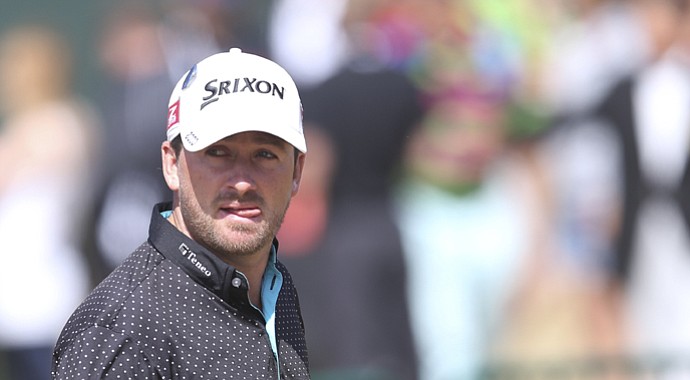 Saturday, July 20, 2013
Graeme McDowell, @Graeme_McDowell: "Not sure I love Peter Alliss commentary on golf these days. When its goes "off-piste" to other stuff he's very funny but his golf stuff...."
McDowell: "Problem with commentators in any sport is they are paid to be opinionated. I guess as a player you won't always love the opinion you hear."
Ian Poulter, @IanJamesPoulter: "Alarm was set for 10am, tee time 1.55, late breakfast was had, watched some early morning coverage. White watch tartan, #WearTheTrousers"
Poulter: "The crowds have been fantastic this week at @The_Open so respectful & truly amazing to play in front of. Love this tournament it's a grind."
Poulter: "Played really nice again today a couple of bogey's at 16 & 18 were a real shame. Still have a chance tomorrow. Never say never. #TheOpen"
Jason Dufner, @JasonDufner: "This guy is playing bad cop at the Open Championship this week. Nobody getting by Simon this week. pic.twitter.com/f3iylFdxLC"
Paul Lawrie, @PaulLawriegolf: ' "@Alsayedmojo: @PaulLawriegolf you oright paul, any chance of changing your putter !!" Why? Had the most single putts of anyone this week'
Lawrie: telly.com/ZLF7YV - On the range yesterday morning working on smoother changeover
Zach Johnson, @ZachJohnsonPGA: "Eternal perspective. #JesusExample RT @lolojones: I don't have a "Haters list" I have a forgiveness one.
Keegan Bradley, @Keegan_Bradley: RT @BTJHarrison What does @Keegan_Bradley do before his 3rd round at @TheOpenLive? Gets a round in on @EASPORTSGOLF @TheCraigEvans pic.twitter.com/aMTKvk6Xr7
• • •
And a few photos from the R&A's account, @The_Open:
Goodnight from Muirfield. It has been a long day & I need to sleep. Even the Claret jug is tucked up in bed. #TheOpen pic.twitter.com/n0ctKvjEIm
He's only gone and made eagle...@WestwoodLee celebrates eailier after holing from off the green on the 5th. #TheOpen pic.twitter.com/LNrgAnUhqG
@DJohnsonPGA has just bogeyed 6, 7 & 8 to fall back further.+5 today. A great tee shot picture here. #TheOpen pic.twitter.com/94asK2nfx2
@TigerWoods is on the prowl. A birdie on the second and he is tied for the lead. #TheOpen pic.twitter.com/4SQIHkpygm
Golfweek.com readers: We value your input and welcome your comments, but please be respectful in this forum.
---
---
---
---
---
---
---
---
---
---
---
---
---
---
---
---
---
---
---
---
---