Players struggle getting clubs across pond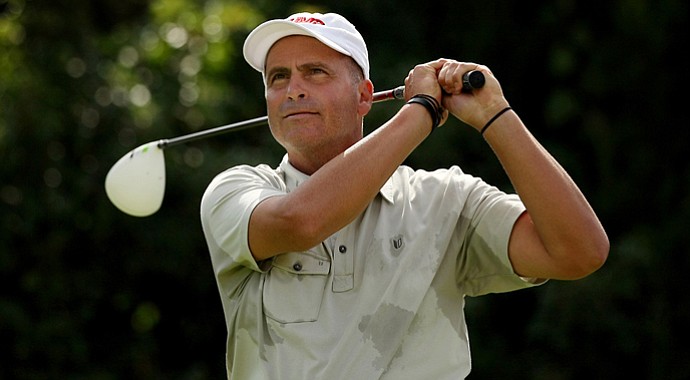 Monday, July 22, 2013
If most of us fly on a golf trip and our clubs don't make it, we worry about being out a couple of thousand dollars in clubs and gear.
For someone like Rocco Mediate, though, the concern is greater – his equipment is his livelihood. Thus, there was a notable tone of angst to his post on Twitter today:
@RoccoMediate: "Thanks to Delta, I may or may not play this week. Zero clubs or bags. #brutal #seniorbritishopen"
Even the best-equipped tour vans at any tournament might not be able to convince a player that their lost set of clubs has been adequately replicated, down to the finest nuance.
Luckily, Mediate's clubs showed up. With a little damage, it turns out:
@RoccoMediate: "This is what I got. Everything is soaked. Grips and all. Carry bag is busted. Important stuff is perfect. pic.twitter.com/8vjJPdncGO"
Then again, even when clubs don't show their 14 heads in time, these guys are good. Just look at the recent experience of Scott Gardiner, who nearly made it through U.S. Open sectional qualifying on a set of borrowed clubs after another airline mishap.
Gardiner's "longest day in golf" got off to a start of 65 with a mixed bag of loaners Gardiner culled before the round from course pro-shop staff. He had to buy clothes too, as his suitcase also was lost.
Meanwhile, travel troubles Monday weren't limited to Mediate. Steven Fox incurred much the same problem in the opposite direction:
@StevenFox4: "Yep, clubs didnt make it to the states! Real good:("
Even domestic travels found travails.
Jamie Lovemark had trouble going anywhere after his Web.com Tour win:
@jamielovemark: "Worst airline @USAirways ? They canceled the second leg of my round trip ticket bc they thought it was fraud. That's a new one."
Sophia Sheridan encountered delays on the way home from the LPGA's Marathon Classic as well:
@sophiasheridan: "Haven't seen my daughter & hubby in 2 weeks and now flight is delayed, which means I'm missing my connection and will not get home 2nite :("
Golfweek.com readers: We value your input and welcome your comments, but please be respectful in this forum.
---
---
---
---
---
---
---
---
---
---
---
---
---
---
---
---
---
---
---
---
---