College Women
USC's Park leads Golfweek's list of All-Americans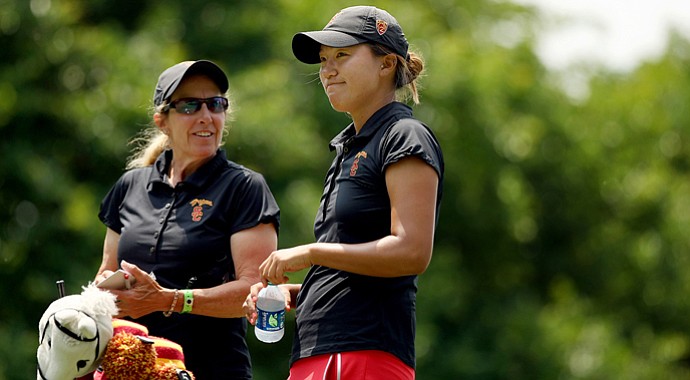 Wednesday, June 5, 2013
Golfweek has announced its list of All-Americans for the 2012-13 season. All five members of USC's national-championship winning squad earned the postseason honor. National champion Annie Park and Trojan teammate Sophia Popov are among first-team selections.
Duke's Lindy Duncan, runner-up at the national championship, also earned first-team honors, as did Alabama's Stephanie Meadow, a strong candidate for Player of the Year entering the national championship. After Park, Stanford's Mariah Stackhouse is the only other freshman on the first-team list.
Golfweek's All-America teams are determined by players' order in the Golfweek/Sagarin College Rankings.
First team
Annie Park, USC
Stephanie Meadow, Alabama
Lindy Duncan, Duke
Mariah Stackhouse, Stanford
Sophia Popov, USC
Kelsey Vines, Oklahoma State
Chirapat Jao-Javanil, Oklahoma
Brittany Altomare, Virginia
Grace Na, Pepperdine
Erynne Lee, UCLA
Second team
Kyung Kim, USC
Paula Reto, Purdue
Tiffany Lua, UCLA
SooBin Kim, Washington
Noemi Jimenez, Arizona State
Hayley Davis, Baylor
Erica Popson, Tennessee
Ally McDonald, Mississippi State
Laetitia Beck, Duke
Lindsey Weaver, Notre Dame
Third team
Demi Runas, UC Davis
Kimberly Kaufman, Texas Tech
Doris Chen, USC
Emilie Burger, Georgia
Emma Talley, Alabama
Anne-Catherine Tanguay, Oklahoma
Cassy Isagawa, Oregon
Camilla Hedberg, Florida
Emily Tubert, Arkansas
Caroline Powers, Michigan State
Honorable mention
Julie Yang, Oklahoma State
Celine Boutier, Duke
Kendall Martindale, Vanderbilt
Casey Grice, North Carolina
Manon Gidali, Arizona
Madalene Sagstrom, LSU
Tonje Daffinrud, Denver
Jennifer Kirby, Alabama
Laura Blanco, Arizona State
Gaby Lopez, Arkansas
Krista Puisite, Texas State
Isabelle Lendl, Florida
Laura Wearn, Furman
Charlotte Thomas, Washington
Alejandra Cangrejo, Duke
Lauren Taylor, Baylor
Mia Piccio, Florida
Maribel Lopez Porras, Tulane
Manuela Carbajo Re, Georgia
Rachel Morris, USC
Golfweek.com readers: We value your input and welcome your comments, but please be respectful in this forum.
---
---
---
---
---
---
---
---
---
---
---
---
---
---
---
---
---
---
---
---
---