Future uncertain for Wegmans LPGA Championship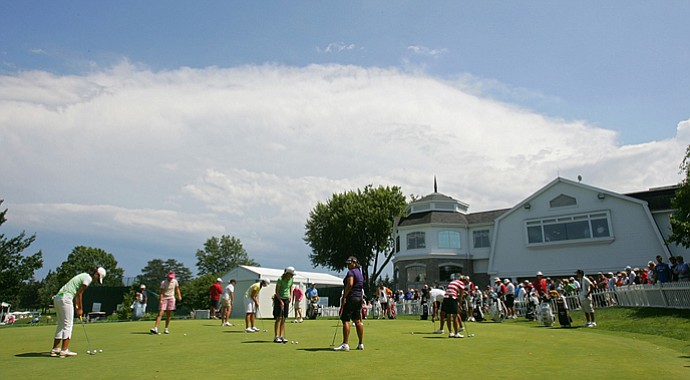 Monday, June 10, 2013
PITTSFORD, N.Y. –– Linda Hampton's office is situated in the shower of what once was the women's locker room at Locust Hill Country Club. More than a few things have changed since Hampton became tournament director 34 years ago, office expansion being one of them.
Hampton's corner of the clubhouse is practically wallpapered with old photographs. For her, the faces of Whitworth, Ochoa and Lopez bring back a flood of memories.
Speaking of floods, last week's Wegmans LPGA Championship was among the wettest in tournament history. For the first time in Wegmans' 37 years, play was postponed before a shot was hit. More than 2 1/2 inches of rain fell Thursday in western New York.
"I was going to put a rubber ducky over here and see if it could get to the Erie Canal by morning," Hampton said.
Incredibly, the bagpipes were playing Sunday after sunset. It's a Wegmans tradition, and it came after Inbee Park outlasted Catriona Matthew in a three-hole playoff. The tour somehow managed to squeeze in 75 holes in three days.
Whether the bagpipes might be playing next summer, however, is still uncertain. The contract with Wegmans, a family-owned regional supermarket chain headquartered in nearby Rochester, is up this year, as well as the contract with Locust Hill. Wegmans has been title sponsor of the year's second major since 2010. The company came to the tour's rescue four years ago when the LPGA Championship lost its title sponsor.
Although Hampton said officials weren't in a position to announce anything on the 18th green Sunday, "For me, the upside of that is we're not saying goodbye."
With so much speculation surrounding the future of the tournament in Rochester, Hampton said the event's stakeholders planned to meet in the next few weeks to discuss 2014.
With two majors in Rochester this summer – the PGA Championship will be held a few miles down the road at Oak Hill in August – it was especially difficult for Hampton to create buzz this year.
Hampton said middle-sized companies that historically supported the LPGA couldn't do both this summer and had to make a choice. Some chose the PGA. It was predictable, and Hampton said Wegmans stepped up to make sure the community had the best of both tours in town.
"There's no stakeholder in this community that isn't interested in the future," Hampton said.
LPGA commissioner Mike Whan was in Rochester early in the week and then flew back for the final round with his family. He arrived at the course at 7 a.m. Sunday and had problems getting into the parking lot. Even when the course turns to mud, Rochester boasts some of the best crowds all year on the LPGA.
It's no secret that the transition from Locust Hill becoming a regular tour stop to a major venue wasn't easy for many players. For many, it didn't feel like a major. Hampton jokingly suggested they put the new purse size ($2.25 million, the fourth-richest on the LPGA) on the first tee as a reminder for players that things have changed.
There was talk of rotating courses around the Rochester area. There was talk of rotating the LPGA Championship around the country. Some have even suggested a global rotation.
"I said back in 2010 I thought a rotation was a nice idea," Whan said. "But three years later, Locust Hill is every bit the major that we wanted it to be."
The rough at Locust Hill is so penal, players think about potential injuries after hitting wayward shots. Paula Creamer and Morgan Pressel suffered long-term injuries while hitting out of Locust's rough. As Whan said, the name of the game at Locust Hill is keeping the ball in play. Like any good major, it can be exhausting.
Now that Wegmans has attached its brand to major status, Hampton said, the company has no desire to remain title sponsor if the event were to revert to a regular tournament. Whan said that's not in the cards anyway.
In fact, he is exceedingly optimistic that details will be worked out in the next few weeks.
"If we're not here next year as a major in Rochester," Whan said, "I'd be the most surprised."
One of the first things on the agenda is agreeing upon a date. With the 2014 U.S. Women's Open slated for June 19-22, Whan wants to move Wegmans back to August for one year.
It will be good for the LPGA to get the details of its namesake major ironed out sooner rather than later. It's never good for the status of a major championship to be up in the air, particularly with a loyal sponsor such as Wegmans hanging in the balance.
The vibes coming from both sides seem promising as they head into negotiations in the coming weeks. Christina Kim said keeping the tournament is "hugely important for the LPGA." She was grateful to fans whose pant legs were caked in mud up to their kneecaps Friday.
"It would be devastating not to be here," Kim said. "It's such a special place."
Golfweek.com readers: We value your input and welcome your comments, but please be respectful in this forum.
---
---
---
---
---
---
---
---
---
---
---
---
---
---
---
---
---
---
---
---
---