Monday rains further soften U.S. Open course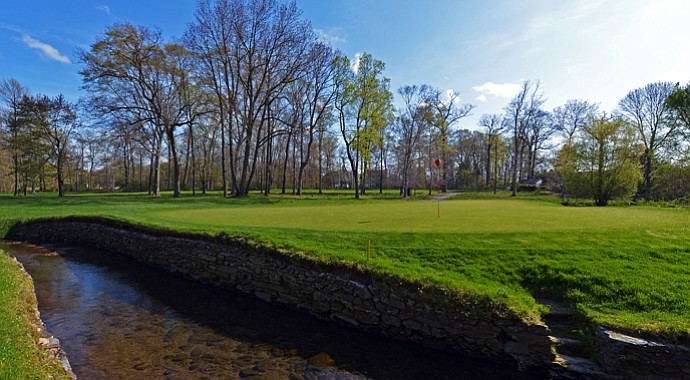 Monday, June 10, 2013
The experiment at Merion already has had some major hiccups, with Mother Nature throwing more water at the site of this week's U.S. Open.
All practice Saturday was suspended. Practice rounds Monday were postponed until 11 a.m. after another downpour that dropped more than 1 inch of rain on an already soggy East Course.
Much of the Hugh Wilson design withstood the recent rains. But the 11th hole, the chokepoint of Merion's East Course, site of the 113th U.S. Open, needed some work as silt from the nearby stream replaced sand in the greenside bunker.
"Three tons," Matt Shaffer, Merion's superintendent, said of the amount of sand that needed to be replaced in the greenside bunker on the 11th. "We can take a lot of rain here, but we can't take a whole lot really quick if we're wet. The other day, we got 3 1/2 inches, and it (the stream) was high, but it really dried (quickly)."
Luckily Shaffer has 65 tons of sand on property, if needed, but neither he nor Mike Davis, the U.S. Golf Association's executive director, expects that to be the case. There will not be a need to take the 11th and 12th holes out of play and use two holes from the West Course, which had been part of the contingency plan, depending on the weather.
"We only talked about that if we had a situation where we were days from playing golf," Davis said of the Plan B. "In other words, and that almost never happens on that 11th hole, it (the stream) generally comes up, washes over the green, silt everywhere, washes out the bunker and then the stream goes down. But if you had just one of those once in every 100 – and then we couldn't get the U.S. Open done, so the chances of that happening are 1 in 10,000."
One precaution that Merion took before the championship was to install a new drainage system for its older greens.
Working with old and non-USGA spec greens, Shaffer knew he had to find a way to eliminate water pooling on the greens and get the water off as quickly as possible.
The XGD system, a labyrinth of drainage tubes underground that siphons the water away, was installed in 2007-10. It creates an environment that actually sucks the water off the greens.
"I think that's huge," Davis said of the new system. "That's why when you came out here earlier, everything is flooded except the greens. If you'd been out here and seen it, the greens were the first thing to get rid of water."
Unfortunately, Davis' fears of having a soft golf course, as was the case at Congressional two years ago when Rory McIlroy set the U.S. Open scoring record with a 16-under 268, have come true.
Shaffer says the greens will be softer than officials had hoped, but if they got lucky with the weather – little humidity, a nice breeze and sunny conditions – the course would be firm and fast by the weekend.
But that is not the forecast. The course received more rain Monday afternoon and is expected to absorb more Monday night and Tuesday – possibly Wednesday and Thursday also – before clear skies predominate.
"We're never going to have a bouncy, bouncy course," Davis said. "But we could get a course where you could get balls hitting on greens and releasing some, not bouncing over."
Shaffer had a little different take on the course and how it will play this week.
"Even if the greens are receptive, you put 30,000 people in here and you're playing for the championship, there's fairways that are super narrow now and are getting like a little ribbon," Shaffer said. "If you don't hit the fairways – I don't care what the greens are like – you're just not going to make par."
Golfweek.com readers: We value your input and welcome your comments, but please be respectful in this forum.
---
---
---
---
---
---
---
---
---
---
---
---
---
---
---
---
---
---
---
---
---