What they're saying: U.S. Open week at Merion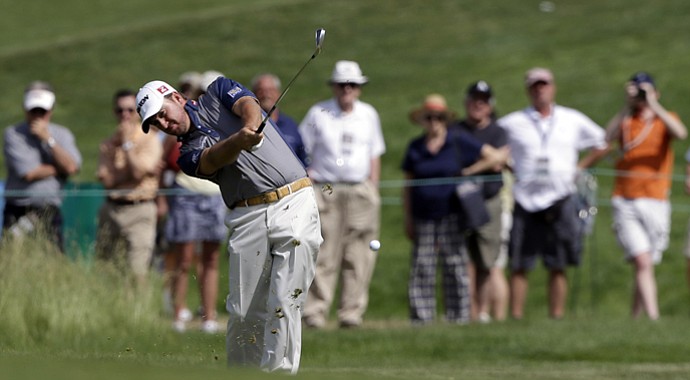 Wednesday, June 12, 2013
Here is a handful of posts via Twitter from pro golfers and top figures of the sport – check back often for updates – during U.S. Open week at Merion GC in Ardmore, Pa.:
• • •
Wednesday
Jordan Spieth, @JordanSpieth: "Raking the rough at Merion #thatsnotcool instagram.com/p/aecQrjBR49/"
Rory Mcilroy, @McIlroyRory: "Can't come to Philadelphia and not see the "Rocky" steps!! #rocky #phillies #merion #usopen2013 pic.twitter.com/QgvP1DYEkL"
Ian Poulter, @IanJamesPoulter: "Every part of prep is now done. Early dinner then bed at 7.00 tonight. I hope weather doesn't cause to much trouble tomorrow. Please.."
Rickie Fowler, @RickieFowlerPGA: "Enjoyed it! have a good week! RT @johnparry17: Good to play some holes with @WestwoodLee @RickieFowlerPGA and David Howell #usopen"
Graeme McDowell, @Graeme_McDowell: "Final prep completed for this week. Course is drying out nicely and is going to be a nice balanced test. Feeling ready & excited to do this."
David Toms, @davidtomsgolf: "Sunny skies today at Merion. Don't think we will be as lucky tomorrow. pic.twitter.com/vhiSs2ilX2"
Russell Henley, @russhenleygolf: "Glad to have the family up here in Philly. pic.twitter.com/UqRvxuIH48"
Ted Scott (Bubba Watson's caddie), @jtedscott: "Watching @bubbawatson prepare for the @usopengolf Looking good @PingTour @oakley @Richard_Mille pic.twitter.com/Eqdhgnvw0I"
U.S. Open (USGA), @usopengolf: "Seen around #Merion: On No. 18, many players are hitting 2-3 tee shots apiece, trying to get a feel for the required 258 yard carry. #usopen"
Bob Estes, @BobEstesPGA: ". . . The USGA just set themselves up for lots of ridicule if they don't enforce their own pace of play policy this week. #usopen"
Joe Ogilvie, @ogilviej: "Once you get to the golf course, Merion is a gem. Course will be a great test. Devil is in the set up."
Zach Johnson, @ZachJohnsonPGA: "Hats off 2 #Merion's grounds crew & supes! Course more than tournament ready TODAY after a deluge last 4 days. Exceeded all expectations!"
• • •
Tuesday
Graeme McDowell, @Graeme_McDowell: "Huge honour to be at the US Open Champions dinner tonight here at Merion GC. Only the second in USGA history. #usopen moby.to/ikt0su"
Joe Ogilvie, @ogilviej: "USGA over the moon with this wind and no rain today. Merion teething right now."
Scott Langley, @Scott_Langley: "Merion is an amazing place, getting drier too. One more day of preparation then we'll be ready to go for our nation's championship! #sendit"
Charl Schwartzel, @CA_Schwartzel: "Finally got 18 holes in after all the rain! The course might be short on paper, but plays really long. Alot of patients needed this week"
Paul Azinger, @PaulAzinger: "From what I've seen, #Merion can holds it own this week. The potential hole locations will be its defense. #USOPEN"
Justin Rose, @JustinRose99: "Just landed in Philly. Sun is shining! Don't know what all the fuss is about! Oh, and wicker baskets everywhere! twitpic.com/cwpwga"
Geoff Ogilvy, @geoffogilvy: " "@benbeaugeard: @geoffogilvy Hi Geoff how is Merion playing? It looks wet from the pictures I've seen" / Very soft and very healthy rough"
Scott Gardiner, @gards76: " "@ghostofhogan: I'm sure Merion is brutal,wet,etc but does it change the fact,like every week,low score wins?" very perceptive!"
Jordan Spieth, @JordanSpieth: "Good practice round with the little guy @@GavinHall10 #texasgolf instagram.com/p/abgk1-hRwu/"
Olin Browne, @OlinBrowne: "They don't make em like this anymore #classic pic.twitter.com/AtNVwY2M8C"
David Hearn, @HearnDavid: "Hope my caddy can figure out how to get this off the pin on 18 when we win this!! #usopen #merion #wicker pic.twitter.com/FsYevimcO9"
Gonzalo Fernandez-Castano, @gfcgolf: "Hogan's 1 iron!!! I wasn't allowed to touch it though... pic.twitter.com/7slZTpkUkH"
Dustin Johnson, @DJohnsonPGA: "RT "@CH3golf: 1rst tee with @DJohnsonPGA. Sunshine @usopengolf! pic.twitter.com/ep6edyMVcF" "
Ian Poulter, @IanJamesPoulter: "Please forgive me @PUMAGolf shoes. moby.to/unhabb"
U.S. Open (USGA), @usopengolf: "We saw an ace on No. 17 Sunday (246 yards). Today, @DonaldsonJamie came very close to duplicating that feat: #usopen ow.ly/i/2kDmz"
• • • 
Monday
Brandt Snedeker, @BrandtSnedeker: "I am going to need a boat to play a practice round today.. Merion underwater!!!"
Claude Harmon III, @CH3golf: "On the range with @DJohnsonPGA @usopengolf. Khakis were a bad choice today! pic.twitter.com/J1nWLb6RPR"
Graeme McDowell, @Graeme_McDowell: "RT @CH3golf "On the range with @TheBig_Easy @usopengolf! pic.twitter.com/qW8zUsAu2y >>not hard to see where he gets his power from! #width"
Joe Ogilvie, @ogilviej: "Unless they bring out the helicopters, there is no chance Merion plays firm and fast."
Luke Donald, @LukeDonald: "Choosing to practice in Chicago today rather than Merion is making me look smart. Hosing it down in Philly by the sounds of it."
Luke Guthrie, @LukeGuth1: "It's a little wet out here #usopen #firmandfast pic.twitter.com/Vf1zGvvSDW"
David Toms, @davidtomsgolf: "Looks like the bump and run isn't going to work well this week at Merion ! pic.twitter.com/yg4LrtMFRW"
Steven Fox, @StevenFox4: "Well today's practice round was fun... #delays #waterslides"
Ian Poulter, @IanJamesPoulter: "That practice net upstairs in the clubhouse will be taking bookings at this rate. I will take a slot please"
Paul Azinger, @PaulAzinger: "Still pouring rain. #Merion may be rendered defenseless. But so what if the scores are low? Rory won shooting 16 under. #USOpenChamp"
Jordan Spieth, @JordanSpieth: "One of the only ones out here.. Easy to see which way the putts will break instagram.com/p/aZIH5MhR9j/"
Scott Langley, @Scott_Langley: "Volunteers are already killing it this week. We would have needed a canoe today if not for these guys @usopengolf! pic.twitter.com/zXhw8xVaXb"
Golfweek.com readers: We value your input and welcome your comments, but please be respectful in this forum.
---
---
---
---
---
---
---
---
---
---
---
---
---
---
---
---
---
---
---
---
---