Award-worthy moments from U.S. Open Sunday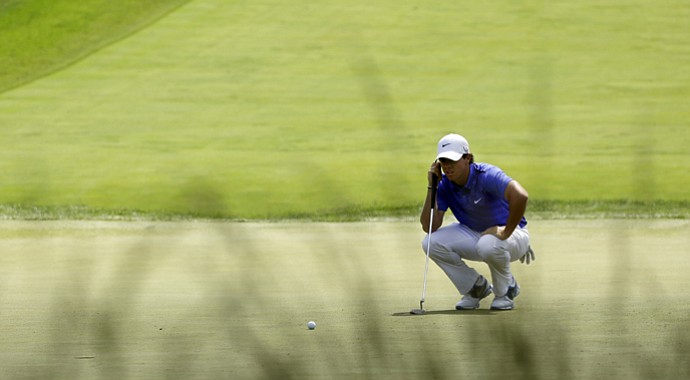 Monday, June 17, 2013
ARDMORE, Pa. — The U.S. Open is concluded, but there are final awards to be presented. Thankfully – with their comments and their opinions – players were more honest and candid than they had been all week.
• The edgy award: Rory McIlroy wins this one. When asked about pin placements, he labeled them "on the edge" and then explained his thoughts in detail. "The pin position on 7 today, for example, was on the back of a slope," he said. "At least put it a couple of yards down so it's on the flat part of the green. They decided to put it on a ridge. It's a U.S. Open."
• The enjoyment award: Adam Scott also was forthright about hole locations. "I think that it would have been probably more enjoyable for us (with the pins in flat spots), but I don't know if that's the mantra of the U.S. Open, making it enjoyable."
• The slow-me-down award: Webb Simpson was utterly open about the topic of slow play. "I think we have exhausted every resource, and it's still pretty slow," he said. "I think guys just need to get used to (the fact) that it's going to take five hours on Thursday and Friday and four hours on the weekend (after the 36-hole cut)."
• The Sergio OB award: Sergio Garcia is likely to retire this award, especially after hitting three consecutive drives out of bounds on the 15th hole of Saturday's round. He described his Sunday adventure on 15, where he made a par 4: "Today I didn't hit a big drive. I missed my fairway by probably four yards, and I was in the hay. So it's just that kind of tournament."
• The lush rough award: Sergio wins another one with his analysis of the rough. "By playing soft (because of rainfall), the rough was much thicker," he said. "When it dries up, it's a little bit easier to get a club through the grass. But when it's as lush as it was this week, obviously it makes it much tougher."
• The par-is-good award: Brandt Snedeker didn't back away from his observation about par. "A few pin positions probably got a little bit out of hand, and a few of the greenside stuff got out of hand, but they try to do what they usually do to get the score around par, and they got what they wanted. You have a hole (where) you're hitting a 6-iron and a wedge, you expect the pin to be a little bit silly. And they were. I think that they will be the first one to admit that a few of them got out of hand a little bit, but that's a U.S. Open."
• The simple-answer award: "What makes the course so tough?" Matt Kuchar was asked. "Nobody can break par," he answered.
• The Tiger-will-beat-Jack award: "I think he will do it. No question about it," said three-time major champion Padraig Harrington on Tiger Woods' quest to surpass the 18 major victories of Jack Nicklaus.
• Even the winner misjudged the final score: "I certainly didn't buy into the 62s and 14-under, but I figured that maybe 4-, 5-, 6-under-par would be the winning total," said winner Justin Rose, who was 1 over par for 72 holes.
• Praising Phil the Thrill: "I love the way he plays the game," Rose said of Phil Mickelson. "He plays fearless golf. He keeps everybody guessing. He's entertaining. And I feel fortunate to have been able to beat a world-class player that he is on a day like today."
• The Sunday leadership award: "He's a great leader," Hunter Mahan said of Mickelson, "and being in golf you don't hear that word very often as a leader. But he's really a leader in the game, and he takes his time out to talk to the young guys."
• The how-to-say-shank award: "I caught it on the hosel," Steve Stricker said while recounting his triple bogey 8 on the 2nd hole. "I was trying to chase a 4-iron and got ahead of it a little bit (a lot, actually)."
• The amateur in Wonderland award: Low amateur Michael Kim was asked if he watched the scoreboard while playing. "I could have stared at that leaderboard for hours on end," he said, "and wouldn't have stopped. It was pretty cool."
• Back home in Australia we call it the Chief: Jason Day, explaining why he didn't hit many drivers, said, "For the big hitters, we don't have to hit the Chief as much. We can maybe hit a 3-wood or 2-iron, like I have. I think it worked out great."
• The Heartbreak Kid award: Mickelson was everybody's favorite, and he admitted, "For me it's very heartbreaking . . . it would have changed the way I look at this tournament altogether and the way I would have looked at my record. Except I just keep feeling heartbreak."
• • • 
Here are the awards from previous U.S. Open days:
• Award-winning talking points from U.S. Open's third day
Golfweek.com readers: We value your input and welcome your comments, but please be respectful in this forum.
---
---
---
---
---
---
---
---
---
---
---
---
---
---
---
---
---
---
---
---
---