College Men
Fayetteville Regional: Illinois men lead by 3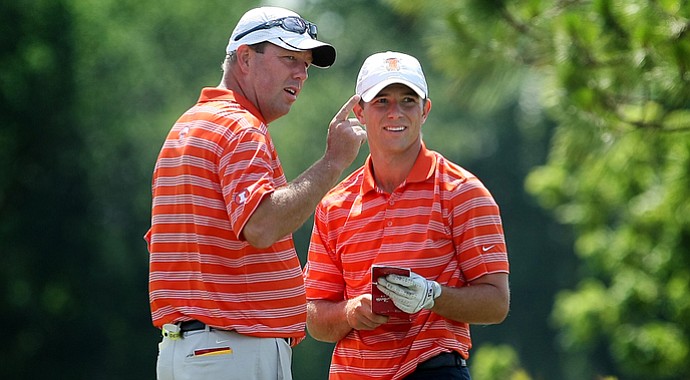 Thursday, May 16, 2013
Team leader: Illinois (282, -6)
Individual leader: Charlie Danielson, Illinois (7-under 65).
In position: 2. Texas (285), 3. Oklahoma State (286), 4. Kent State (288), 5. Arkansas (290).
Chasing: 6. Colorado (292), 7. SMU (297), 8. North Carolina Wilmington (300).
• • •
• • •
Hitting their stride
It has been an up-and-down year for Illinois. The Fighting Illini won their first two tournaments of the fall season and added three more titles this spring. But they also show a T-10 in their own event at Olympia Fields and a pair of 12ths this spring.
"For the most part, it's been a good year," Illinois coach Mike Small said. "I feel we began hitting our stride about three weeks ago when we won the Big Ten Championship."
They again were at a high point in Thursday's opening round of the Fayetteville Regional at Blessings Golf Club, shooting 6-under 282 to take a three-stroke lead. But much like the season itself, it was a roller-coaster day.
"I think we were 11 under after our first eight holes (starting on the back nine), and were even par through 11 holes," Small said. "But we came back with a solid finish, and I'm proud of the perseverance they showed. They stayed strong and brought it back."
The young guns led the way for Illinois on the first day, as the team's two freshmen combined to shoot 11 under par with 13 birdies, an eagle and three bogeys. Charlie Danielson, the tournament leader (read about his round here), shot 65 (seven birdies), while Thomas Dietry shot 68 (six birdies, one eagle, four bogeys)
• • •
'Horns stay hot
Defending national champion Texas continued its hot hand with an opening 3-under 285. The Longhorns entered Fayetteville with a second-place finish and three victories in their past four starts.
"We struggled a bit at times, but that can be expected on a golf course like this," Texas coach John Fields said. "This is a very, very tough golf course, and you just have to pay attention on every hole. There's no let-up out here, so to shoot any round under par is good."
Toni Hankula led the way for Texas with a 3-under 69, while Cody Gribble added a 70. But it was the way Gribble and Brandon Stone finished that really had Fields impressed.
"Cody made a few mistakes, but came back strong and overall played solid," Fields said. "And Brandon really turned what could have been a disaster of a round into a solid 72. He played his last four holes birdie, eagle, par, birdie. And out here, that's pretty darn impressive."
• • •
Short shots
Oklahoma State might have been the first-round leader had it not been for the par-5 12th hole. The four counting Cowboys posted a triple bogey, two double bogeys and a par on the hole. "Other than that hole, it was one of our better rounds of the year," OSU coach Mike McGraw said. . . . If you hadn't seen Texas' Fields in a while, you probably wouldn't recognize him. The coach has lost some 75 pounds since his team won the NCAA title last June; he is weighing in at about 190 and says he feels great. His wife of 33 years, Pearl, sure thinks so; she calls him "my new boyfriend." . . . Brad McMakin of host Arkansas says he doesn't think he or his team is feeling the home-course pressure. "I definitely like being here as opposed to being somewhere on the road," he said. "I think the pressure is more of an excited pressure of playing at home."
Golfweek.com readers: We value your input and welcome your comments, but please be respectful in this forum.
---
---
---
---
---
---
---
---
---
---
---
---
---
---
---
---
---
---
---
---
---