USC's Park leads WGCA list of All-Americans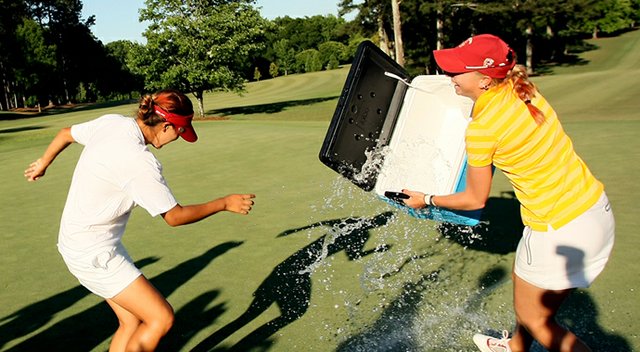 The Women's Golf Coaches Association has announced its list of All-Americans for the 2012-13 season.
NCAA individual champion Annie Park, a first-semester freshman at USC, received Player of the Year and Freshman of the Year honors. Two of Park's teammates, Kyung Kim and Sophia Popov, join her on the first team.
First team
Brittany Altomare, Virginia
Lindy Duncan, Duke
Chirapat Jao-Javanil, Oklahoma
Kyung Kim, USC
Erynne Lee, UCLA
Ally McDonald, Mississippi State
Stephanie Meadow, Alabama
Grace Na, Pepperdine
Annie Park, USC
Sophia Popov, USC
Paula Reto, Purdue
Mariah Stackhouse, Stanford
Second Team
Emilie Burger, Georgia
Doris Chen, USC
Hayley Davis, Baylor
Noemi Jimenez, Arizona State
Kimberly Kaufman, Texas Tech
SooBin Kim, Washington
Tiffany Lua, UCLA
Erica Popson, Tennessee
Demi Runas, UC Davis
Emma Talley, Alabama
Kelsey Vines, Oklahoma State
Honorablel Mention
Laetitia Beck, Duke
Celine Boutier, Duke
Manon Gidali, Arizona
Casey Grice, North Carolina
Camilla Hedberg, Florida
Cassy Isagawa, Oregon
Jennifer Kirby, Alabama
Kendall Martindale, Vanderbilt
Maribel Lopez Porras, Tulane
Caroline Powers, Michigan State
Krista Puisite, Texas State
Marta Sanz, Auburn
Kelly Shon, Princeton
AC Tanguay, Oklahoma
Emily Tubert, Arkansas
Lindsey Weaver, Notre Dame
Julie Yang, Oklahoma State
Latest Related Headlines