Callaway X2 Hot and X2 Hot Pro hybrids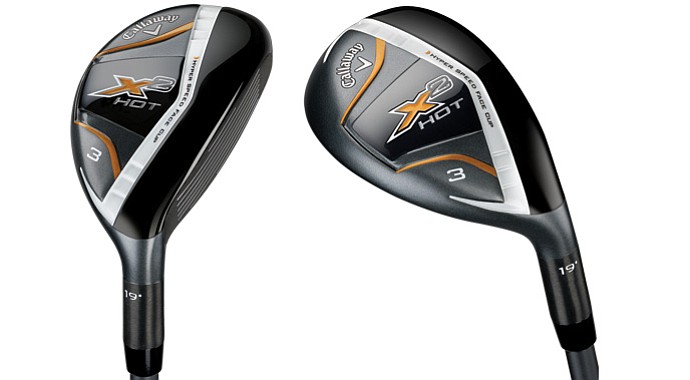 Monday, November 11, 2013
These days, drivers seem nuclear powered and fairway woods could double as howitzers. So it's not surprising that as Callaway's designers set out to make the new X2 Hot and X2 Hot Pro hybrids, they focused on distance.
Callaway decided that for the first time it would put a forged face cup on a hybrid. According to Evan Gibbs, Callaway Golf's manager of performance analysis, the Hyper Speed Face Cup on the new X2 Hot and X2 Hot Pro hybrids are the lightest and thinnest the company has made. It's 28 percent thinner than last season's X Hot hybrid face.
According to Callaway, the 455 Carpenter steel face cup helps the new hybrids achieve a characteristic time (the measurement of the club face's springiness) that is 22 percent higher than the X Hot's in the sweet spot and 30 percent to 40 percent higher outside the sweet spot. Callaway says that robot testing showed the sweet spot in the new X2 Hot is 13 times larger (not a typo) than the X Hot's and shots travel almost 11 yards farther.
The translation: the new X2 Hot and X2 Hot Pro hybrids should provide a lot of distance for shots off the sweet spot and should be very forgiving for shots that miss the center of the face.
• Read about Callaway's entire X2 Hot & X2 Hot Pro lineup of clubs here.
An internal series of wave-like pieces of metal called Internal Standing Wave plays a big roll in the ball flight.
"By taking a portion of the club's weight and moving it low and forward," Gibbs said, "it not only helps to keep the center of gravity low and flatten the trajectory, it helps to increase the consistency of launch angles and spin rates across the face."
These new hybrids look different from their predecessors. The X2 Hot hybrids have a much more boxy face design, a slightly higher profile and slightly larger volume.
"The shape is really inspired by feedback we got from Tour players," Gibbs said. "It features a larger hitting surface, a flatter leading edge and less offset. It also has relieved portions in the heel and toe to make these clubs extremely versatile off a lot of playing conditions."
Gibbs said the standard X2 Hot should appeal to the widest cross-section of golfers, and for players who prefer a compact hybrid with even less offset there is the Pro version. Gibbs said the Pro version should have a slightly lower trajectory than the standard X2 Hot. The Pro version also has a more neutral center of gravity – golfers who work the ball both directions might prefer it.
The standard X2 Hot will be available in 19-, 22-, 25- and 28-degree models with a standard Aldila Tour Blue shaft for $199. The X2 Hot Pro hybrids will be available in 16-, 18-, 20- and 23-degree versions with an Aldila Tour Green shaft for $199. Both will be available on Jan. 17.
Golfweek.com readers: We value your input and welcome your comments, but please be respectful in this forum.
---
---
---
---
---
---
---
---
---
---
---
---
---
---
---
---
---
---
---
---
---