Monday musings: Players' day via Twitter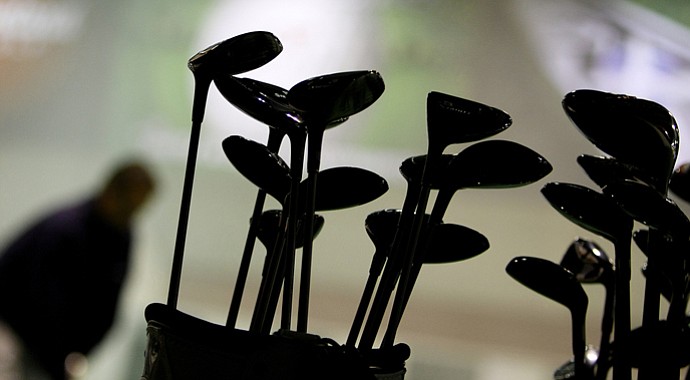 Monday, November 18, 2013
Pros and other figures in the game of golf had plenty to say on social media to start the week. Here's a sampling of what was posted via their Twitter accounts:
• • •
Ian Poulter and Lee Westwood got in a little pre-Shark Shootout trash talk:
Poulter, @IanJamesPoulter: "Mr @WestwoodLee can't keep his little eyes open anymore. Bless him. Nearly home. moby.to/4arfyh"
Westwood, @WestwoodLee: "@IanJamesPoulter that's what I think of your shark shootout team talk !!!"
Poulter: "@WestwoodLee just make sure you spend a little more time on the range instead of the Buffett. I fancy winning the Shark Shootout."
• • •
College golfers are getting their practice in, with some spreading the word about it:
Chris Hill, @UHCoachHill: "Canadians grinding on a nice November day @UHCougarGolf pic.twitter.com/iXJ0Ho4YFd"
Casie Cathrea, @Casiecathrea: "Guess who I hung with this morning @IllgPT_ATC the queen of pain! Next up PATRICK ! pic.twitter.com/33fzAnJwDP"
Cathrea: "Evaluation time ! @Diablo_PT New workout program coming! #gettingready pic.twitter.com/zbv9yoERdh"
Ashlan Ramsey, @ashlan_ramsey: "Love being productive! Practiced my wedges early this morning & then had time to run a couple miles before class #timetogetbetter #liveforit"
• • •
Several pros and figures of the sports offered condolences for Jason Day, who lost several family members in the typhoon that recently struck the Phillippines; here are just a couple:
Paul Azinger, @PaulAzinger: "Please join me & all of the @PGATOUR community, in extending sympathy to @JDayGolf in the loss of several family members in Typhoon Haiyan."
Gary Player, @garyplayer: "Heartfelt thoughts & prayers go out to @JDayGolf and his family after the loss experienced from Typhoon Haiyan. An unfathomably tough time."
• • •
A few various and sundry blurbs from far and wide:
Poulter: "For the record I Do Not have I pour any drinks for @henrikstenson I was 1.2 mil behind so odds massively in his favor. He had to pour mine"
Poulter: "Great view of the Apple on take off down to Orlando. moby.to/6c3crr"
Olin Browne, @OlinBrowne: " "@PaulAzinger: The best golfers have the strongest minds.." The most accomplished athletes across the board have the strongest minds!"
Ted Scott (Bubba Watson's caddie), @jtedscott: "Finally made it to 180lbs. Started year at 168. Slow and steady but I made it. Most I've ever weighed. Still skinny tho #hardwork"
Scott: "First step towards 190 pic.twitter.com/k68pELRO5D"
Brandt Snedeker, @BrandtSnedeker: "Favorite breakfast menu..Smothered, covered and chunked please! pic.twitter.com/pKRXhJk2WR"
Web.com Tour, @WebDotComTour: "Congrats to Harris English, who captured his second @PGATOUR title, and win #369 for #webtour alumni. pic.twitter.com/6mAR8DmubM"
Westwood: "May I be the first to congratulate @PeterUihlein on rookie of the year as I'm sat next to him on a plane and he had no idea! Joyoftwitter!"
Gary Player, @garyplayer: "What @henrikstenson accomplished this year is astounding & I doubt it can be matched by anyone after winning the FedEx Cup & Race to Dubai."
Player: "Well done @Harris_English on your 2nd @PGATOUR title with a convincing win at Mexico's OHL Classic. Hope to catch up at the @HumanaChallenge"
Player: "Congratulations to @InbeePark on being named Rolex Player of the Year after a fantastic season. Remarkable player. Wishing you all the best."
J.J. Henry, @jjhenrygolf: "Congrats @Harris_English on 2nd @PGATOUR win. A great young player more importantly a great kid. Humble and super talented goes a long way!"
Johnson Wagner, @johnson_wagner: "Congrats to @Harris_English on his @MayakobaGolf win. 2 wins in his second yr on tour. Very impressive stuff at a demanding venue. #rockstar"
Paul Lawrie, @PaulLawriegolf: " "@_GreigAnderson: @PaulLawriegolf Hi Paul, quick question for you if you have time. What sort of Golf Tees do you use? >> wooden ones"
Mallory Blackwelder, @MalBlackwelder: "Headed to FL to get ready for final stage of LPGA QSchool! Want to thank everyone who has supported me, financially or otherwise..."
Amelia Lewis, @TheAmeliaLewis: "No better way to start off a morning! #rangetomyself #wedgepractice fb.me/6B9JGsEtB"
Steven Fox, @StevenFox4: "Back to the school life for a few more weeks! #ijustwantmydegreenow"
Graeme McDowell, @Graeme_McDowell: "Landed in Melbourne for the World Cup at Royal Melbourne. Can't wait. Partner in crime is @shanelowrygolf. Great flight thanks to #Ethiad."
Luke Donald, @LukeDonald: "Coming into land, excited to be defending here at the Dunlop Phoenix this week. #MountFuji #Japan #Miyazaki #Beef pic.twitter.com/0JdbY2V4j5"
Billy Horschel, @BillyHo_Golf: "Off to Miyazaki for the Dunlop Phoenix. Great day seeing city of Tokyo and doing a few things for Ping Japan. See you tomorrow clubs!"
John Riegger, @teamriegger: "My thoughts and prayers go out to my hometown of metropolis and to friends who where in the tornado in southern Illinois"
• • •
Last but not least, Golfweek's writers had news, notes and nuggets to pass along as well:
Adam Schupak, @GolfweekSchupak: "ICYMI: @Harris_English switched back to the Ping Scottsdale Hohum putter he used his senior year in college & to win Nat Tour title in '11."
Schupak: "Very Impressed with how @Harris_English turned a battle royale for the OHL Classic into a blowout. 6 one-putt greens in 7 holes will do that"
Beth Ann Baldry, @Golfweek_Baldry: "With her victory in Mexico, @Lexi moved up 4 spots to No. 10 in the Rolex Rankings."
Golfweek Forecaddie, @4caddie: "Eye-opening stat of the morning: There are nearly as many millionaires (6) in Tour's wrap-around start as there are on 2013 LPGA Tour (8)."
Alex Miceli, @alexmiceli: "According to LV, Tiger's odds of winning the Masters have gone up. From 5/1 to 11/2, not much of an increase. Mickelson is still at 12/1."
Lance Ringler, @GolfweekRingler: "Stacy Lewis is ranked No. 1 in the Golfweek/Sagarin Ratings: tinyurl.com/3bq58q7"
Golfweek.com readers: We value your input and welcome your comments, but please be respectful in this forum.
---
---
---
---
---
---
---
---
---
---
---
---
---
---
---
---
---
---
---
---
---