College Men
Men's Midweek Report: N. Mexico sweep at Tucker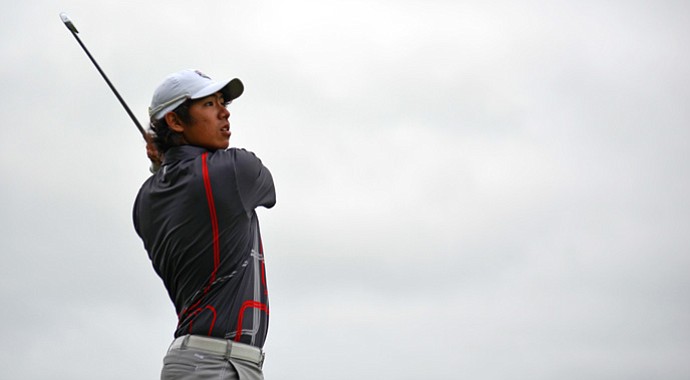 Wednesday, October 2, 2013
Welcome to Golfweek's Men's Midweek Report. We wanted to use this hump day to update you on all the latest men's college news.
• • •
THE BIG 5
Stories you need to know now . . .
TEAMS
1. New Mexico: New Mexico won the William H. Tucker Intercollegiate on Sept. 28, but did so by shooting a final-round 7-under 281 to win by an 18-shot margin. At the end of the second round, the Lobos trailed Arizona State by 11 shots. New Mexico won its second consecutive Tucker title.
2. California: The Golden Bears notched their second victory of the fall after winning the Jack Nicklaus Invitational on Sept. 30. The team carded rounds of 281-280-281 to complete the wire-to-wire victory over Oklahoma. The team finished at 10-under 842 for a 19-shot victory. All five Cal players finished in the top 11.
3. Memphis: Memphis shot a 12-under 276 in the final round to come from behind and win the Graeme McDowell Shoal Creek Intercollegiate. The Tigers trailed Alabama Birmingham by 10 shots and Mississippi by eight heading into the final round. It was the team's first victory since the 2012 Conference USA Championship.
4. Marshall: Marshall won the Patriot Collegiate by 11 shots at Laurel Hill GC in Lorton, Va., to complete the wire-to-wire victory on Sept. 29. It's the team's second victory of the season. The Herd won the John Piper Intercollegiate on Sept. 17 for its first victory since 2000. The team was lead by freshman Clark Robinson, who won the individual title to pick up his first collegiate victory. Three other players – Jeremy Rogers, Logan Lagodich and Brian Anania – finished in the top 11.
5. Cal State Monterey Bay: The Otters won the Golfweek Division II Conference Challenge by 20 shots on Oct. 1. Monterey Bay's second-round, even-par 288 was the best team score of the tournament by nine shots.
INDIVIDUALS
1. Gavin Green, New Mexico: Junior Gavin Green shot a final-round, 4-under 68 to tie teammate Andrej Bevins for first place. After a one-hole playoff, Green had birdied the first playoff hole to collect his second collegiate victory and second consecutive Tucker title. He shot rounds of 73-70 in the first and second round.
2. Brandon Hagy, California: The senior won his first tournament of the season after recording rounds of 71-67-69 for a 6-under 207 total, one shot better that Kent State's Taylor Pendrith. This was Hagy's second collegiate victory.
3. Blake Morris, Mississippi: The Mississippi junior shot rounds of 68-67-73 for an 8-under 208 total at Shoal Creek to tie for individual medalist honors with Memphis' Lars Van Meijel.
4. Lars van Meijel, Memphis: The freshman from the Netherlands started the final round T-10 and then fired a 6-under 66 to share medalist honors with Ole Miss' Blake Morris at Shoal Creek. Va Meijel shot first and second rounds of 69-73 for an 8 under total.
5. Brandon Hortt, Cal State Monterey: The junior fired rounds of 76-68-73 at Sunriver Resort's Crosswater Course for a five-shot victory over teammate Dylan Jackson at the Golfweek Division II Conference Challenge.
• • •
BEST OF THE BEST
How the top 5 teams in the Golfweek/Sagarin Rankings fared:
1. Alabama: DNP
2. Texas A&M: DNP
3. Georgia: DNP
4. Georgia Tech: DNP
5. Illinois: DNP
• • •
How the top 5 individuals in the Golfweek/Sagarin Rankings fared:
1. Ben Crancer, Texas A&M: DNP
2. Robby Shelton, Alabama: DNP
3. Cameron Wilson, Stanford: DNP
4. Bryson Dechambeau, SMU: DNP
5. Chase Koepka, South Florida: DNP
Golfweek.com readers: We value your input and welcome your comments, but please be respectful in this forum.
---
---
---
---
---
---
---
---
---
---
---
---
---
---
---
---
---
---
---
---
---