AJGA names 2013 HP Scholastic All-Americans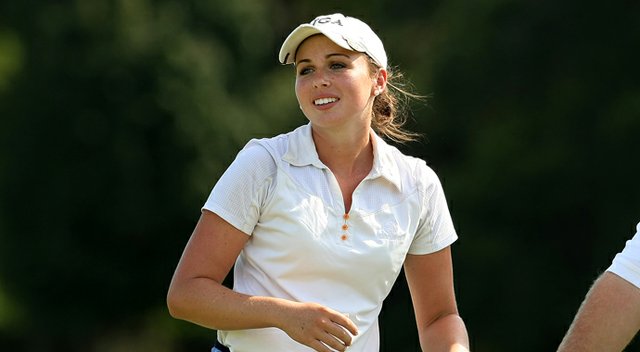 The AJGA has announced its list of HP Scholastic Junior All-Americans for 2013. The team consists of 12 boys and 12 girls who demonstrate the ability to excel both on the golf course and in the classroom.
Requirements for All-America selections included a top-10 finish in an AJGA Open or Invitational for boys and a top-5 finish for girls. Selection also was based on grade point average, class rank, standardized test scores, community service and writing ability. Candidates were required to submit an essay no longer than 500 words on an original topic relating to golf.
GIRLS
Alexandra Farnsworth of Nashville, Tenn. (2014)
Madison Glennie of Clearwater, Fla. (2014)
Alexandra Harkins of Crystal Lake, Ill. (2014),
Tatum Jackson of Mountain Brook, Ala. (2014)
Sabrina Long of Alpharetta, Ga. (2015)
Julie Luo of Centreville, Va. (2015)
Emily Mills of Farmingdale, N.J. (2014)
Shawn Rennegarbe of Addieville, Ill. (2014)
Jayshree Sarathy of Palo Alto, Calif. (2014)
Michelle Xie of Palo Alto, Calif. (2015)
Nancy Xu of Sunnyvale, Calif. (2014)
Anna Zhou of Palo Alto, Calif. (2015)
BOYS
Franklin Huang of Poway, Calif. (2014)
Andrew McKinney of Danville, Ky. (2014)
Mitchell Meissner of San Antonio (2014)
Jackson Moss of New Albany, Ohio (2014)
William Register of Burlington, N.C. (2014)
Sam Rosenberg of Dallas (2014)
Michael Sharp of Kendallville, Ind. (2014)
Corey Shaun of Encinitas, Calif. (2014)
Nathan Tenpas of Chevy Chase, Md. (2014)
Carter Thompson of Tallahassee, Fla. (2014)
Jens Verhey of Reno, Nev. (2014)
Jackson Wendling of Effingham, Ill. (2015)
Latest Related Headlines