Medalist Potter survives close call at Women's Mid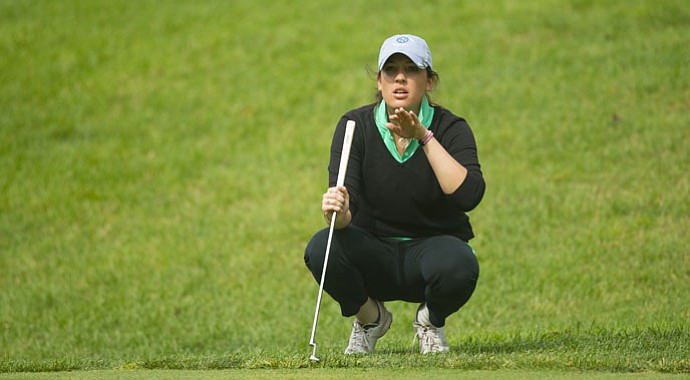 Monday, October 7, 2013
Medalist Julia Potter remains after the first round of match play at the U.S. Women's Mid-Amateur. The 25-year-old defeated Stacy Dennis, 2 up, at the top of the bracket on Monday.
Potter, however, had to rally from 3 down after 12 holes in order to stick around at the Biltmore Forest Club in Asheville, N.C. She opened her match with a double bogey and Dennis took an immediate lead.
Dennis expanded it over the rest of the front nine and after the turn. Potter found her game at the 13th, where she stuck her third shot to an inch and cut the deficit to two holes. She sank a 35-footer for birdie at the par-4 14th to cut the deficit to one hole, and when Dennis bogeyed No. 15, the match was all square with three holes to play.
"Finally on that par-5 (13th), things just started kicking into gear," said Potter, a reinstated amateur who is competing in her second USGA championship. Potter won the match, 2 up.
Defending champion Meghan Stasi also will return on Tuesday after defeating Julie Streng, 5 and 4. Martha Leach, who won this championship in 2009, won her match against Sue Wooster, 1 up.
Two matches remained on the course as play was suspended for darkness. Those matches will resume at 9:15 a.m. before the Round of 32 gets underway.
ROUND OF 64
Julia Potter def. Stacy Dennis, 2 up
Marilyn Hardy def. Jennifer Lochhead, 2 and 1
SydneyWells def. Kathy Kurata, 2 up
Kate Hildahl def. Connie Isler, 6 and 5
Tara Joy-Connelly def. Lisa Anderson, 4 and 3
Kareen Markle def. Jordan Craig, 1 up
Dawn Woodard def. Amy Ellertson, 7 and 5
Anna Schultz def. Patricia Cornett, 3 and 2
Olivia Herrick def. Therese Quinn, 6 and 5
Kay Daniel def. Sarah Davison, 1 up
Glynnis Price def. Kelly Schaub, 4 and 2
Stefi Markovich def. Candus Herrera, 6 and 4
Christina Proteau def. Lisa McGill, 2 up
Petra Cole def. Lacy Shelton, 2 up
Martha Leach def. Sue Wooster, 1 up
Lin McMillan def. Olivia Slutzky, 4 and 3
Meghan Stasi def. Julie Streng, 5 and 4
Amy Loughney def. Marie Arnoux, 3 and 2
Shirley Vaughn def. Mina Hardin, 2 and 1
Renata Young def. Anglea Stewart, 4 and 3
Linda Jeffery def. Shannon Lutynski, 3 and 2
Brenda Corrie Kuehn def. Judith Kyrinis, 1 up
Laura Coble def. Hitomi Inaba, 4 and 3
Caryn Wilson def. Pamela Kuong, 19 holes
Margaret Shirley def. Suzanne Stanley, 5 and 3
Tara Fleming def. Lauren Todd, 5 and 4
Debbie Adams def. Stacey Arnold, 4 and 2
Tracy Welch def. Holly Bare, 4 and 3
Rachel Smith def. Carmen Titus, 6 and 5
Andrea Kraus def Deborah Anderson, 4 and 3
DID NOT FINISH
Mercedes Huarte vs. Meredith Chiampa
Corey Weworski vs. Suzi Spotleson
Golfweek.com readers: We value your input and welcome your comments, but please be respectful in this forum.
---
---
---
---
---
---
---
---
---
---
---
---
---
---
---
---
---
---
---
---
---