Fila Golf announces new sweaters for men and women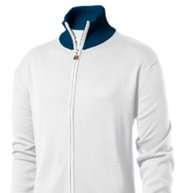 Fila Golf announced its new men's Chamonix and women's Stockholm sweater for the fall season.
The Chamonix sweater is a full-zip for easily layering during the chilly golf season. It has contrasting collar and cuff colors. Fila says it's a classic yet versatile design for the golf course and the clubhouse. It's available in black, white and fig brown for $110.
The Stockholm is a 'V' neck, layering sweater. It's a classic style and according to Fila it's lightweight and comfortable so that it won't inhibit the golf swing. It's available in black, white and Fila navy at $90.
Latest Related Headlines