College Women
Growing golf in the AF spurred by women's team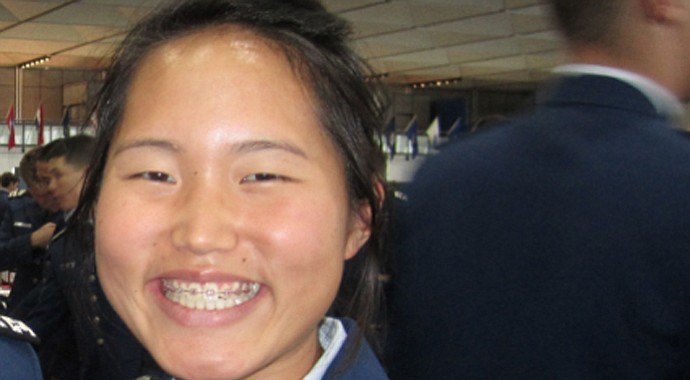 Wednesday, October 30, 2013
The NCCGA has tripled in size over the past year, thanks in large part to student leaders like Deborah Kim who are willing to start club teams on their campus. Not only did Kim take the reins in forming a women's club team at the Air Force Academy, but she also is leading the NCCGA's newly formed Mountain Region as a student Regional Coordinator.
Q: Tell me about your experience in starting the new Mountain Region?
Helping start out the new Mountain Region has been such an honor for me. During my senior year of high school, I was torn between choosing to play college golf or going to the Air Force Academy. I decided on going to the Academy because my ultimate dream was to become a pilot in the Air Force. At the time, the Air Force Academy didn't have a women's golf team, but it was my dream to make one happen when I came. It's been an awesome experience so far. We played in two tournaments this fall, both of which had competitors from our school and the Colorado School of Mines. The other three schools, Fort Lewis, University of Denver, and Colorado State University, were unable to make it this year. Hopefully they'll be able to make it out for spring 2014 tournaments.
Q: What have been the biggest successes and roadblocks along the way?
The biggest roadblock for me was to have enough ladies interested at the Academy to want to form a women's golf team. At first, the interest was extremely low, but we now have fifteen members. However, it's hard for us to get together to practice at the same time because of our military, fitness, and education requirements, so we usually end up hitting the links whenever we have time on our own. The greatest success I've had was in actually giving others the opportunity to play college club golf. The two tournaments we've had have been incredible. Although the only two teams that have shown up are the Colorado School of Mines and the Air Force Academy, we've had a blast. The competition is still high, and we have a great time out there. I'm currently a senior, and I'm extremely lucky to be able to say that I was able to play college club golf before I graduated.
Q: What is golf like at a US Military institution?
Golfing at the Eisenhower Golf Course at the Air Force Academy is amazing. There are two courses, the Blue and the Silver. The courses are challenging, and the greens are slick. Rumor is that all of the greens break towards the mountains. I wish that cadets had more time to play golf so that we could get out there as a team, but we definitely try to go out to the course as often as we can with each other. Since the freshmen and sophomores don't have cars, the juniors and seniors try to coordinate rides with them so that we can get them out to the course as much as possible.

Q: The Mountain Region has two all-women teams, how can we get more in the NCCGA?
We've got to get the word out about NCCGA. Girls in high schools need to hear about the NCCGA, so that they can choose both an education and a golf career. Getting the word out through the web, golf magazines, and publicity in tournaments would be the best way to get people to notice us.
Q: Why is there not a men's club team at the Air Force Academy?
There are men interested in playing, and we're in the process of making one happen. The women's club team has been a hit after playing in the NCCGA tournaments, and the men at our school are extremely interested. Hopefully we'll have one in the spring of next year.
Q: How much golf can people play in the Air Force after they graduate?
I'll let you know first-hand when I graduate on May 28, 2014.
• Deborah Kim is the President of the Air Force Academy Women's Club Golf Team. Interview performed by Mike Belkin, NCCGA Board Member and CollegeGolfPass Co-Founder.
• • •
From Belkin: Deborah is one of many women leaders of club teams in the NCCGA. Nonetheless, we are working hard to start more women's club teams as the majority of our teams are still all male or co-ed with male majorities.

In the next part of our golf diversity series, we will be exploring disabilities in golf and how the NCCGA is trailblazing the implementation of progressive policies to allow handicapped players to compete on an even playing field.
Golfweek.com readers: We value your input and welcome your comments, but please be respectful in this forum.
---
---
---
---
---
---
---
---
---
---
---
---
---
---
---
---
---
---
---
---
---