Musings on Thursday: Players day via Twitter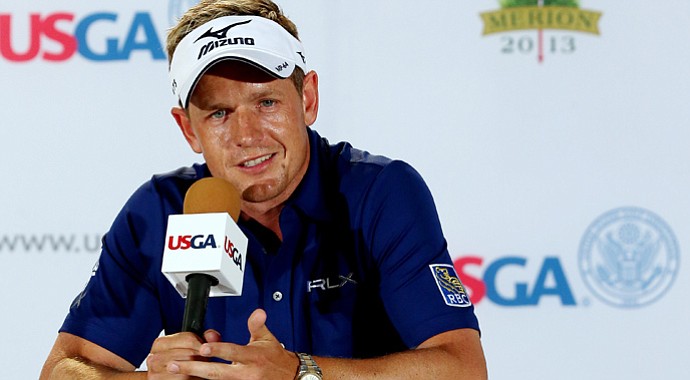 Thursday, September 5, 2013
It's a relatively quiet week for competition in pro golf, with the FedEx Cup and LPGA Tour taking a break. But practice was a topic for those golfers as well as some top amateurs, while the Web.com and European tours got tournaments underway today. Here are a few posts from players and other figures of the game Thursday:
• • •
Luke Donald, @LukeDonald: "Beers on me, had a hole in one this afternoon. #GetIn #WeekTooEarlyTho! moby.to/92onso"
Stacy Lewis, @Stacy_Lewis: "Practicing for the final major of the year! @EvianChamp"
Paul Lawrie, @PaulLawriegolf: "68 -3 this afternoon which was decent as breeze got up and pretty tricky with the small greens."
Joost Luiten, @joostluiten: "-1 today, worsed Icould have done! Just didn't get the ball in the hole with the putter. 33putts is to many!! New day tomorrow!!"
Brendan Steele, @Brendan_Steele: "Great round @BerryHenson keep it up! #europeantour #omega #feedthebirds"
Justin Thomas, @JustinThomas34: "Truly the experience of a lifetime eating and playing a few holes with President Bush. By far one of… instagram.com/p/d49qPcoOGA/"
Rickie Fowler, @RickieFowlerPGA: " "@RickieFowlerPGA: @LILTMOE87 solid morning!" You worked out that early bro?" yoga at 6:15 then lifted at 730"
Paige Mackenzie, @Paige_Mackenzie: "Most short trips home end with me dreading packing for the next event...not this time. I can't wait for @EvianChamp! #GoodGolf #GreatNights"
Ted Scott (Bubba Watson's caddie), @jtedscott: "At the course with my 3 yr old. I take a practice swing. "You Missed Daddy!" he says. Had to take a break. I'm still giggling!!"
Paula Creamer, @ThePCreamer: "Had a great dinner last night celebrating my dads birthday!!I am the luckiest girl to have a dad like him #blessed pic.twitter.com/rKnP2IirWr"
Cristie Kerr, @CKGolferChic: "Throwback thurs! @MP_Foundation @ThePCreamer last year in Taiwan instagram.com/p/d5BAwEEHUY/"
Michelle Wie, @themichellewie: "#TBT BBQ at my house in hawaii with the gang @jeehaeda thejanepark @TheChristinaKim and Duncan. Cant… instagram.com/p/d4w3_3p-rF/"
Billy Horschel, @BillyHo_Golf: "NFL season starts tonight but the bigger thing is Fantasy Football starts! All 4 of my teams are ready for domination! #ThisIsTheYear"
Graham DeLaet, @GrahamDeLaet: "@LukeGuth1 hey kid, do you get a new ride yet? #nolongerarook #stepitupanotch #02taurus"
Luke Guthrie, @LukeGuth1: "@GrahamDeLaet I'm working on it! It's about time for an upgrade eh #02camry #getitright"
Golfweek.com readers: We value your input and welcome your comments, but please be respectful in this forum.
---
---
---
---
---
---
---
---
---
---
---
---
---
---
---
---
---
---
---
---
---