Many of golf's best react to Furyk's 59 on Twitter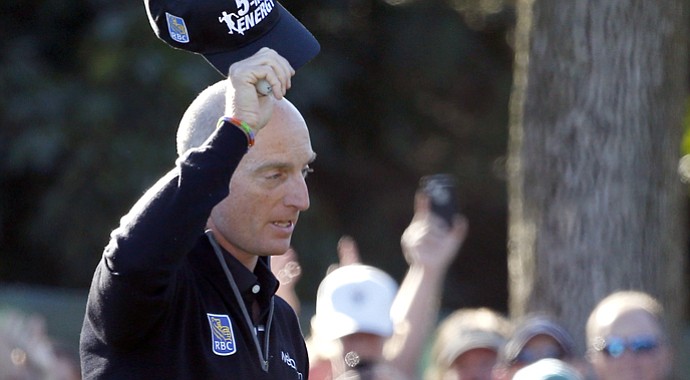 Friday, September 13, 2013
Just as many Tour pros could be seen watching Jim Furyk put his 59 on ice Friday at the BMW Championship, their Twitter accounts also reflected a show of support for the popular veteran golfer. Here's a sampling of their quotes:
• • •
Zach Johnson, @ZachJohnsonPGA: "Jim Furyk is the best golfer in the universe. #whatCourseDidHePlayToday?"
Ian Poulter, @IanJamesPoulter: "That round by Furyk was incredible 59. I take my hat off for that. Respect. I guess you can go low around this track. And boy do I need to."
Graham DeLaet, @GrahamDeLaet: "59 is unreal on any course, but with that wind swirling and gusting, that round by Furyk was just remarkable. 6 better than anyone else! #59"
Luke Donald, @LukeDonald: "Holy Furyk!! What an amazing round, beat the next best round by 6 shots! #59"
Keegan Bradley, @Keegan_Bradley: "59 today is spooky #furyk"
Lee Westwood, @WestwoodLee: "@JasonDufner just walked thru the locker room. On jim's round"He played good" understatement !"
Mark Calcavecchia, @MarkCalc: "Every muscle in my body would have twitched on that putt. He drilled like it was a pro am. Just AWESOME!!!!"
Gary Player, @garyplayer: "Happy to welcome Jim Furyk to the 59 Club. Its not exclusive to the PGA Tour & some have shot 58 but wherever it has been done its special."
Ben Crane, @bencranegolf: "Re: Furyk's 59, people outside of golf might not understand how excited the whole golf community is for him. We all root for history. . . . Furyk is an easy guy to root for. One of the @PGATOUR's best ambassadors. Pumped for Fluff too. He's seen some incredible golf in his career"
Bob Estes, @BobEstesPGA: "Great. Furyk shoots 59 on a really tough day and now most of the talk will be about Tiger's 2 shot penalty. #BMWChampionship"
David Hearn, @HearnDavid: "59...wow . . . #theseguysaregood"
Shawn Stefani, @ShawnStefani1: "WOW!! Jim Furyk shoots 59 today when wind and weather are a big factor. That's awesome! Third this year with two on web.com"
Sandy Lyle, @SandyLyle1: "That was the most exciting round in a long time. 59! for Jim Furyk and it looked so easy. Congratulations. You deserve all the credits!"
John Daly, @PGA_JohnDaly: "Great round from Furyk today wow that's Gripping It And Ripping It well done Jim"
Golfweek.com readers: We value your input and welcome your comments, but please be respectful in this forum.
---
---
---
---
---
---
---
---
---
---
---
---
---
---
---
---
---
---
---
---
---