Long-drive legends: Mobley walks the talk as champ for the ages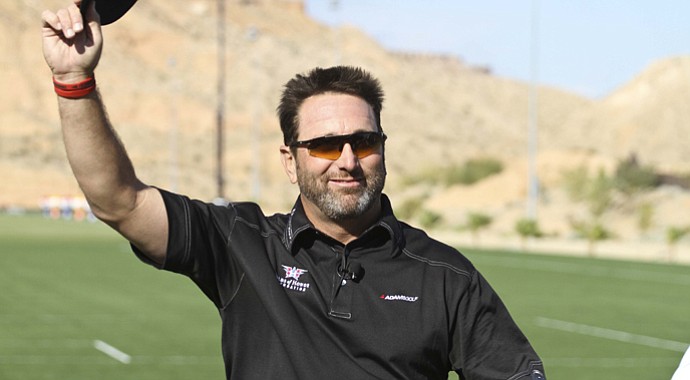 Saturday, September 28, 2013
Editor's note: The Re/Max World Long Drive Championship started Sept. 18 in Mesquite, Nev., and will finish with the Open Division finals Oct. 30 in Las Vegas. To celebrate the event, which attracts hundreds of golfers from dozens of countries, Golfweek is compiling a series of profiles of prominent long-drive participants who helped shape the sport.
• • •
David Mobley of Fort Myers, Fla., is one of only two golfers to win the Open and Senior divisions in the World Long Drive Championship or its predecessor, the National Long Drive Championship. Mike Gorton of Erie, Colo., is the other.
Mobley, 48, also is one of a few long drivers able to make another claim: He supports himself entirely through long driving.
Whether it is long-drive competition, exhibitions, corporate outings or clinics, Mobley has made a name for himself with his golf swing and with his mouth. He is a polished entertainer.
He remembers his decision in the early 2000s to become a golf philosopher, comedian and trash talker.
"It's all about talking," he said. "I was pretty good at it, but I had to add the trash talk. It's easy to get overwhelmed out here. There are all these huge guys around you. If you're an average-sized guy, like I am, you have to defend yourself. I decided I had to talk more."
And talk, he does.
Mobley's greeting to the 59-year-old Gorton, who has become his friend: "Hey, Mike, what was it like back when dirt was invented?"
Mobley on long driver and good friend Sean Fister: "Have you ever been in a room with Sean Fister's ego? He'll overpower you with his self-confidence. He'll have you convinced you have no chance against him."
Mobley on PGA Tour players who think they are long drivers: "I always hit the ball longer than John Daly. People say Dustin Johnson is long. I've got news for you: He would be below average out here."
Mobley on his long-drive philosophy: "I have two or three gears in competition. I stick to being a golfer. I make (swing) quality the main focus. I'll have 15 yards between my first ball on the grid and my last. I've shifted into another gear, but the swings look the same."
Mobley on getting older: "Old age and treachery will overcome youth and athleticism. That's what I say, anyway. I love beating the kids."
Mobley on scramble competition: "I don't do par 5s (hitting an extra drive for each group). I do par 4s. I hit a bunch on the green. I have holed out a few. The excitement and thrill is unmatched (in team games)."
He is a legitimate player who has competed on the former Hooters Tour, and he takes the game very seriously.
"I always pay attention to the impact position," he said. "It's all about the impact zone. If you make good swings, your body lasts longer, so I really concentrate on that."
For Mobley, the attraction of long driving is what he calls brotherhood. "We're like a band of brothers. It's something that is developed over the years. These are friends for life. I suppose the PGA Tour was a lot like this in the early days."
Mobley grew up in Brundidge, Ala., a farming community in the southeast part of the state. "I remember standing on the tee (of an early long-drive event) and thinking, 'There are more people around this tee than there are in my hometown.' This sport really has allowed me to come a long way."
Golfweek.com readers: We value your input and welcome your comments, but please be respectful in this forum.
---
---
---
---
---
---
---
---
---
---
---
---
---
---
---
---
---
---
---
---
---