Monday musings: Rain at Augusta; Lexi's win; more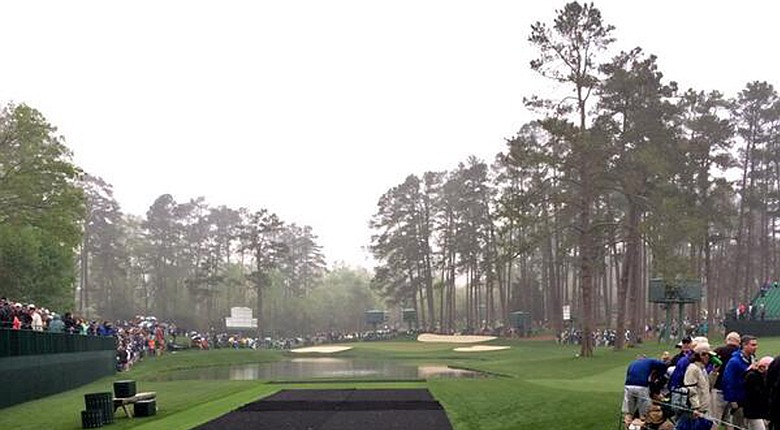 Monday, April 7, 2014
With rain setting in at Augusta National and cutting short Masters practice, several players took to Twitter earlier than usual on Monday – not to mention having tweeted Sunday on all things golf as well. Here's a sampling of tweets from players' accounts amid Monday's storm, as well as more:
• • •
Graham DeLaet, @GrahamDeLaet: "First annual Masters cribbage tourney with the boys! #rainymonday pic.twitter.com/MeYWCjFoxd"
Trevor Immelman, @TrevorImmelman: "Rain delay at The Masters. Still working on the putting..... vine.co/v/M5ujhaMLK2m"
Mark Calcavecchia, @MarkCalc: "Rae's Creek has risen 3 ft. If it rises 3 more ft we'll see if this 60,000 pound bus floats!! Aka Calcs Ark! pic.twitter.com/ODiI3RyIv3"
Ernie Els, @TheBig_Easy: "Making the drive, a bit wet here but still special @The_Masters pic.twitter.com/GTclvGE016"
Els: "This was me in my debut @The_Masters in 1994! Still excited to be here ... pic.twitter.com/YAb3vEKKU0"
---
Photo Gallery
PHOTOS: Rain washes out Monday practice at Masters
See some of the practice scene amid wind and rain Monday at Augusta National before storms forced an early end to the action.
---
Graeme McDowell, @Graeme_McDowell: "Play suspended for a few hours here. Feel for people with tickets today. Hopefully we play later #40short instagram.com/p/mfjaO7AwhY/"
McDowell: "Anyone need a little painting work done around the house? Met this lad this morning. #augustaselfie… instagram.com/p/mfi7WcAwgz/"
Joost Luiten, @joostluiten: "Big storm here at Augusta. Just before i wanted to Skip on the 16th they blew the horn! pic.twitter.com/iO7UWhjkXQ"
Sergio Garcia, @TheSergioGarcia: "A little masters shopping!! Have to keep the friends and family happy back home! Haha pic.twitter.com/D68JT0jcL1"
Justin Rose, @JustinRose99: "It's #Masters week!! #Augusta instagram.com/p/mfNqoKOtw6/"
Brandt Snedeker, @BrandtSnedeker: "Disappointed for all the patrons who got their day cut short today.. Weather had other plans.. Hope u all enjoyed what u could...."
• • •
Jack Nicklaus, @jacknicklaus: "Fifty-one years ago today, Jack #Nicklaus, at 23, became the youngest at the time to win the #Masters,… instagram.com/p/mf3VMKjCym/"
Oliver Goss, @olliegossAUS: "Completely star struck today, met @garyplayer and spoke to @JordanSpieth, and saw many major championship winners #LifeExperiences"
Tim Mickelson, @goodwalkspoiled: "Congrats to @asumensgolf alum Matt Jones for his huge Win yesterday in Houston. Now kick some butt at Augusta. #GoDevils"
PGA of Australia, @PGAofAustralia: "Good luck @The_Masters this week Matt Jones! #debut #AussiesAtAugusta ... pic.twitter.com/PMQWxwfI9m"
Jon Curran (watching a replay of the Drive, Chip and Putt competition), @JonCurranGolf: "Gotta give it to Leo Chang. Really stepped up on 18 and made it when it counted. Putter raise fist pump combo. Sending a message."
Curran: "Is it bad that I'm reassuring myself that I could win the boys 14-15 long drive?"
Anya Alvarez, @anyaalvarez: "My dad is going to the #masters and didn't invite me. He doesn't love me like I thought. #AugustaNational #pga"
Steve Wheatcroft, @wheatiePGA: "So excited to be able to watch the best sporting event on the planet this week on a blurry streaming stalling iPad from Mexico!! #loading"
Tim Herron, @PGALumpy: "Here's what I'll be wearing during @The_Masters tournament. Tumble dry low, everyone. pic.twitter.com/UHzhnabeeC"
Greg Norman, @SharkGregNorman: "Gr8 shot as I depart Melbourne. Fantastic people, culture sport & restaurants + an iconic sport ground lite up #MCG pic.twitter.com/RsbxoI3Mvc"
@JohnLimanti I went and saw her in the medical tent before they took her to the hospital. She was still laughing about it!

— Michael Thompson (@MSlickThompson) April 7, 2014
Sunshine Tour, @Sunshine_Tour: "Royal Harare getting ready for this week's #GolfZimOpen pic.twitter.com/cpPa2BkHS4"
• • •
Lexi Thompson, @Lexi: "What an amazing week at the @KNCGolf !! A dream come true for sure :) thank you so much to everybody involved for making it possible!:)"
Stacy Lewis, @Stacy_Lewis: "Another great week in the desert! Thanks to Kraft Nabisco for so many great memories over the years! Fun watching @Lexi win too! @KNCGolf"
Juli Inkster, @JuliInkster: "Congratulations @Lexi . Great playing . Very excited for u and your family . Enjoy the victory .."
Natalie Gulbis, @natalie_gulbis: "Congrats @Lexi winning the @KNCGolf !!!!!"
Gulbis: "@LPGA @Lexi @KNCGolf great jump Lexi!"
Lee Westwood, @WestwoodLee: "Well done @Lexi . Watched her hitting balls at trump international earlier in the year. Impressive ball striker."
Ashlan Ramsey, @ashlan_ramsey: "So proud of my girl @Lexi for the win today! Means a lot for her career and the LPGA! So inspiring to see that kind of talent"
Golfweek.com readers: We value your input and welcome your comments, but please be respectful in this forum.
---
---
---
---
---
---
---
---
---
---
---
---
---
---
---
---
---
---
---
---
---