Thursday Musings: Players' Masters quotes on Twitter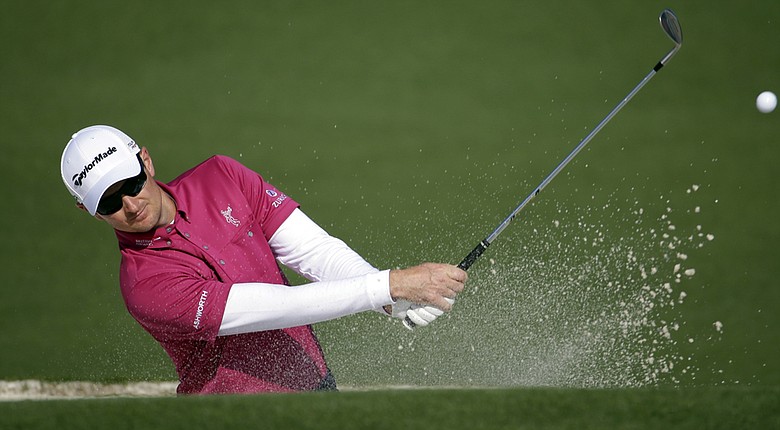 Thursday, April 10, 2014
We'll keep you posted with quotes from players at Augusta National or watching the Masters afar via their Twitter accounts during Thursday's first round.
• Tiger Woods, @TigerWoods: "It never gets old watching the honorary starters tee off. One of the oldest and best traditions in the game."
• Greg Norman, @SharkGregNorman: "To the Players - past champs & 2 be @The_Masters champs, patrons, sponsors TV viewers & lovers of golf, enjoy the next 4 days. Go Aussies!"
---
Photo Gallery
PHOTOS: Masters first round, Thursday at Augusta
See the action and emotion of Thursday's first round of the Masters at Augusta National, the first major of the 2014 season!
---
• Justin Rose, @JustinRose99: "Some work with a nice cuppa @PGtips before my afternoon round. #Masters pic.twitter.com/uRpCKcIi4H"
• Ted Scott (Bubba Watson's caddie), @jtedscott: "Just walked nine holes to check out the pins. Then walked up hole 10. It was cool listening to all the chatter about @bubbawatson 2012 shot"
• Gary Player, @garyplayer: "Early morning off to the course. An honour to kick off @The_Masters with Jack & Arnie. Only 1 shot. Counting on blasting it long & straight."
• Billy Horschel, @BillyHo_Golf: "Little sloppy with iron play today. 2 bad 3 putts but overall a decent round. Fought hard to not let the round get away. 2mrw will be better"
• Karrie Webb, @Karrie_Webb: "Just sitting down to watch @The_Masters I hope I'm jumping like this 4 another Aussie win on Sunday! pic.twitter.com/0VzYxqRaEc"
• Georgia Golf, @GeorgiaGolf1: "The kids got their chance Wednesday in the Par 3 contest. Here's former @UGA_WBB star Angie Ball Watson with Caleb. pic.twitter.com/wT48IiHKlD"
• Georgia Golf: "And here's Chris Kirk with his son Foster. #DogsInTheMasters pic.twitter.com/eyeXvdTFAm"
• U.S. Open: "The 2nd player to win the #Masters & #usopen in the same year: Ben Hogan, the only one to do it twice ('51, '53) #tbt pic.twitter.com/kDTaSWZoFW"
• U.S. Open: "The 3rd player to win the #Masters & #usopen in the same year: Arnie, giving us this indelible image from 1960. #tbt pic.twitter.com/OdabaNrSYH"
• U.S. Open: "The fourth player to win the #Masters and #usopen in the same year? @jacknicklaus, achieving the feat in 1972. #tbt pic.twitter.com/YO4AlL4JnV"
• U.S. Open: The fifth and final player to win the #Masters and #usopen in the same year: @TigerWoods in 2002. #tbt pic.twitter.com/9JlmCrnyly
• Bob Estes, @BobEstesPGA: "It's easy to aim a short iron at the center of the bunker on 12. It's another thing entirely to make yourself hit it there. #Masters"
• Steven Fox, @StevenFox4: "#tbt to The Masters last year skipping it across the water! Hope to be there again one day! instagram.com/p/mn3RtoiB0M/"• Paula Creamer, @ThePCreamer: "Who is your pick for the GREEN JACKET?!? I am going @JordanSpieth #heisgood #reallygood #reallyreallygood"
• PaulStankowski, @PaulStankowski: "Done deal. My boy and I are headed to Augusta! Gonna be weird and awesome at the same time. #Memories #FatherSonTime #TheMasters"
---
Photo Gallery
PHOTOS: 2014 Masters Fashion, Thursday
See the apparel from the first round of the 2014 Masters at Augusta National.
---
• JJ Killeen, @jjkilleentcu: "Why don't they have Masters coverage all day?"
• Killeen: "My 5 in the masters pool were Kuch, Scott, Sergio, Mickelson, Rose."
• John Riegger, @teamriegger: "My favorite moment from #master @jacknicklaus in 1986.#truth"
• TravelersChamp, @TravelersChamp: "Good luck to @DukePGA, who's making his first @The_Masters appearance since 2009!"
• Todd Eckstein, @whatheheckstein: "Three things are certain in life: death, taxes, and Freddy playing like a boss the first two days of the #Masters"
• Brandt Snedeker, @brandtsnedeker: RT @MandySnedeker: "Little man was up at 5:30- he must be excited that the @The_Masters starts today! #Masters2014"
Golfweek.com readers: We value your input and welcome your comments, but please be respectful in this forum.
---
---
---
---
---
---
---
---
---
---
---
---
---
---
---
---
---
---
---
---
---