Northern course operators talk 'winter kill'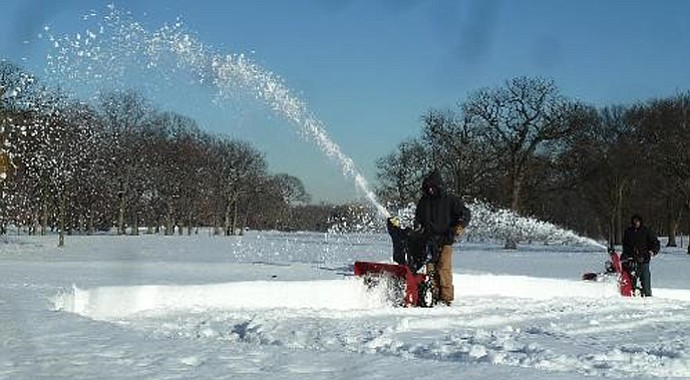 Saturday, April 19, 2014
Masters week typically signals the start of spring for millions of golfers around the U.S., as the pent-up anxiety to finally take your practice from the driving range to the course is practically unbearable.
The problem is, while most parts of the U.S. are starting to experience warmer spring days, the northern tier of the north-central U.S. is still in the grasp of an angry Mother Nature.
Economists predicted at the end of the 2013 season that a warming U.S. economy would lead to more recreational dollars being spent on golf during 2014. However, the financial health of the industry in the North Central U.S. has faced a double-whammy, including the early season loss of play coupled with the expense of green complex restoration.
Course owners hoping that early rounds would turn a good year into a great year will have to wait months to find out the true economic impact of the harsh winter on their bottom line.
According to the USGA, the North Central Region includes: Kentucky, Ohio, Indiana, Michigan, Wisconsin, Illinois, Minnesota, Nebraska, and Iowa. While some states have escaped record-low temperatures, ice cover and snow fall, the northernmost states have been hardest hit.
"Normally I'd be busy greeting spring golfers in April," said Bob Breitmeyer, who owns four public courses in the greater Detroit area. "However, this year I spent a day with 215 other course owners and superintendents at an Ice and Recovery Seminar."
The seminar was held at major championship venue Oakland Hills, in Bloomfield Hills, Mich., and was jointly hosted by the USGA, the MSU Turf Team, the Golf Course Superintendents Association of America and the Golf Association of Michigan. The panel included:
Bob Vavrek, USGA senior agronomist for the North Central Region;
Dr. Trey Rogers of Michigan State;
Dr. Kevin Frank of Michigan State;
Dr. Jeff Anderson of Michigan State;
Steve Cook, director of agronomy at Oakland Hills.
The meeting was held to address the regional issue of winter kill, which was caused by record low temperatures coupled with extended ice cover. In layman's terms, winter kill defines turf loss during the winter. While it can be caused by a variety of factors, the two most prevalent in the North Central Region this year were a combination of low temperatures and ice sheets.
"We have documented 60 to 70 days of ice cover beneath a deep layer of snow on our golf courses across the region" Vavrek said. "Research has shown that injury to Poa annua is likely to occur under these conditions."
Poa annua and bentgrass cover most putting surfaces in the north-central U.S. The problem is, Poa is a much weaker plant than bentgrass and lacks the ability to harden itself for winter. This inability of Poa to withstand ultra-low cold and ice cover leads to areas of damaged or dead turf on putting surfaces with high populations of Poa.
Dr. Kevin Frank, turfgrass specialist from Michigan State, said, "If this was a small issue there would be a small group here. Instead, we have 215 people and we won't really know the full extent of the damage for a few more weeks yet."
Dr. Trey Rogers, Michigan State turfgrass professor said, "The grasses that survived the winter on the region's golf courses are at least a month behind. To the plant, it's still early March."
He urged the golf course representatives to not rush or plan the opening of a course without following these three rules.
"Mother Nature rules; promote growth and do not rush!"
Adam Ikamas, executive director of MiGCSA said it's important that more people than just superintendents understand the challenges this winter has presented for golf courses.
Golfweek.com readers: We value your input and welcome your comments, but please be respectful in this forum.
---
---
---
---
---
---
---
---
---
---
---
---
---
---
---
---
---
---
---
---
---