In this issue: April 18, 2014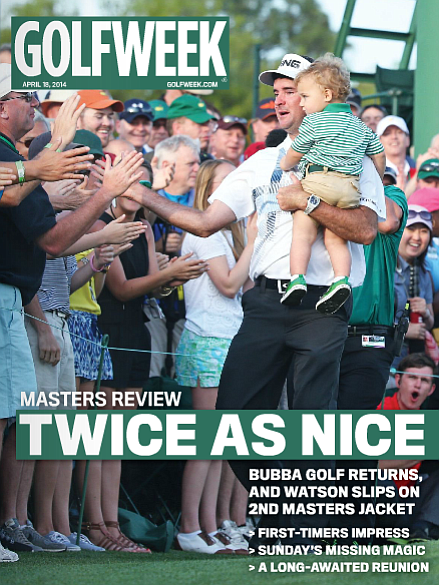 Tuesday, April 22, 2014
Inside the April 18, 2014 issue of Golfweek:
• • •
THE FORECADDIE
• • •
• 'Tradition like no other' makes room for change
• 'Zinger opines on Tiger
• If you need a captain, just holler
• Crenshaw: One more go
• Fleetwood will be back
• Catching up with a friendly face
• This time, she will remember
• • •
IN THE NEWS
• Koch seeks 'hat trick' in 2015 Solheim Cup
By Alistair Tait
• Dawson cites urgency of Rio's 'new schedule'
By Alex Miceli
• • •
TOY BOX
• 2-in-1 clubs: New powerful, small-headed clubs gain traction, but are they drivers or fairway woods?
By James Achenbach
• Watson's Ping setup
• Blixt's two-driver week
• Olazabal copies Jimenez
• Schwartzel swaps clubs
• • •
COMPETITION
The 78th Masters
• Bubba Golf, Act II: Armed with a 'freak show' array of shots, Bubba Watson reigns again at Augusta
By Jim McCabe
• COLUMN: 'Fast-track learning': Augusta National shares its secrets sparingly, and first-time Masters players find it's too often after a painful misstep
By Adam Schupak
• COLUMN: Bubbalicious: Bubba Watson says his aggressive style and success are 'pretty wild' – in a good way
By Jeff Rude
• COLUMN: Augusta magic takes a holiday: Sound of silence reigns down the stretch
By Jeff Babineau
• Swede emerges on 'tough' track
By Beth Ann Nichols
• COLUMN: Gray mixes with green
By James Achenbach
• Stadlers pass the baton
By Alex Miceli
• The Voice of life: Forty-six years after an inspirational intervention, Billy Casper reunites with an injured Marine
By Jim McCabe
• Amateur Goss wraps up potential game-changer
By Beth Ann Nichols
• Scott lives the dream: Aussie bugs and golf with dad
• Scarcity of eagles
• Y'all come back now
• Good news, bad news
• Off to a hot start
• Good at the ends
• Remember him?
• Sore spot for Oosthuizen
• Porteous will play for pay
• Better days ahead for McCoy
• Web.com Tour: Ortiz gets 2nd Web.com Tour win
• • •
COLLEGE
• Cardinal rule at Western: Cameron Wilson denies teammate Patrick Rodgers another individual title
By Julie Williams
• Schniederjans, Jackets pass tough Scarlet test
• Clemson's Ashlan Ramsey to turn pro
• • •
THE GOLF LIFE
• Northern stars: Cabot Links, Jasper Park Lodge lead Canada's best courses
By Martin Kaufmann
• • •
VOICES
• Inside the Ropes: Some friendly tips to restore the roars
By Alex Miceli
• Wired: It's time for Augusta to drop CBS
By Martin Kaufmann
• Letters to the Editor
• • •
SCOREBOARD
• "Golf's Biggest Stat Sheet''
• • •
THE 19TH HOLE
• Reality check: For Jordan Spieth, who nearly won in his Masters debut, the future holds plenty of promise
By Jeff Rude
Golfweek.com readers: We value your input and welcome your comments, but please be respectful in this forum.
---
---