Junior Boys
Tee times: Junior Invitational at Sage Valley, Round 2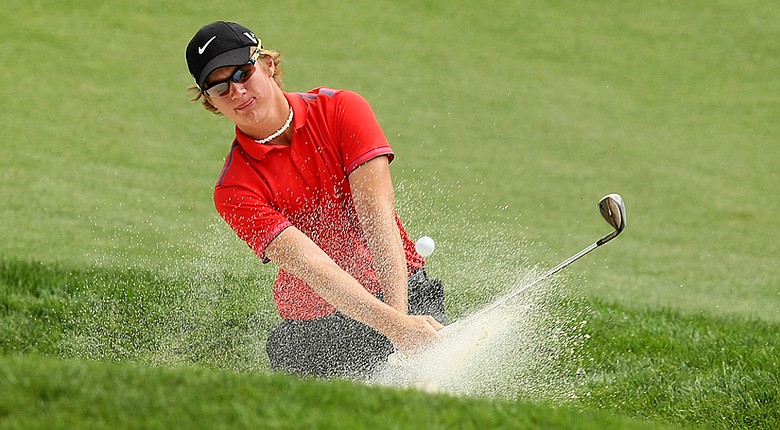 Thursday, April 24, 2014
Sam Horsfield and Brad Dalke know a thing or two about contending in the Junior Invitational at Sage Valley.
Horsfield tied for second a year ago in his second Junior Invitational start while Dalke has two top-16 finishes in two previous starts.
Friday, the three-time participants will play in the last group alongside leader and first-timer Theo Humphrey. Horsfield and Dalke are tied for second at 2 under, one shot back of Humphrey at 3 under. The trio will tee off at 11:50 a.m. Eastern.
Here are the tee times and pairings for Friday's second round of the Junior Invitational at Sage Valley Golf Club in Graniteville, S.C. (all times local):
9 a.m.: Won Jun Lee, Wo Cheng Ye, Corey Shaun
9:10 a.m.: Thadd Obecny II, Luis Gagne, Marcus Byrd
9:20 a.m.: Carl Yuan, Jan Szmidt, Jr., Jonathan Hardee
9:30 a.m.: Will Blalock, Collin Morikawa, Keegan de Lange
9:40 a.m.: Dylan Meyer, William Regisger, Dominic Foos
9:50 a.m.: Sean Crocker, Connor Smith, Sam Burns
10 a.m.: Derek Castillo, Wilson Furr, Ashton Turner
10:10 a.m.: Benjamin Griffin, Trevor Phillips, Doug Ghim
10:20 a.m.: Austin Connelly, Robin Wang, Josh Fickes
10:30 a.m.: Aaron Terrazas, Jonah Texeira, William Gordon
10:40 a.m.: Kristian Carparros, Jorge Garcia, Michael Hirmer
10:50 a.m.: Marco Penge, Nick Hardy, Paul McBride
11 a.m.: Alejandro Tosti, Benjamin Baxter, Kyle Sterbinsky
11:10 a.m.: Zachary Bauchou, Davis Riley, Cameron Young
11:20 a.m.: Renato Paratore, Robin Dawson, Andy Zhang
11:30 a.m.: David Snyder, Matt Williams, Keenan Huskey
11:40 a.m.: Scottie Scheffler, Austen Truslow, Cameron Champ
11:50 a.m.: Theo Humphrey, Brad Dalke, Sam Horsfield
Golfweek.com readers: We value your input and welcome your comments, but please be respectful in this forum.
---
---
---
---
---
---
---
---
---
---
---
---
---
---
---
---
---
---
---
---
---