Woods' injury uncertain; caddie at Valhalla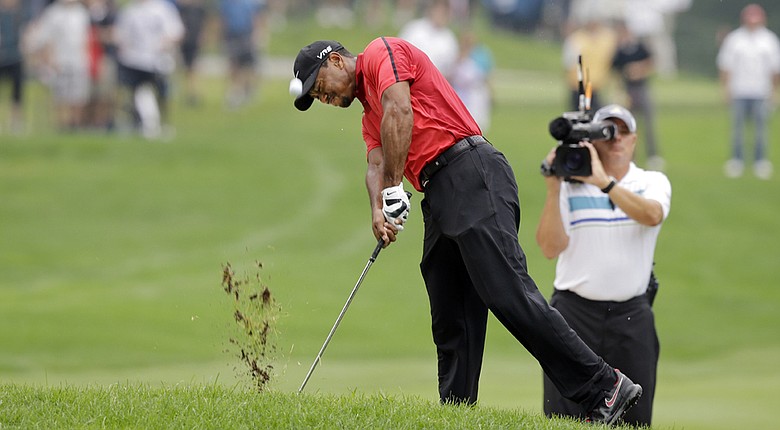 Tuesday, August 5, 2014
LOUISVILLE, Ky. – The scouting staff was on hand at Valhalla Golf Club, just in case Tiger Woods decides he's healthy enough to play in the 96th PGA Championship.
One day after Tiger Woods withdrew on the ninth hole of the fourth round of the Bridgestone Invitational in Akron, Ohio, his caddie, Joe LaCava, was walking and studying the golf course where a piece of golf history had been scripted 14 summers ago. It was at the 2000 PGA, back when Woods was a healthy and dominating force, that he became just the second golfer to win three professional major championships in a season. Woods beat Bob May that year in a playoff, then eight months later he won the 2001 Masters to become the only golfer to win four consecutive majors.
Seems like a lifetime ago, what with what is going on in Woods' world now, doesn't it?
At 38, Woods makes headlines not with his golf, but with his litany of injuries. If he is unable to tee it up at Valhalla this week, it will be the seventh major championship missed to injury in 26 opportunities since he last won a major, the 2008 U.S. Open. That's nearly 27 percent, which used to represent his winning clip.
Now, 27 percent is more closely identified with the percentage of times he tees it up in PGA Tour competition.
• Woods' PGA Championship results through the years
Woods has not seen Valhalla since the insufferable heat of 2000. He was unable to play for the American side in the 2008 Ryder Cup here, the year when had knee surgery to seemingly began his odyssey of ailments. Since that memorable playoff win at Torrey Pines six summers ago, there have been 274 playing opportunities for Woods and he's played but 79 times. In other words, we've become far too accustomed to not having him in attendance, but that doesn't make his absence any less newsworthy.
That's why TV cameras were headed LaCava's way as he tried to study the course, mark down the yardages, and get a feel for the trouble spots. The caddie deflected any attention, insisting he was there to work, not conduct interviews.
With Woods back home in Florida, his agent, Mark Steinberg, told ESPN.com via text that it was "pointless to make that decision now (whether to play or not) without proper time to give him the best chance."
While Shawn Stefani hangs around as the first alternate, the decision about Woods' PGA Championship status could be made Tuesday (though it was announced late Monday that Woods' press conference would not be held Tuesday morning), or even as late as Wednesday. Remember, it was only a few months ago when Woods walked off after 13 holes of the Honda Classic, then kept everyone guessing for three days before deciding to show up late Wednesday and play a practice round, then tee it up in the Cadillac Championship. He finished T-25, closing with a 78 and breaking par just once at Trump Doral.
---
Photo Gallery
PHOTOS: Valhalla hole-by-hole, 2014 PGA Championship
The Jack Nicklaus-designed Valhalla Golf Club, par 71 and 7,458 yards, earns a whopping 77.6 rating and a slope of 152 from the club's back tees -- and if this week's PGA Championship tees were measured, both the rating and slope would be higher. See all 18 holes here!
---
Woods, who was not in contention at Sunday's WGC-Bridgestone, aggravated his back playing an awkward shot at the par-5 second hole and withdrew after hitting his tee ball at the ninth. Whether it's a serious issue, a flare-up of the disc problem that necessitated surgery, or just a spasm, who knows? But clearly the questions will continue to flow.
Tom Watson is probably preparing right now for the queries he will get Wednesday when he arrives at Valhalla for a press conference. The American Ryder Cup captain knows the top nine automatic picks for his team will be cemented come the end of this major, but he'll then have three picks to round out the team. Though Woods sits 69th in the standings, he was considered by many to be a logical pick – at least up until Sunday's WD.
Watson told Sirius/XM radio Monday morning that even before Woods withdrew, he sensed there was a problem.
"The shot he hit at No. 5 (a par 3, when Woods fatted his tee shot and came up yards short of the green) I said, 'Something's wrong with Tiger. You don't hit that terrible of a shot ever, ever.' "
Watson, who said he sent a text to Woods, conceded that he still believes "Tiger would be a great addition to our team" if he were healthy. But Watson added: "This doesn't bode well right now. I just hope it's maybe an isolated problem and he can turn it around and possibly play this week at the PGA."
Golfweek.com readers: We value your input and welcome your comments, but please be respectful in this forum.
---
---
---
---
---
---
---
---
---
---
---
---
---
---
---
---
---
---
---
---
---