Perry combines roles of local fave, underdog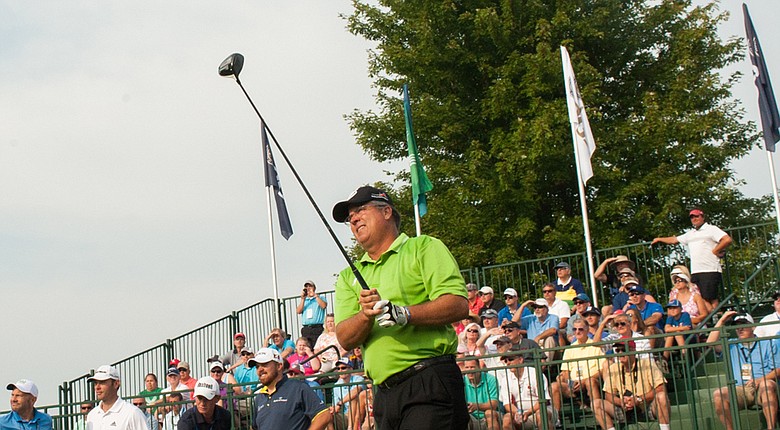 Tuesday, August 5, 2014
LOUISVILLE, Ky. – On a typical Tuesday, Kenny Perry would be babysitting one or more of his three grandchildren, but this Tuesday is extraordinary. It likely will be his last major championship, and in his home state.
Perry, who turns 54 on Sunday, lives about two hours south of Valhalla Golf Club, site of this week's 96th PGA Championship, in Franklin. So the trip north on Interstate 65 to the course named for "the hall of the fallen" warriors in Old Norse mythology is relatively short, but it has provided some ups and downs for the state's favorite golfing son.
---
Photo Gallery
PHOTOS: Valhalla hole-by-hole, 2014 PGA Championship
The Jack Nicklaus-designed Valhalla Golf Club, par 71 and 7,458 yards, earns a whopping 77.6 rating and a slope of 152 from the club's back tees -- and if this week's PGA Championship tees were measured, both the rating and slope would be higher. See all 18 holes here!
---
In 1996, Perry held the first-round lead in the PGA here after a 66, but a mediocre 72-71 in the middle rounds left him four shots back of another Kentuckian, Russ Cochran. As Cochran faltered to a final-round 77, Perry had made five birdies through 17 holes and needed only a par on the par-5 18th for his first major championship. Perry made bogey, forcing a playoff with eventual winner Mark Brooks.
"I think everybody, human nature, will say, "what if": What if I would have made a par here on 18 in '96 and I would have won the PGA Championship? What if I would have parred 17 or 18 at Augusta and I would have won the (2009) green jacket," said Perry, recalling his toughest losses in majors. "They were blows in my career. If I would have had those two majors, you could look at my career as a Hall of Fame career."
Perry earned a measure of redemption in 2008 at Valhalla as part of the victorious U.S. Ryder Cup team. It was a storybook week for Perry and fellow Kentuckian J.B. Holmes to win in their home state, and Perry looked at that victory as his Kentucky hurrah.
---
Photo Gallery
PHOTOS: Tuesday at Valhalla, 2014 PGA Championship
See golf's top players interact with the gallery during practice, take part in a long-driving competition and get a little work in while officials prepare for the 2014 PGA Championship at Valhalla.
---
"My dad, at 86 years old, coming on the green in his bib overalls and giving me a hug," said Perry, recalling his fondest memory of that Ryder Cup. "It was pretty special for a father and son."
Now Perry comes to Valhalla with another win under his belt, his seventh on the Champions Tour after having won 14 on the big Tour, and a game that he concedes he is unsure whether it might translates to a big ballpark such as the 7,458-yard Valhalla. Then again, beating the age-defying Bernhard Langer last week in the 3M Championship in Minneapolis wasn't easy, either.
"I was using last week as a warmup to this week," Perry said. "To go in there and play as well as I did, it's really given me a lot of confidence for this week. If I can drive it like I did last week and hit these fairways, you know, I'm going in there with longer clubs than most of the guys, but my iron play is always still pretty good, and if my putter wakes up, I can shoot halfway decent scores here."
Golfweek.com readers: We value your input and welcome your comments, but please be respectful in this forum.
---
---
---
---
---
---
---
---
---
---
---
---
---
---
---
---
---
---
---
---
---