McIlroy, Scott among late Valhalla scouts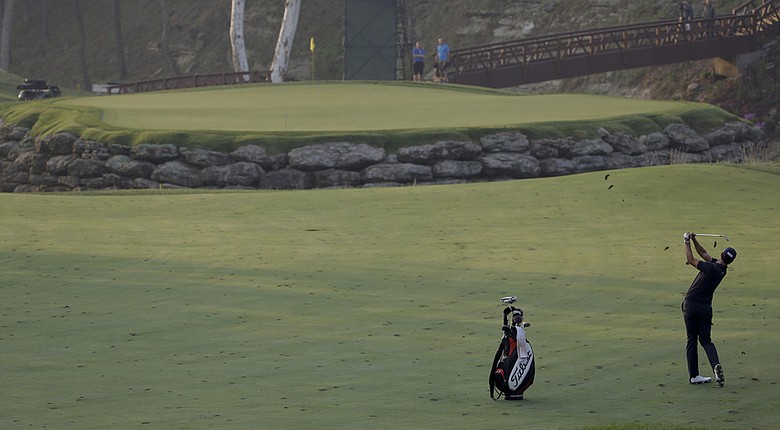 Tuesday, August 5, 2014
LOUISVILLE, Ky. – Chalk it up not to a sign of disrespect but to the time of year. By the time the humid days of August roll around, the world's best golfers have been on several continents, pressure-cooked by three majors and three World Golf Championships and prepped for playoff events and possibly a Ryder Cup.
In other words, it's not so easy to squeeze out the time to do a sneak preview of the upcoming PGA Championship venue.
The Masters? Most players start their visits by early March. The U.S. Open? By the time June arrives, players have seen the course a few times. The Open Championship? Who doesn't love heading over to the land of links a week before this July classic comes.
---
Photo Gallery
PHOTOS: Valhalla hole-by-hole, 2014 PGA Championship
The Jack Nicklaus-designed Valhalla Golf Club, par 71 and 7,458 yards, earns a whopping 77.6 rating and a slope of 152 from the club's back tees -- and if this week's PGA Championship tees were measured, both the rating and slope would be higher. See all 18 holes here!
---
Augusta National, Pinehurst No. 2, Royal Liverpool. All were scouted by marquee names well before the tournament dates, but you'd be hard-pressed to find many contenders in this week's 96th PGA Championship who did a reconnaissance to Valhalla Golf Club.
Rory McIlroy and Adam Scott, ranked Nos. 1 and 2 in the world, respectively, never have played it. Neither could find the time to get here before this week. "It's been a while, probably," said Scott, when asked the last time he didn't scout out a major venue.
He did not seem concerned.
"I may be completely wrong, but from what I've seen on (TV), briefly of Valhalla, I don't think it's something that I'm not really going to be able to figure out in three days."
As a teenager in Northern Ireland, McIlroy watched on TV as his European colleagues played the Americans at Valhalla in the 2008 Ryder Cup. He thinks he got a feel for the course just by watching. Interestingly, McIlroy's father, Gerry, could be heard asking folks at the Bridgestone Invitational about Valhalla's characteristics.
Invariably, when it is said that Valhalla is a Jack Nicklaus design, players shake their heads. "We've played a lot of Jack Nicklaus golf courses," Scott said.
Translation: There's not a lot of mystery to Nicklaus designs.
Of course, when intrigue is part of the course, that's when previous visits are recommended. Kiawah Island was one that Scott did visit two weeks before it hosted the 2012 PGA Championship. "That was very valuable, because that is a tricky golf course," he said. "But (Valhalla), from what everyone says, it's more like another (PGA) Tour golf course."
Golfweek.com readers: We value your input and welcome your comments, but please be respectful in this forum.
---
---
---
---
---
---
---
---
---
---
---
---
---
---
---
---
---
---
---
---
---