Leonard advances at Golfweek Senior Match Play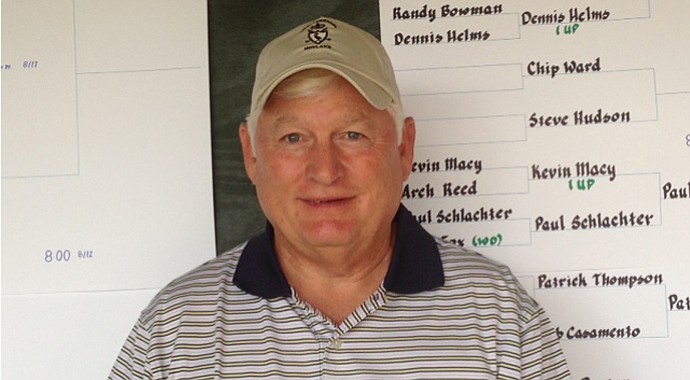 Sunday, August 10, 2014
Bill Leonard feels better when he can fly right under the nose of his fellow senior competitors. But Leonard, 65, can only win so many matches and qualify for so many top tournaments before that goes right out the window.
"A lot of people have never heard of me, I kind of fly under the radar," Leonard said after defeating Ken Larney, 3 and 2, on Sunday at the Golfweek Senior National Match Play. Leonard and Larney played out their full round at the Dormie Club in West End, N.C., and Leonard came in with a 69. He bogeyed the first hole, but regrouped to knock of Larney, at No. 17 in Golfweek's Senior Rankings, one of the top players in the field.
For Leonard, of Dallas, Ga., this is a "typical" situation. Leonard reported shooting 84 in his practice round at the Dormie Club a day earlier. He has a self-described knack for rising to the occasion in such events, or in qualifiers. Leonard has played in four U.S. Senior Opens and will try to qualify for the U.S. Senior Amateur next week.
Leonard, a former junior college player, gave up the game when he was 25 and didn't pick it back up until the age of 40. He retired three years ago and now is going strong on the senior circuit.
As Larney, one of the top players in this field, fell to Leonard, however, other notable players moved on. Paul Schlachter, who won two senior events last month, defeated Kevin Macy, 3 and 2.
Two players in the top 30 in Golfweek's Senior Rankings, Peter Van Ingen and Patrick Thompson, also advanced.
Full results from match play:
Senior Division:
Peter Van Ingen def. Herb Fisher, 1 up
Patrick Thompson def. Bob Casamento, 6 and 5
Bill Leonard def. Ken Larney, 3 and 2
Paul Schlachter def. Kevin Macy, 3 and 2
Scott Hudson def. Chip Ward, 2 and 1
John Fritz def. Dan Pouliot, 3 and 1
Dale Porter def. Phillip Leckey, 21 holes
Dennis Helms def. Don Ragley, 5 and 4
Super Senior Division:
Mack Clapp def. Jim deLeon, 2 and 1
Ted Smith def. Scott Northey, 6 and 4
Walt Martin def. Joe Pavoni, 1 up
Rick Luzar def. Don Jeasnes, 2 up
Mike Jackson def. Marshall Utterson, 3 and 2
Don Marsh def. Berger Warner, 2 up
Gary Kirwan def. John Richart, 20 holes
Larry Vander Bie def. Bob Yow, 5 and 4
Golfweek.com readers: We value your input and welcome your comments, but please be respectful in this forum.
---
---
---
---
---
---
---
---
---
---
---
---
---
---
---
---
---
---
---
---
---