Final matches set at Golfweek Senior Match Play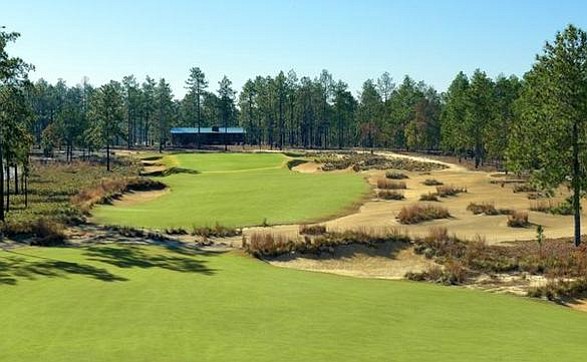 Monday, August 11, 2014
The Golfweek Senior National Match Play Championship has been whittled down to four players. Steve Hudson and Pat Thompson will meet in the senior-division final on Aug. 12 at the Dormie Club in West End, N.C., and Walt Martin will meet Don Marsh in the super-senior final.
Hudson, of Birmingham, Ala., played for the University of Alabama, and has won four Alabama Golf Association titles in the past five years. He won the Alabama Senior Amateur in 2011 and '14 and the Alabama Mid-Amateur in 2010 and '12. Hudson also won the Senior Masters in April.
Hudson will have to overcome Thompson, who is ranked No. 26 in Golfweek's Senior Rankings. Thompson, of Asheville, N.C., has been a standout player in North Carolina for the past 20 years. He missed earning exempt status on the Champions Tour by a single stroke in 2009, and won the North & South Senior Amateur in 2013.
In the Super Senior Division, Don Marsh, of Alpharetta, Ga., will have an opportunity to make the most of a limited competition schedule. Despite playing few tournaments, Marsh won the Senior Hall of Fame and the Georgia Senior Invitational in 2014.
Marsh will play Martin, of Oakton, Va., a retired Naval officer who is ranked No. 7 by Golfweek.
• • •
Quarterfinal Matches
Senior Division
Bill Leonard def. Dennis Helms, 1 up
Steve Hudson def. Paul Schlachter, 4 and 3
Pat Thompson def. Dale Porter, 4 and 3
Peter Van Ingen def. John Fritz, 1 up
Super Senior Division
Ted Smith def. Mack Clapp, 3 and 2
Don Marsh def. Rick Luzar, 5 and 3
Gary Kirwan def. Mike Jackson, 1 up
Walt Martin def. Larry Vanderbie, 3 and 2
Semifinal Matches
Senior Division
Steve Hudson def. Bill Leonard, 1 up
Pat Thompson, def. Peter Van Ingen, 3 and 2
Super Senior Division
Don Marsh def. Ted Smith, 2 and 1
Walt Martin def. Gary Kirwan, 1 up
Stroke Play
Senior Division
Mac McGee, 72
Timothy Pope, 74
Arch Reed, 75
Don Ragley, 75
Chip Ward, 75
Randy Bowman, 76
Bob Casamento, 76
Ken Larney, 77
Kevin Macy, 78
Jim Prendergast, 78
Dan Pouliot, 82
Joe Nevins, 90
Super Senior Division
Billy Hatton, 74
Gary Shimmin, 75
Marshall Utterson, 75
Phillip Leckey, 77
Harvey Barish, 79
Scott Northey, 79
Joe Pavoni, 79
Bob Yow, 79
Jim deLeon, 80
John Richart, 80
Larry Smothers, 80
Don Jeanes, 81
Golfweek.com readers: We value your input and welcome your comments, but please be respectful in this forum.
---
---
---
---
---
---
---
---
---
---
---
---
---
---
---
---
---
---
---
---
---