College Women
Cnops, Central Florida capture UCF Challenge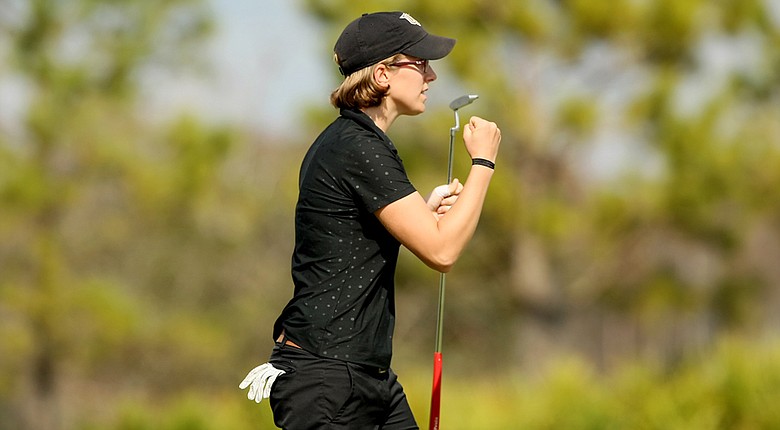 Saturday, February 15, 2014
---
Photo Gallery
PHOTOS: Women's UCF Challenge (final)
View images from the final round of the UCF Challenge at Eagle Creek Golf Club. UCF held on for a 1-stroke victory.
---
Final scores: Desktop | Mobile
• • •
When Central Florida junior Fanny Cnops stepped over her 8-foot birdie putt on the downhill-sloping 18th green, she had a bit of deja vu.
"I thought of myself in the European (Ladies Amateur Team) Championship. I had kind of the same putt to win the match for (Belgium)," Cnops said. "I was like, 'This is the same putt. You have it and you're good under pressure.' So I got the line and I think it was the best shot of the day for me."
Cnops' putt on the difficult par 5 helped seal a team win and personal medalist finish at the UCF Challenge Tuesday. The Knights were wire-to-wire winners at the Eagle Creek Golf Club in Orlando, Fla., besting Iowa State by one stroke.
"It came down to the stretch. It was back and forth with Iowa State, a great team," UCF head coach Emily Marron said. "They poured a bunch of birdies in on us at the end, but it's nice to win."
The top five included: UCF (7 under), Iowa State (6 under), Miami (even), Kentucky (2 over), Minnesota (6 over) and GRU Augusta (6 over).
Iowa State shot 3 under on the final day, led by senior Prima Thammaraks, who was also 3 under on the day.
"It was a lot of fun. We played 16, 17, 18 really well. . . . It was fun to see the progress they've made," Iowa State head coach Christie Martens said. "This is our first tournament of the spring, so I'm excited to see where they go from here."
The Knights were 2 over as a team on the final day.
"We set some pins today that were a little bit more difficult and the wind direction was different today, so I think that threw everybody off," Marron said. "The scores today were a little higher, but being your home course the girls kind of knew the pins."
Cnops and freshman Ashley Holder led UCF, battling most of the day for medalist honors. Holder finished T-4 despite recording bogeys on three of her final four holes.
"Fanny is a great player. I think that every week she tees it up, she has a chance to win," Marron said. "Ashley is really battling injury too. . . . Those last couple of holes she was almost in tears there, but she's a freshman so she'll learn from it."
Said Cnops: "I was really motivated to play good here, we've played a lot of times here for qualifying and for practice so I was really focused on my game plan. . . . I was really close at the previous tournament ... there's a lot of pressure on my shoulders but I'm really happy."
Golfweek.com readers: We value your input and welcome your comments, but please be respectful in this forum.
---
---
---
---
---
---
---
---
---
---
---
---
---
---
---
---
---
---
---
---
---