Women's Australian Open: Tee times, 2nd round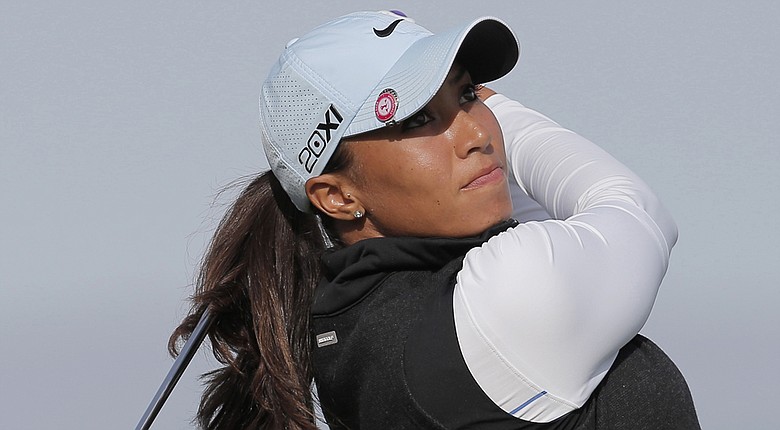 Thursday, February 13, 2014
Cheyenne Woods, last week's winner at the Ladies European Tour's Australian Ladies Masters, will pair with Laura Davies and Brittany Lincicome while Pure Silk Bahamas LPGA Classic winner Jessica Korda will play alongside Paula Creamer and Charley Hull late Thursday and early Friday at this week's Women's Australian Open.
World No. 2 Suzann Pettersen and No. 3 Stacy Lewis will play in the same group alongside Karrie Webb while No. 4 Lydia Ko will play alongside Beatriz Recari and Azahara Munoz early Thursday and late Friday.
Here are more facts and figures about this week's Women's Australian Open:
• WHEN, WHERE:Thursday-Sunday, Victoria GC, Melbourne, Australia.
• AT STAKE: $195,000 first prise in $1.2 million total purse.
• TOP-RANKED PLAYERS, ROLEX: No. 2 Suzann Pettersen, No. 3 Stacy Lewis. GOLFWEEK/SAGARIN: No. 1 Lewis; No. 2 Lydia Ko.
• SHORT SHOTS: Lydia Ko finished third here last year as an amateur while Jiyai Shin topped Yani Tseng for the win. . . . Tseng will play alongside Lexi Thompson and Morgan Pressel late Thursday and early Friday. . . . Korda won the 2012 tournament. . . . The LPGA will remain abroad for the next two weeks (LPGA Thailand, HSBC Women's Champions in Singapore).
• • •
Complete tee times and pairings for the second round of the Australian Ladies Masters at Victoria GC (all times local):
NO. 1 TEE
7:20 a.m.: Rebecca Lee-Bentham, Kristy McPherson, Lisa McCloskey
7:30 a.m.: Brooke Pancake, Anne-Lise Caudal, Valentine Derrey
7:40 a.m.: Joanna Klatten, Mariajo Uribe, Cathryn Bristow
7:50 a.m.: Vicky Hurst, Ayako Uehara, Giulia Molinaro
8:00 a.m.: Candie Kung, Mina Harigae, Irene Coe
8:10 a.m.: Carlota Ciganda, Pornanong Phatlum, Jenny Shin
8:20 a.m.: Anna Nordqvist, Moriya Jutanugarn, Nikki Campbell
8:30 a.m.: Giulia Sergas, Melissa Reid, Bree Arthur
8:40 a.m.: Maria Hernandez, Mi Hyang Lee, Nikki Garrett
8:50 a.m.: Karen Pearce, Becky Morgan, Yuyang Zhang
9:00 a.m.: Breanna Elliott, Katie Futcher, Marion Ricordeau
9:10 a.m.: Becky Brewerton, Ann-Kathrin Lindner, Courtney Massey
9:20 a.m.: Su-Hyun *Oh, Jennifer Song, Marianne Skarpnord
12:20 p.m.:Heather Bowie Young, Mirim Lee, Sandra Changkija
12:30 p.m.:Jaclyn Sweeney, Erica Popson, Sue Kim
12:40 p.m.:Gwladys Nocera, Caroline Bon, Amy Anderson
12:50 p.m.:Sarah Jane Smith, Carly Booth, Jaye Marie Green
1:00 p.m.:Suzann Pettersen, Karrie Webb, Stacy Lewis
1:10 p.m.:Beatriz Recari, Lydia Ko, Azahara Munoz
1:20 p.m.:Katherine Kirk, Catriona Matthew, Stacey Keating
1:30 p.m.:Sandra Gal, Kristie Smith, Alison Whitaker
1:40 p.m.:Julieta Granada, Tamara Johns, Emma De Groot
1:50 p.m.:Mi Jung Hur, Perrine Delacour, Jacqui Concolino
2:00 p.m.:Katie Burnett, Beth Allen, Ashley Ona
2:10 p.m.:Christine Song, Holly Clyburn, Corie Hou
2:20 p.m.:Mindy Kim, Alena Sharp, Jennifer Kirby
NO. 10 TEE
7:25 a.m.: Kim Welch, Diana Luna, Cindy Lacrosse
7:35 a.m.: Tamie Durdin, Paola Moreno, Victoria Elizabeth
7:45 a.m.: Belen Mozo, Sarah King, Christel Boeljon
7:55 a.m.: Lindsey Wright, Minjee *Lee, Sarah Kemp
8:05 a.m.: Jessica Korda, Paula Creamer, Charley Hull
8:15 a.m.: Yani Tseng, Lexi Thompson, Morgan Pressel
8:25 a.m.: Laura Davies, Brittany Lincicome, Cheyenne Woods
8:35 a.m.: Lee-Anne Pace, Caroline Hedwall, Lorie Kane
8:45 a.m.: Hannah Jun, Maria Hjorth, Pernilla Lindberg
8:55 a.m.: Maude-Aimee Leblanc, Austin Ernst, Jing *Yan
9:05 a.m.: Thidapa Suwannapura, Stacy Lee Bregman, Kris Tamulis
9:15 a.m.: Hannah Burke, Kathleen Ekey, Stephanie Na
9:25 a.m.: P.K. Kongkraphan, Kono *Matsumoto, Jessica Speechley
12:25 p.m.:Paz Echeverria, Julia Boland, Megan Grehan
12:35 p.m.:Line Vedel, Cydney Clanton, Min-Sun Kim
12:45 p.m.:Amelia Lewis, Anya Alvarez, Janet Lin
12:55 p.m.:Trish Johnson, Kelly Tan, Ashleigh Simon
1:05 p.m.:Jane Park, Gerina Piller, Caroline Masson
1:15 p.m.:Chella Choi, Hee Young Park, Pat Hurst
1:25 p.m.:Karine Icher, Mo Martin, Rebecca Artis
1:35 p.m.:Whitney Hillier, Eun-Hee Ji, Alison Walshe
1:45 p.m.:Sydnee Michaels, Ashlee *Dewhurst, Dewi Claire Schreefel
1:55 p.m.:Marina Alex, Danielle Montgomery, Haru Nomura
2:05 p.m.:Sophie Gustafson, Moira Dunn, Tiffany Joh
2:15 p.m.:Paula Reto, Ji Young Oh, Vicky Thomas
2:25 p.m.:Ariya Jutanugarn, Ryann O'toole, Dori Carter
– Associated Press contributed
Golfweek.com readers: We value your input and welcome your comments, but please be respectful in this forum.
---
---
---
---
---
---
---
---
---
---
---
---
---
---
---
---
---
---
---
---
---